Chicken Burger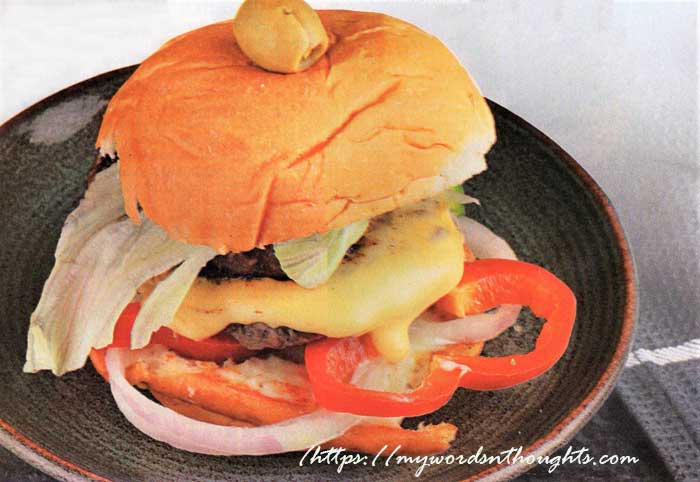 Ingredients for Chicken Burger:
1. Minced chicken – ½ kg
Bread crumbs – ¼ cup
Egg – 1, big
Wooster sauce – 2 big spoons
Milk – 2 big spoons
Salt – As per taste
Garlic chopped fine – 1 small spoon
Pepper powder – ½ small spoon
Onion – 1, chopped fine
2. Burger bun – 4
3. Onions, tomato, lettuce – As needed
How to prepare Chicken Burger?
1. Take ingredients no: 1 in a bowl and manually mix them well.
2. Make small balls from this mixture and make thin patties.
3. Heat a tawa and cook patties. Flip both sides to cook patties.
4. Using finger gently press the middle portion of patties, so that patties won't rise up while it's almost cooked.
5. Apply barbeque sauce on cooked patties if you want. (This step is optional)
6. Cut bun into two halves and place lettuce, onion and tomato slices.
7. Place a patty on its top, and close it with the other half.
8. You can also place cheese or any other vegetables if you want.
Courtesy: Vanitha Magazine, June 25 – July 8, 2022
Note: While mixing minced meat along with other ingredients for preparation of patties, mix them soft. Otherwise patties will lose their softness. Also, while frying patties, they reduce in size. So make them slightly bigger than burger bun.
Read a few more chicken snack recipes. Visit my page.
(Visited 15 times, 1 visits today)