Paneer Pizza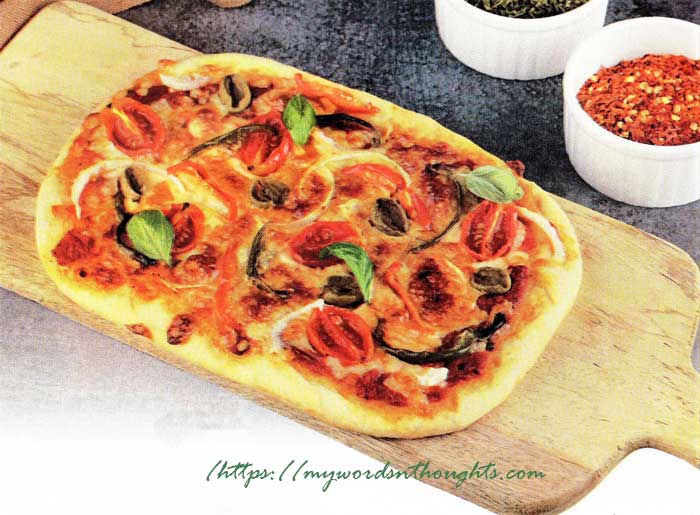 Ingredients for Paneer Pizza:
1. Honey – 2 small spoons
Salt – ¼ small spoon
2. Lukewarm water – 1.25 cups
3. Yeast – ½ small spoon
4. Maida – 3 cups
5. Olive oil – 1 big spoon
6. Cheese spread, pizza sauce – As needed
7. Paneer, vegetables, mushroom – For topping
How to prepare Paneer Pizza?
1. Add lukewarm water to ingredients no: 1 and stir well.
2. Sprinkle yeast and wait for 5-10 minutes. It will rise up.
3. Transfer maida to a big bowl and make a pit in the centre portion.
4. Add yeast solution to it and using a wooden spatula, mix the contents.
5. Knead dough and add olive oil. Allow it to rest for 2 hours.
6. The dough rises up, and punch it to remove the gas.
7. Equally divide the dough into two parts and fold each of them inwards 8 times.
8. Place both these balls in a bowl, wrap with moist cloth and allow it to rest for 2 more hours. The balls will turn double in size.
9. Place each ball in a greased pizza pan and spread it.
10. Make marks on it here and there, using a fork.
11. Apply a coat of cheese spread, followed by pizza sauce.
12. Spread toppings as next layer.
13. Pre-heat oven in 180 degree Celsius.
14. Bake your pizza in oven for 30 minutes.
To prepare Pizza Sauce:
Pressure cook 2 onions, 2 tomatoes, 8-10 cloves of garlic, 2 red chillies after removing seeds and salt. Cook for 2-3 whistles and put off the flame. When it cools make a fine paste using a mixer.
Heat a big spoon of olive oil in a pan and add gravy. Keep sauting till gravy is almost cooked. Add 1 small spoon of oregano, ¼ cup basil leaves chopped, salt and a little sugar. Stir well and continue cooking. Add 1 small vinegar at the final stage and put off the flame. When your Pizza Sauce cools off completely, store in containers.
Cooking tip: You can add a big spoon of milk powder while kneading dough for pizza. It improves taste of pizza.
Courtesy: Vanitha Magazine, June 25 – July 8, 2022
Read a few more Paneer recipes. Visit my page.