Cheruvayal Raman – Agriculturalist from Wyanad, known as guardian of rare seeds
Cheruvayal K. Raman, also known as Cheruvayal Raman is a 73-year old tribal farmer and agriculturist from Wayanad district, who Padma Shri awards 2023, for his contributions to the field of agriculture. He is known for conserving over 55 rice varieties on his small farm at Kammana, most of them being very rare, which he preserved over decades. Most interesting fact is, he preserved rice seeds without adopting new technology or conventional sciences. Despite owning acres of land, he still lives in his 150-year old mud hut. Over the years he has received many honours, with Padma Shri being the latest recognition added to the list.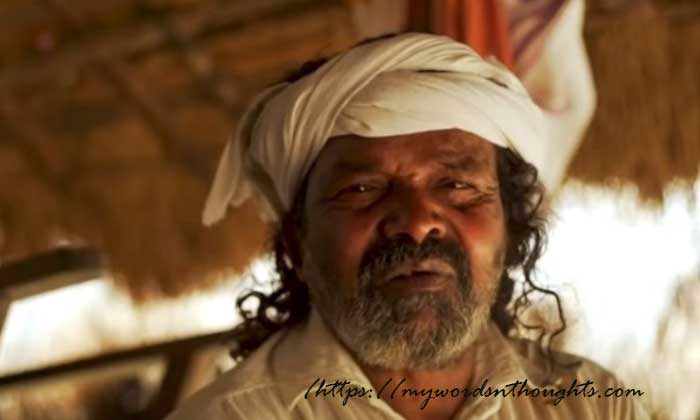 Raman started farming on 40 acres of land given to him by his uncle
The Seed Man, Raman belongs to Kurichiyar tribal community of Wayanad. Mananthavadi of Kammana is his native place. He belongs to a traditional family of farmers, settled in Wyanad for many generations. He still lives in his ancestral home, built 150 years ago. Even at the age of 70, he does farming with 52 rare rice seeds, which is not an easy task in present ages. Though he faced financial difficulties many times, he never opted for hybrid seeds and preserved traditional rice varieties, which may yield less comparing with hybrid ones. Though he is ignorant of modern technologies of seed preservation and farming, many people do visit him to know about his techniques in farming.
Raman started farming at the age of 10. Only in 1969, he took farming seriously when his uncle handed over 40 acres of land. However he started preserving rice varieties, only 3 decades later in the early 2000s. Though many hybrid seed varieties came in market, he didn't go that way, and preferred to preserve old seed varieties, also known as 52-55 indigenous rice varieties created by nature only. He adopts organic farming only. His collection includes rice varieties of Mannu Veliyan, Chembakam, Thondi, Channalthondi, Chettuveliyan, Palveliyan, Kanali etc and aromatic rice varieties like Gandhakashala, Jeerakasala and Kayama used to prepare biryani.
Raman represents the last generation of Wayanad tribals who protects their indigenous rice varieties
He along with his wife Geetha are custodians of 40 rice varieties inherited from their forefathers, apart from procuring many indigenous seeds from other parts of the country. The couple have two sons and two daughters, who are into farming too. The children have divided the fields into several small patches, where they cultivate each rice variety with the aim of preserving them for future generations. Sadly, as his community still practises matriarchy, his children would lose their rights over these 40 acres after his time, and his wife too. So he fears, people from his family, settled in other parts of the state, with no inclination towards farming may not carry forward his legacy.
His 150-year old mud & bamboo hut preserves a lot of memories too
His hut is made of soil and mud, mixed with rice hay and bamboo twigs. Bamboo and Indian rosewood (eetti) are used for making roofs. This centuries-old hut still resists any type of natural calamities, states Raman. During old days, people used to cut timber of good quality (Kallan Mula), soak it in water over a month and then touched with fire, before using it for roof. So, it has strength like iron. Whatever happens, timber processed this way won't be damaged for at least 500 years, says Raman. Interesting part is, even during hot summer, homes thatched with bamboo roofs won't feel heat inside.
Ramettan won Padma Shri in 2023
Raman, fondly called Ramettan (Brother Raman) by the natives is a local celebrity here. He is a known figure among food experts and paddy promoters worldwide. He conducts studies on soil, water and paddy seeds, and also their growth patterns, all by himself. Through his experience he knows compost requirement of each variety, and even the silly change which happen in crops.
Cheruvayal Raman – Some interesting and less-known facts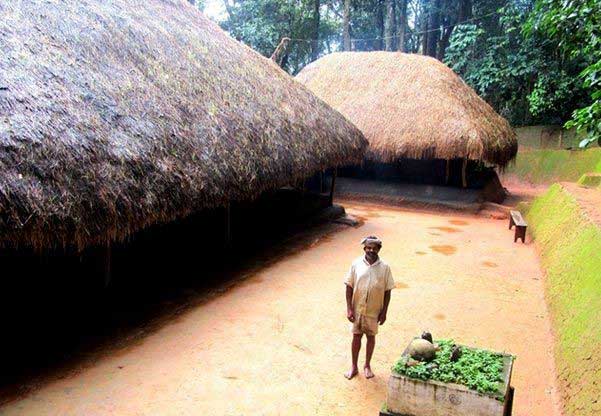 1. He barely studied till class 5, and since the age of 10 he got into farming, carrying forward his family's legacy.
2. A living encyclopaedia on different rice varieties in South India, Raman still lives in his 150-year old house made of mud, wood and cattle fodder, with straw thatched roof.
3. A living-paddy gene bank, he preserves 52-55 indigenous rice varieties on his small farm, without having any knowledge of conventional sciences like agriculture science or botany. He started preserving seeds in the early 2000s. Most of the varieties passed over through generations are around 500 years old.
4. He does farming with 52 rare rice seeds, which is not an easy task. He never used hybrid seed varieties for farming. In his opinion, as hybrid varieties are man-made, they need fertilizers for growth & preservation, which is not needed in the case of indigenous seeds.
5. Till 2021 he preserved 60 varieties of rice. But due to age related ailments, he was forced to reduce them. He also preserve some varieties of spices, trees and herbs.
6. He prefers to walk bare feet on soil.
7. His agricultural practices are purely organic, and he stopped chemical-based farming in 1978.
8. After every harvest, Raman himself clean and dry all the seeds. Then he stashes them up safely at my home, used as a storeroom. He manually does it relentlessly every year.
9. Rice varieties he preserved are flood resistant and have the strength to fight climate change adversities.
10. He doesn't sell seeds for personal gains, and he preserves it all alone, without any help. He does share a kilo or two of these with people who approach him, but on condition that they should return the exact amount of seeds that they have harvested themselves – a survival technique for these seeds. He never takes money for seeds.
11. He won PK Kalan Prize in 2022 by government of Kerala at the age of 72. He is also a recipient of Genome Savior Award 6 years back.
12. He dreams a permanent facility to preserve and promote his seeds, and needs an intervention from government.
(Visited 129 times, 1 visits today)