Cheera Ila Aviyal (Spinach Aviyal)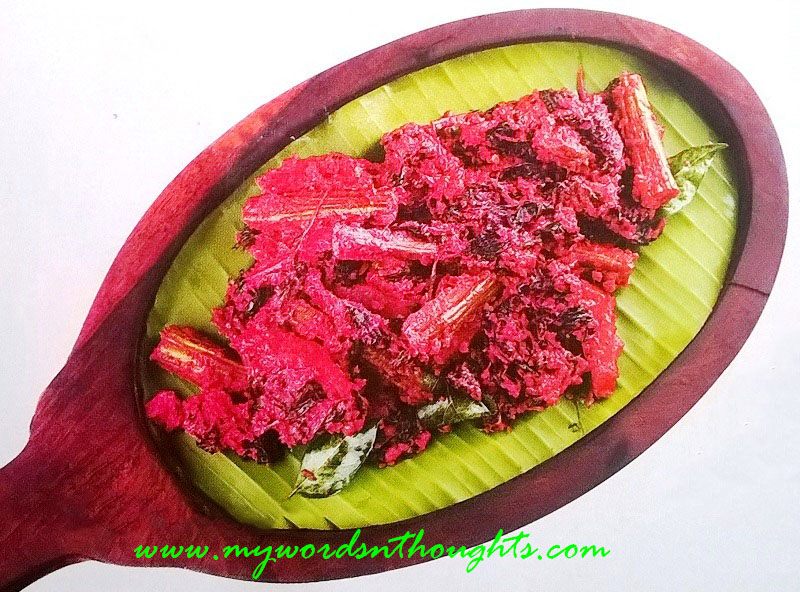 Ingredients for Cheera Ila Aviyal (Spinach Aviyal):
1. Drumstick – 2
2. Green mango medium sized – 1
3. Coconut – ½ scrapped
Red chillies – 5
Cumin seeds – ¾ small spoon
4. Red spinach – 600 gm
Turmeric powder – As needed
5. Coconut oil – 2 big spoons
How to prepare Cheera Ila Aviyal (Spinach Aviyal)?
1. Peel off the skin of drumsticks and cut into 2-inch pieces.
2. Remove skin of mango and slice into lengthy pieces.
3. Mix together ingredients no: 3 and make a fine paste.
4. In an earthen pot, add drumsticks, spinach, mango and turmeric powder and a little water.
5. Cook till vegetables are well cooked.
6. When water content is fully absorbed, add gravy, salt and mix well.
7. Pour coconut oil on the top of the avial and put the flame off.
8. Mix you avial after sometime.
Courtesy: Vanitha Magazine July 15-31, 2016
Also read a few more leafy vegetable dishes. Here is the page link. Click on the images in the gallery to read.
(Visited 391 times, 1 visits today)