Butterscotch Bake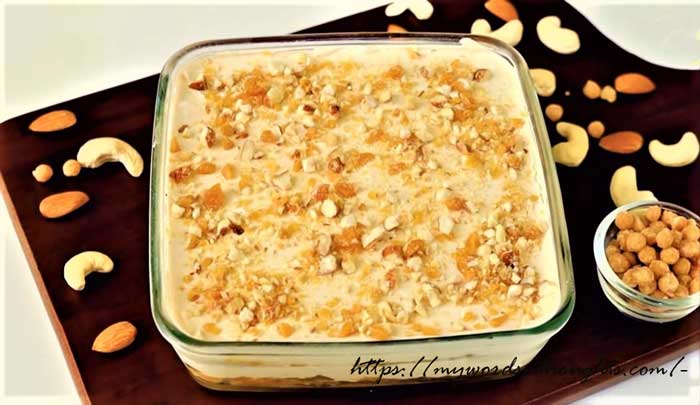 Ingredients for Butterscotch Bake:
1. Cornflakes smashed – 4 cups
Butter – ½ cup
Honey – ¾ cup
For filling:
2. Brown sugar – 1.5 cups
Butter – ¼ cup
Thick cream – ½ cup
3. Milk – 1.5 cups
Cornflour – 3 big spoons
4. Eggs – 2
5. Vanilla essence – ½ small spoon
6. Cashews broken – 2 big spoons
7. Sugar – 3 big spoons
How to prepare Butterscotch Bake?
1. Pre-heat oven in 180 degree Celsius.
2. Mix ingredients no: 1 together.
3. Grease a pie dish of 10-inch size.
4. Transfer the above mixture to the dish and press it well.
5. Place it in freezer for half an hour.
6. To prepare filling, mix ingredients no: 2 in a saucepan with thick bottom.
7. Place the saucepan in flame, reduce it to low flame and keep stirring.
8. When it turns thick and golden brown in colour, put the flame off.
9. Mix milk and cornflour in a bowl without lumps.
10. Separate white and yellow yolks of eggs.
11. Beat the yellow yolks well, and add to cornflour-milk mixture.
12. Mix it well and finally add to brown sugar mixture little by little.
13. Mix it well and place in low flame and keep stirring till the mixture thickens.
14. Add vanilla essence and put off the flame.
15. Allow it to cool. This is the filling.
16. Take pie dish from refrigerator and pour this filling on top.
17. Beat egg whites in a bowl and add 3 big spoons of sugar little by little.
18. Keep beating the contents, till foam forms.
19. Spread this meringue on the top of filling.
20. Using a spoon, make small hill shapes on its top.
21. Spread cashews on top and bake in pre-heated oven.
22. The bake should turn light brown.
23. Take it out and serve hot.
Courtesy: Vanitha Magazine June 15-30, 2010
Also read a few cake recipes. Click on the images in the gallery to read.
(Visited 14 times, 1 visits today)