Bread Roast with Prawns Spread
It's a nice 4 0' clock snack and can also be served for guests. A bit time consuming, it's definitely a new variant of bread toast and will be loved by kids.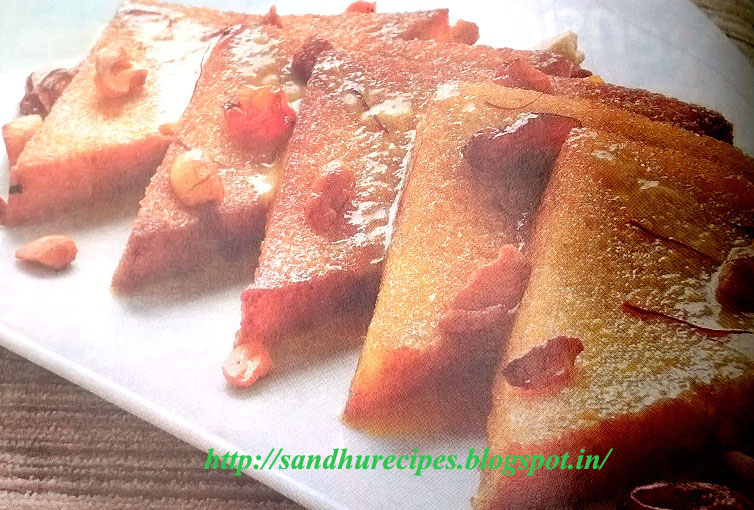 Ingredients for Bread Roast with Prawns Spread:
2. Sandwich bread – 8 slices
4. Boneless chicken cut into cubic pieces – 100g
5. Garlic chopped – 1 big spoon
Coriander leaves – 1 small spoon
7. Soya sauce – 1 small spoon
8. White sesame seeds – 2 big spoons
How to prepare Bread Roast with Prawns Spread?
1. Mix ingredients no: 1 together and cook in a sauce pan in low flame till water contents are almost absorbed.
2. Then transfer it into a sauce dish. It is the dipping sauce.
3. Cut the edges of bread pieces and split into two long pieces.
4. Pre-heat oven and dry these bread pieces slightly. If so it will take only less quantity of oil while frying, and turns crispy also.
5. Clean prawns and cut of their heads and tails.
6. Cut chicken and prawns to tiny pieces and mix together.
7. Finely grind ingredients no: 5 and add chicken-prawns mixture to it.
8. Add one egg to this mixture, add ingredients no: 7 and finely mix it with chicken-prawns mixture.
9. Divide this chicken-prawns mixture to 16 equal pieces.
10. Spread each ball on the top of each bread pieces, and spread sesame seeds on top.
11. Heat oil in a pan and fry each bread pieces by dipping in oil fully.
12. Breads with chicken-prawns topping should be fried first and flip to fry the other side also. Both the sides should turn golden brown.
13. Place roasted bread pieces in a tissue paper to absorb excess oil.
14. Serve Bread Roast with Prawns Spread in a dry plate alongside dipping sauce. Serve hot.
Archive: Vanitha Magazine September 1 – 14, 2011.
Also read a few more delicious prawn snack recipes. Here is the page link. Click on the images in the gallery to read.
(Visited 208 times, 1 visits today)