Biscuit – Chocolate Cake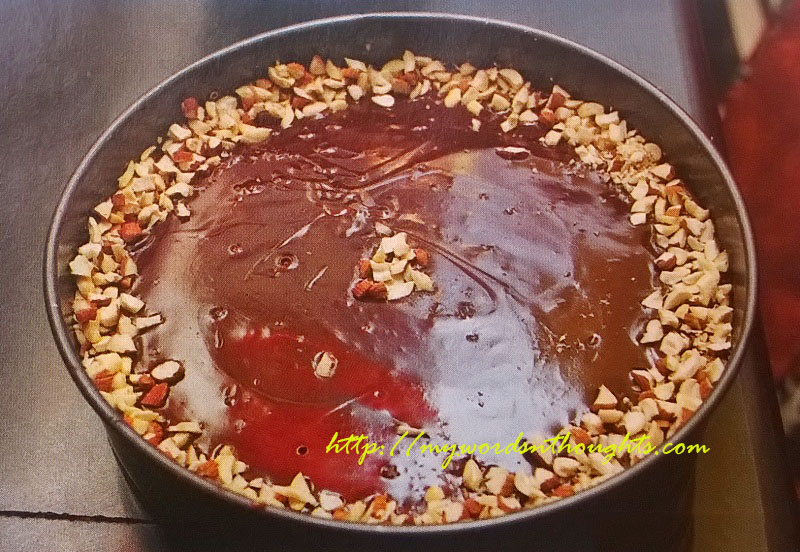 Ingredients for Biscuit – Chocolate Cake:
1. Digestive biscuits – 800 gm
2. Nuts – 1 cup
3. Butter – 150 gm
Sugar – 1.5 cups
Cocoa powder – ½ cup
Vanilla essence – 1 big spoon
4. Whipping cream – ½ cup
Chocolate – 1 cup
5. Roasted nuts chopped fine – To decorate
How to prepare Biscuit – Chocolate Cake?
1. Roast nuts without adding oil or butter.
2. Break biscuits to small pieces in a bowl and add roasted nuts to it. Mix the contents well.
3. Boil ingredients no: 4 in a pan and when the contents thicken, take off from flame.
4. Pour this solution to biscuit mixture before it cools off.
5. Mix the contents well and transfer the contents springform pan and press it well to set the contents.
6. Prepare sauce by boiling whipping cream and chocolate.
7. Pour this boiling sauce on the top of biscuit mixture.
8. Place the cake in refrigerator for 2 hours to set.
9. Decorate with roasted nuts and serve.
Vanitha Magazine December 1-14, 2017
You can read a few more delicious cake recipes. Here is the page link. Click on the images in the gallery to read.
(Visited 172 times, 1 visits today)