Bhapa Doi with three ingredients
Bhapa Doi is a traditional Bengali dessert served during festivals and family functions. With just three ingredients we can make this delicious dessert, which melts into mouth easily. Cardomom is added as the final ingredient to enhance the flavour. If you wish, you can add cashews, pistas and fruits like strawberry of your choice, to get more varieties of this traditional Bengali dessert.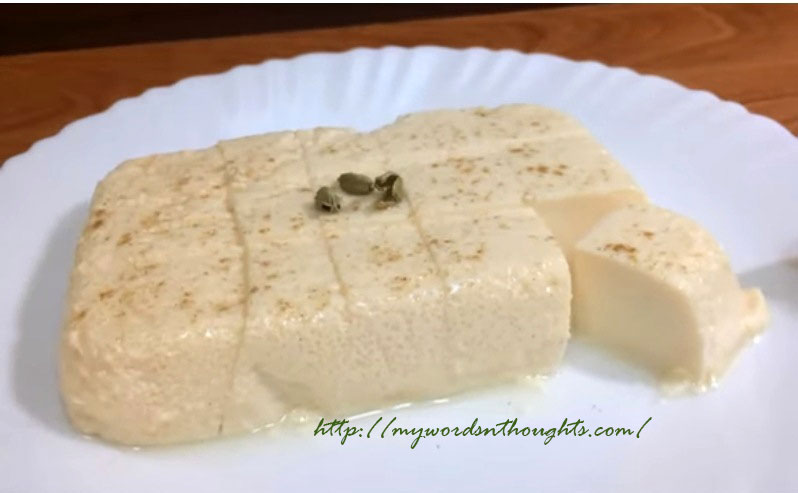 Ingredients for Bhapa Doi:
1. Curd – 170 gm
2. Condensed milk – 3-4 tablespoons or as needed
3. Milk – 170 gm
4. Cardamom powder – To sprinkle on top
How to prepare Bhapa Doi?
1. Using a whisk or spoon, whisk curd for a few minutes till it turns pasty.
2. Add condensed milk to it and whisk again.
3. Add milk to it and mix it well.
4. Check sweetness and add extra condensed milk if needed.
5. Transfer the contents to a greased bowl or tiffin box for steaming and wrap its opening using an aluminium foil.
6. Steam cook Bhapa Doi for 30-35 minutes and allow it to cool completely.
7. Refrigerate it for 30 minutes so that it is well set and chilled.
8. Transfer your Bhapa Doi on a serving plate and sprinkle cardamom powder on its top.
9. This soft pudding/dessert can be cut into square or any other desired shapes and serve.
Also read a few more desserts with condensed milk:
(Visited 230 times, 1 visits today)