Beetroot Hummus
Hummus is a Middle Eastern dip, spread, or savory dish, where mashed chickpeas, Tahini, olive oil and lemon juice form major ingredients. Tahini is a condiment made from toasted sesame. Also read another recipe of Hummus.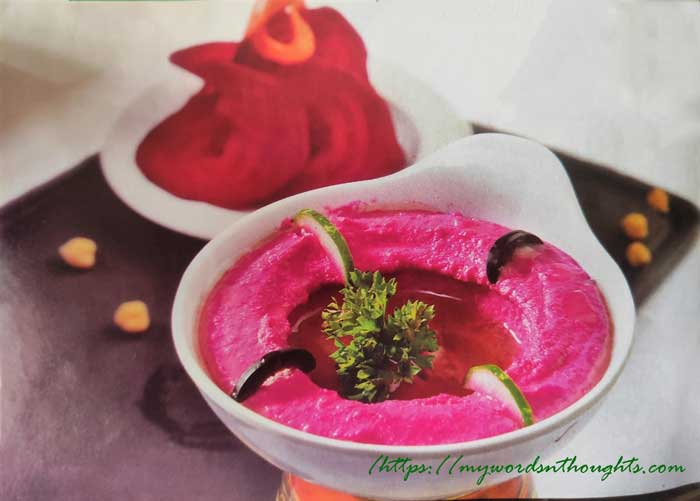 Ingredients for Beetroot Hummus:
1. White chickpeas – ¼ cup
2. Salt – For taste
Baking soda – ¼ small spoon
3. Beetroot – ½
4. Garlic – 1 clove, sauted
Curd – 3 big spoons
5. Tahini paste – 4 big spoons
Lemon juice – 1 small spoon
Olive oil – ¼ cup
How to prepare Beetroot Hummus?
1. Soak chickpeas for 8 hours.
2. Cook chickpeas in a pressure cooker adding salt and baking soda.
3. Boil water, and add chopped beetroot.
4. When it's well-cooked, allow it to cool and grind to a smooth paste. Strain it too.
5. Make a fine paste of well-cooked chickpeas, cooked beetroot, garlic and curd.
6. Add ingredients no: 5 to it and grind again.
7. Drizzle a little olive oil to give a finishing touch.
Courtesy: Vanitha Magazine June 15-30, 2017
Also read a few more beetroot recipes. Click on the images to read.
(Visited 33 times, 1 visits today)