Bahubali Thali @ Ponnusamy Hotel of Chennai – South India's biggest Thali meals
A serving plate with 44-inch size, a few banana leaves spread on it followed by 50 non-vegetarian and vegetarian dishes, which include Biryani, different types of rice main dishes, chicken, mutton & fish sides dishes, desserts, eggs and much more, placed in round shape steel containers,enough to fill stomach of 4 people – Is it a dream or reality? Yes, it's true. Ponnusamy Hotel of Chennai serves South India's biggest Thali meals. Its name is also unique, which makes us remember the big-budget blockbuster, Baahubali. Yes, this Thali with 50 dishes is known as Bahubali Thali. You need to advance book it, and if it is for weekends you need to book a few days prior to it.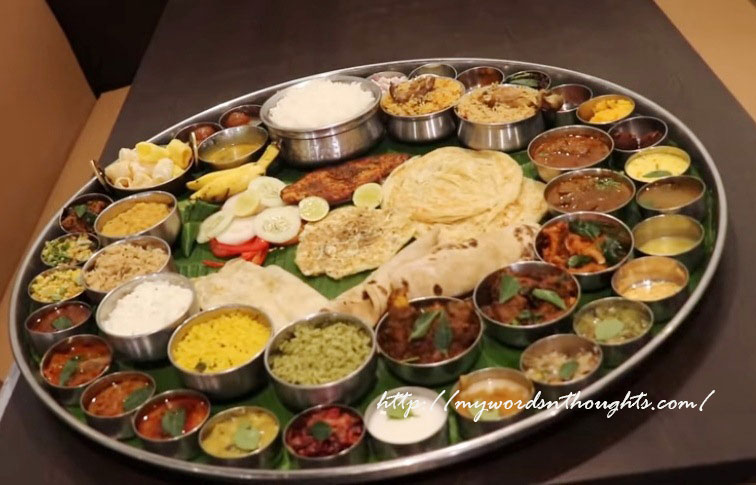 The plate is gigantic similar to the strength of Baahubali
If you are prepared for eat and die, keep your stomach empty for lunch. If possible skip your breakfast and satisfy your stomach with a cup of tea. Then only you can reach Ponnusamy Hotel in Nungambakkam and 'attack' the big Thali plate at noon. The restaurant turns busy at weekends and the thali is served between 12 pm and 4 pm. Its cost is around 1800 Indian rupees inclusive of all taxes, and serves 4 people comfortably. Thali is available in the evenings too, with slight change in menu.
When you reach the place you will be welcomed with 2 questions, "Do you have advance booking?" and "How many people". After that they will give you the token. Just like an one-day cricket match of 50 overs, your plate will be filled with 50 delicious menu. Can you finish 'batting 50 overs' and complete the innings, that's the only question! It's your task to finish such a huge 'Bahubali' thali, whether you can achieve it or not.
Two persons bring the big round plate and place it on the table. The plate with dishes is approximate 4 kg weight. Dishes are beautifully arranged in bowls, just like Pookkalam during Onam season. Chicken, mutton, fish curry, soup, pappadam, curd, banana, dal, sambar, boiled egg, curd rice, chicken biryani, mutton biryani, payasam, gulab jamun, fried fish, vegetable curries – everything is perfectly arranged, enough to induce our saliva glands.
What are the items of this menu? From where to start? How long will it take to complete? Here are some of the common doubts, when Bahubali Thali is served on your table. It satisfies both vegetarians and non-vegetarians and dishes are placed in such a pattern to satisfy both, sitting on either sides of the table.
Let us start with soup
Soups are of two types – Mutton and chicken, and you can also order vegetable soup. There are four items each of mutton and chicken. Chicken dishes include Chicken biryani, roast, kolamb and Chettinad Pichipottu Chicken. Mutton Kola Urundai, Mutton pepper fry, mutton nalli and mutton biryani complete mutton menu in your plate. Fish menu is provided as two dishes – Fish fry and Sora Puttu. Boiled eggs, omelette, Egg Podi Maas, Prawns fry, Curd rice, Sambar rice, Chapati, Parotta, Kesari, Poriyal, Kondattam, Pickles, Vegetable Biryani, Naan, banana – The list is non-ending.
Mutton Kola – a dish similar to mutton ball and Sora Putt – steam cake with fish are among the variety dishes served. Mutton is ground to a paste in a mixer, masala added, made balls and fried in hot oil – that's the secret recipe of mutton kola. It's one of the popular dishes served at Ponnusamy Hotel. Dum biryani is equally famous. It is advisable to taste different items, instead of finishing one complete dish after another. Then only you can go through all the 50 bowls before your stomach is filled.
You may worry if food goes waste. If your group comprises 4 or 5 people, it's easy to finish a Thali. As the plate is filled with different cuisines, it can definitely satisfy a group with different tastes. Some people in a group may love sambar, while a few others love non-veg chicken curries. When you order a Bahubali plate, it almost satisfy taste buds of every person of the group.
Bahubali Thali was introduced in 2018
It is almost two years since Bahubali Thali was introduced in Ponnusamy Hotel, when they wanted to introduce a new Thali similar to Punjabi Thali, but given importance to south Indian cuisine. Needless to say, it grew popularity in a short span of time. The demand is so high that you need to book in advance. Chettinad dishes form a major part of the menu. Old Madras tastes, Chettinad tastes and sweetness of Kesari, payasam and rasagulla – it definitely satisfies the requests of different people. You can also enjoy variety dishes, which became the key point of the success of Bahubali dish.
Thali is available for lunch and dinner, with slight variations. While rice items is given preference during noon meals, north Indian main course items like Naan and Chapatti, along with different types of dosas are mostly served in the evenings.
50 items of Bahubali plate
Ponnusamy Hotel was started in Chennai in year 1952. Chettinad dishes were introduced only after Mughal, North Indian, Tandoori and Chinese dishes. 50 dishes of Bahubali plate are equally divided as vegetarian and non-vegetarian menu, and here it goes. Count it to 50. Let us start.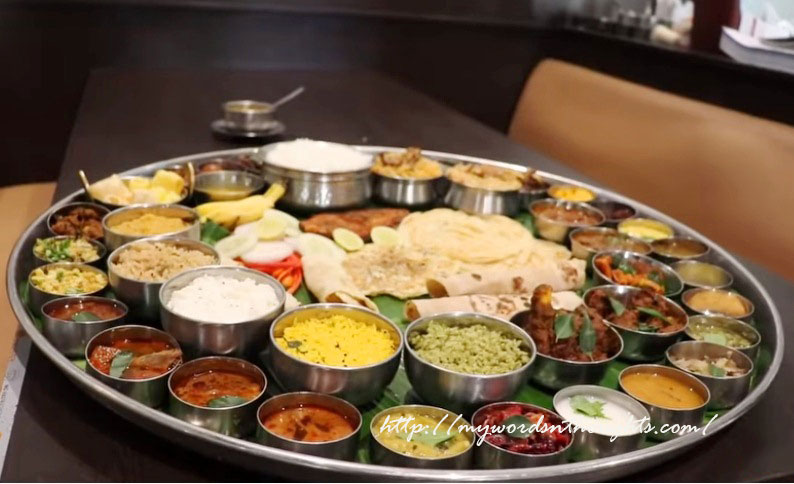 Curd Rice (Thair Sadam)

Sambar Rice

Veg Biryani

Appalam

Mutton Nalli

Mutton Kolamb

Chicken Curry

Chicken Roast

Mutton Kola

Pichipottu Kozhi

Mutton Pepper Fry

Sora Putt (Fish Steam Cake)

Egg Podimaas

Egg Boiled

Fish Curry

Chicken Gravy

Mutton Gravy

Gulab Jamun

Kesari

Mango Pickle

Lemon Pickle

Curd

Paripp (Dal)

Ghee

Karai Kulamb

Raita

Poriyal

Sambar

Rasam

Moru Kulamb (Buttermilk Curry)

Moru (Buttermilk)

Kerala Parotta – 2 nos

Chapatti – 2 nos

Naan

Mutton Soup

Chicken Soup

Plain Rice

Mutton Biryani

Chicken Biryani

Fish Fry

Salad

Bananas – 2 nos:

Beeda (Pan) – 2 nos:

Prawns Fry

Podimeen Fry

Uzhunnu Podi (Chutney Powder)

Chicken Chettinad Roast

Lemon Rice

Omelette

Appalam Small
(Visited 7,656 times, 1 visits today)