Aparna Mulberry – Malayalam speaking vlogger of American origin
Aparna Mulberry is an Indian born American, a Malayalam speaking professional who gained attention through her vlog, Inverted Coconut, and for her appearance in popular Malayalam reality show, Bigg Boss Malayalam 4 in 2022. Her Malayalam dialect is so perfect that she gained a lot of fans, and currently she is teaching American English to many aspirants.
Aparna Mulberry spent her early 15 years in Kerala
Aparna's mom Vinaya, brought up in US and her father Prem met each other in India. Both were on a visit to India. To learn more about yoga, religion and spirituality, they reached Amrita Ashram of Kerala. They decided to live together, and later returned to US. Mulberry is her family name, which she inherited from her father. Her father's family originally belongs to Britain, and they migrated to US.
Soon after Aparna was born in 1991, her parents returned to Amrita Ashram. She was two years old then. After 6 years when her father decided to shift to US, her mother preferred to stay here, and Aparna grew up in Kerala. Till 10th grade, she studied in Vivekananda Central School and Amrita Vidyalayam. Later she moved to US and stayed with her father. She completed Bachelor of Business Administration and Marketing from School of Business, Portland State University. After that she worked there for a while and finally decided to move back to Kerala as she was deeply influenced by Indian culture.
When she decided to come to Kerala in 2020, she had a setback because of Covid pandemic and when she started feeling, she may forget Malayalam, she started a social media account, Inverted Coconut, which clicked instantly among Malayalam people because of her pure Malayalam accent. Malayalis in foreign nations are often nicknamed as 'Coconut'. As she is a foreigner brought up in Kerala, she chose this name.
A professional who teaches American English to hundreds of Malayalis
Soon after she started vlogging she also started English coaching classes, exclusive for Malayalis. She takes classes in fluent Malayalam, and has taught thousands of students since 2021. In 2019 she founded 'Ave Digital,' a full-service marketing agency. Now she is settled in France. In 2022, she was a part of Bigg Boss Show. She joined the show to interact with more Malayalis and understand the language in deep.
Mulberry's school memories
Initially it was not easy for her to master Malayalam. Even her mother doesn't know this language, except a few common words, though she stayed here for many years. Her KG education was done at Vivekananda Central School and she continued her studies at Amrita Vidyalayam. Because of her language, she was isolated by her classmates. It took two long years to master Malayalam, and she started feeling the inbuilt walls disappearing. After that her school life was so beautiful.
She loved different types of chutneys brought by her school friends. Their moms used to specially sent for her and she arranged them in lunch plate like 'pookkalam'. She also loved pickles.
Aparna Mulberry is married to Amrita Sree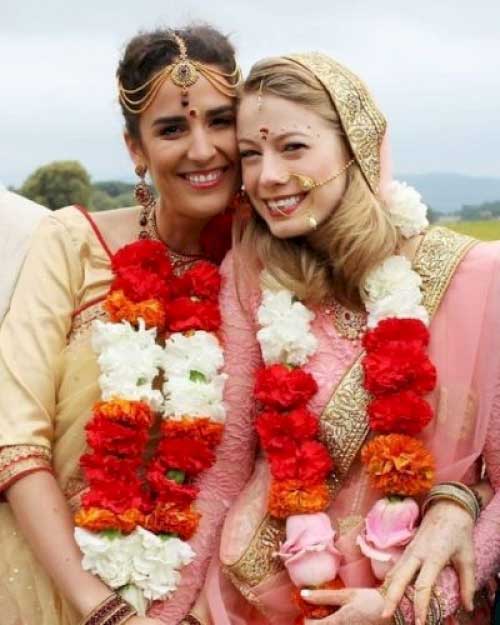 Aparna is a lesbian and is married to Amrita Sree, a cardiologist since 2018. They dated for 3 years before they got married. They plan to adopt a child in future.
Aparna Mulberry – Some interesting and less-known facts
1. She can handle Malayalam, English and Spanish languages.
2. 'Amma' is the first word she learnt in Malayalam.
3. When she was a part of Bigg Boss, she used to ask her co-contestants to correct her Malayalam accent, and it helped her in improvisation.
4. She had a boyfriend before her marriage, just to prove to herself as straight. But it was more like a brother type relation to her.
5. Though she has a lot of friends, she also loves loneliness and to remain close to nature accompanied by stars and mountains.
6. She has a tattoo on her right wrist, written in Sanskrit language. It translates as "Be still and realize I am Shakti"
7. She has more than 1 million followers on various social media platforms.
8. Apart from English coaching videos, she also posts Malayalam dubsmash videos and comedy skits.
9. Her pet dog's name is Yogi.
(Visited 39 times, 1 visits today)