Anil Panachooran – Popular poet & lyricist of Malayalam
Anil Panachooran (1965 – 2021) was a popular lyricist and poet associated with Malayalam cinema and literature. He was also a lawyer by profession. He wrote some of the popular film songs in the past 15 years since 2015, and penned his last song for the movie, Within Seconds (2021) a few hours before death. He suffered a cardiac arrest on 3 January 2021 and was also tested Covid positive.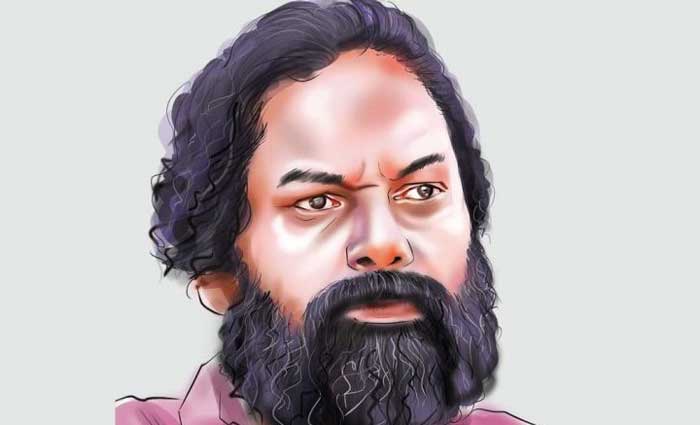 Chora Veena Mannil Ninnum from Arabikatha (2007) was his breakthrough song. Arabikadha, Kadha Parayumbol, Passenger, Bhramaram, Bodyguard, Cocktail, China Town, Maanikyakkallu, Marykkundoru Kunjaadu, Thaappaana, Vikramaadithyan, Oru Mexican Apaaratha, Velipaadinte Pusthakam etc are some of his major works in movies. He wrote the viral song – Entammede Jimikki Kammal. His poems are also extremely popular.
A poet with leftist ideologies in heart
Anil Panachooran was born in Kayamkulam. He educated from Kerala Law Academy College in Thiruvananthapuram and Kakatiya University in Warangal. Since college days he was attracted towards leftist ideologies. He wrote his first film song for Makalku released in 2005, and completed 15 years in film industry in 2020.
He shot to fame with Thirike Njaan Varumenna in 2007
As a lyricist, he gained recognition through his second work, Arabikatha, which included the popular song, Chora Veena Mannil Ninnum. The song – Thirike Njaan Varumenna also became popular. He penned 4 songs for the movie. Later he penned lyrics for some of the popular songs of Kadha Parayumbol, Passenger, Minnaminni Koottam, Bhramaram, Bodyguard, Cocktail etc. He wrote more than 200 songs for 35+ Malayalam movies. Some of his early works belong to Sreenivasan movies, which earned him recognition.
He was a popular poet also
During his college days, he had distinct looks and a revolutionary mind fully interested in reciting his fire band poems to others. A leather bag on his shoulders, poetry books costing 2 rupees, lengthy kurtha and uncombed hair were some of his trademarks during those days. He was also associated with SFI during his college days in the late 1980s. He reused most of his poetry for film lyrics later.
Some of his poetry works include – Valayil Veena Kilikal, Anaadhan, Pranayakalam, Oru Mazha Peythenkil, Kanneer Kanalukal etc. Vilkkuvaan Vacchirikkunna Pakshikal is his first poem. This poet was immensely popular for his reciting style too. When he passed away on 3 January 2021, he was just 51 years old. One of the most popular poets of present times, public mourned his death.
Anil Panachooran – Some interesting and less-known facts
1. He belongs to the family, Govindamuttam Vaaranapally of Kayamkulam – the place where Sree Narayana Guru had his studies.
2. His poem – Anathan used for the movie, Makalkku was inspired from real-life incident.
3. He was also a lawyer by profession. A communist in heart, he was also a monk proficient in 'Naattu Vaidyam' giving medicine to poison.
4. He believed, art is a bi-product of conflict, and poetry is born only from conflict.
5. His popular poem, Valayil Veena Kilikal earned him numerous prizes during academic years for recitation.
6. He played a cameo role in the film, Arabhikatha, the movie which earned him recognition as a lyricist.
7. He received Filmfare award for best lyricist for Arabikatha in 2008.
Popular film songs penned by Anil Panachooran
Chora Veena Mannil Ninnum from Arabikatha
Thirike Njaan Varumenna from Arabikatha
Vyathyasthanamoru from Katha Parayumbol
Neeyaam Thanalinu from Cocktail
Annarakanna Vaa from Bhramaram
Kuzhaloothum Poonthennale from Bhramaram
Entammede Jimikki Kammal from Velipaadinte Pusthakam
Arike Ninnalum from China Town
Chembarathi Kammalittu from Maanikyakkallu
Ormathirivil from Passenger
(Visited 338 times, 1 visits today)