A travel trip to Bali – The land known for Hindu tradition, temples, beaches and much more
Beneath the cloud layers, the deepness of blue oceans spread its wings. In the infinity like a green spot, visuals of an island give a glance. When you reach Bali islands travelling in a flight that's the sight Bali offers you at a finite distance high. Pleasant scenary & greenary, beaches, numerous temples, volcanoes and coffee plantations – Bali has very much to give you, if you are willing to stay a few days here.
Recently innovated Ngurah Rai international airport
Airport is situated near sea shore – Ngurah Rai international airport or Bali international airport. It's situated in Bali's capital, Denpasar. Runway is projected about 1 km towards the deep blue seas – indeed a rare experience. It's not a very big airport, comparing other tourist destinations or international airports. But since the renovation process was completed in 2013, it matches in standard with any international airport across the world. It's constructed giving considerable importance to Bali tradition and culture. Wonderful piece of art work, the place is filled with lovely flowers and plants, enough to catch your attention and you may love to spend a few hours at airport itself. The place is also maintained properly, neat and tidy.
Bali people welcome tourists by lending forward both their hands. Free visa is given to travellers of many countries including India. So procedures at airport are simple for Indians. Visa on arrival – facility can be used.
An isolated island of Indonesia with majority Hindus

Bali is an island and province of Indonesia. It covers only 1/7th in total surface area comparing with Kerala, one among the smallest states of India, and population is around 42 lakhs. Though Indonesia is a Muslim-dominated nation (87.2%), Bali is a province where the majority is Hindu believers. According to 2014 census, 83.5% people are Hindus. It's indeed strange that, though maximum number of Muslims across the world is Indonesians (23 crores), Bali is a Hindu dominated province under the governance of the same nation. Yes Bali is an isolated region, entirely different from the culture of its nation. The inhabitants bind to themselves the traditional values and principles, and that's the reason why Bali is so special.
It's believed that saints who reached Bali through water transport preached Hinduism here. The generations followed, continued with the same traditions and culture and that may be the reason why, despite being a part of a Muslim dominated nation, Bali is traditionally 'Hindu'. Bali is entirely different in geographical features if compared with mother nation, and isolated as well. That's why they developed their own culture and social life and still traditionally following it, though there are compulsions for change of religion.
Tourism is the major source of income for Bali islands
Agriculture and farming are closely linked to the social life of inhabitants of Bali in the early days. Only the second half of 20th century, Bali changed to a wonderful tourist destination. Now tourism is the backbone of the financial status of the island, which counts to more than 80% of total income. This figure has a direct impact in the GDP rate of Indonesia also, particularly in foreign currency. The inhabitants of Bali also welcome tourists with open heart, cheers and smile, and that's the reason behind the huge success of tourism here. They own special tactics to make available of every resource to the tourists, and use them wisely as well. Through a trip to Bali, they provide all essentials to know their culture near and vivid. Basic facilities have been given due importance, belonging to tourists of different trades and countries. Resorts and home stay are available are affordable prices at different ranges and you can choose them in accordance to your plan and travel budget. Their hospitality needs special mention, and that's why tourists return to Bali the next season.
Paradise of travellers
Vast and beautiful beaches, fields with hills and mountains at infinity, rain forests still holding the greenery, nature blessed with green and springs, Bali culture entirely different from the rest of world … Bali has so many wonders to offer you. Bali people admire nature and greenery, and hence they preserve the natural resources available. Facilities are available to accommodate tourists of distinct tastes. Its geographical features are quite similar to greenery and mountain ranges of Kerala. Many of the common plant varieties seen in Kerala form a part of Bali's green nature as well. If you plan for a foreign trip with limited travel budget, Bali could be the best choice.
Indonesian Rupiah is the official currency of Bali, and 1 Rupiah is almost equivalent to 200 Indian rupees. In short, if you reach Bali with 5000 Indian rupees, you become a millionaire, and 50,00,000 Indian rupees will make you a billionaire. If you assume that this variation in the cost of Rupiah will reflect in the money spend, you assumed it wrong. When you visit a normal hotel, you spend about 1 lakh Rupiah for normal meals. So if you are planning for a cheap journey, you should take some precautions. You can choose two-wheelers for your travels, which reduces cost considerably. Scooters are hired for rent for this purpose, and Indian license is sufficient.
Bali people are hostile towards tourists and provide all helps needed. They are very calm, and never show hurry-burry in their activities. In some cases, if you ask them to guide, they may lead you till you reach your destination point. It's always advisable to change currency before you start your journey to Bali. Indian rupee can be converted to US dollar, and it can be converted to Rupiah at any corner of Bali. But it's difficult to exchange Indian currency to Rupiah.
As told above, Bali people give much importance to greenery and nature and for the same reason small gardens and green plants are planted in front of almost every shop of Bali. Flower nursery is also done as business here.
Hindu temples and sea shores
Bali is the land of temples and Hindu culture. Temple complexes are seen in almost every locality, holding traditional values and they give importance to traditional art as well. Festivals, rituals and poojas (offerings) are conducted regularly, as a part of their social life and traditions. Each home also owns a small ancestral pooja room or temple. When you visit Bali, you should never ignore visits to temples.
Tanah Lot Temple, facing the seas is one among the major attractions of Bali tourism. Located in Beraban village of Tabanan regency, it resembles India's Kanya Kumari a lot. It is 20 kms away from Bali's capital. This centuries-old ancient temple situated on the top of a rock structure above the deep blue seas is best known as the cultural symbol of Bali. Famed for its unique offshore setting and sunset backdrops, it's one of the major landmarks of Bali islands too. The shrine is situated at the top of the rock structure, and a few steps are constructed which lead towards the main entry. It's a spectacular scene to watch waves kissing the rock structures and returning to deep oceans.
During neap tides, you can reach temple by foot. During riptides, you need to depend on boat service to reach the temple. The temple built in Beratan Lake is also a hot favourite of tourists. Sand at sea shores also own some unique traits. They are fine granules and indeed beautiful. Water in seas is crystal clear, and the backdrop of the island is abundant in coconut trees, rain forests and palm trees. In most beaches, if you observe keen, you can see the bottom of sea. Water is that much crystal clear. Scuba diving and snorkeling facilities are available in most of the beaches, where the tourists can explore the ocean depths and flora and fauna seen beneath. Rates are also comparatively cheap.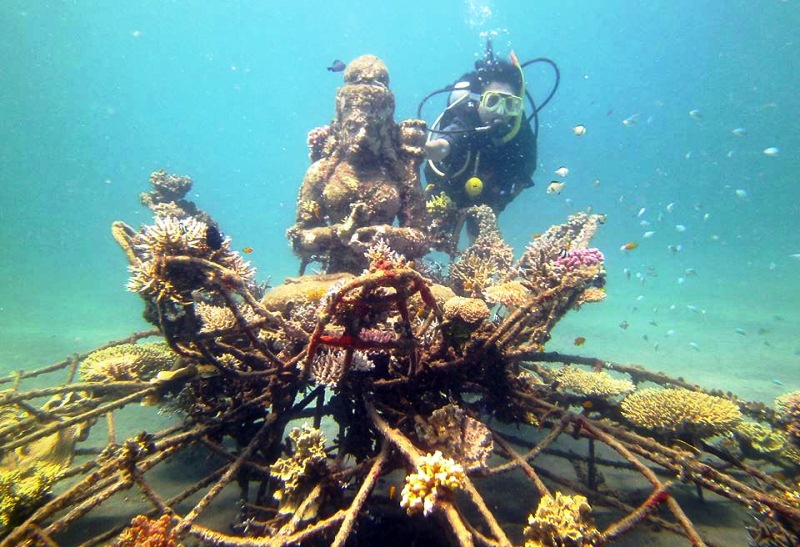 Kuta beach is tourists' favourite beach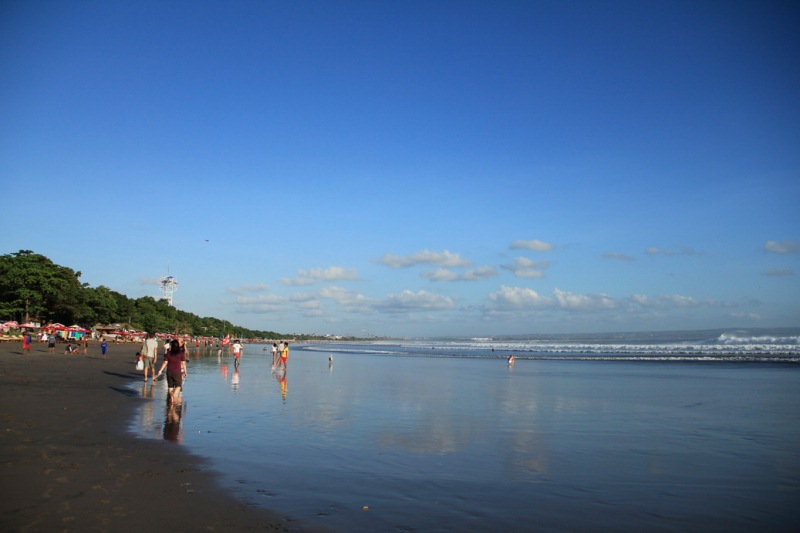 Though Bali is well known for deep oceans and sea beaches, Kuta beach is the hot spot among all. Seminyak, Canggu, Jimbaran, Sanur and Nusa Dua are other favourite spots. If you are a person who loves less-crowded places and beaches, there are many more beaches to visit.
The smoking volcano of Bali
Bali is the land of volcanoes, of which two of them are active – Mount Agung and Mount Batur. The highest peak of Bali is Mount Agung which erupted for the last time in 1963-1964. It took the life of more than 1600 people, and left more than 10,000 people homeless. A great fissure was also formed in that rupture, exactly at the centre splitting it into two. Yet from distant view, it's triangular shape till now. In present conditions, it smokes occasionally and its inhabitants will be relocated to camps for safety measures. Mount Batur also smokes once in two-three years. Visit to volcanoes is also a major attraction of Bali tourism. Mount Agung smoked most recently in 2017, which emitted ashes and smoke almost 2500 metre high. Bali airport was also closed for a short period, and tourists were also shifted to safe locations. In fact most of the rocks found in Bali island was formed from volcanic eruptions.
Top 10 destinations of Bali
Here I list the top 10 tourist spots of Bali islands.
1. Kuta beach – The most popular beach of Bali, which is widely promoted by Bali tourism. Sunset is a spectacular sight to watch. The place is also famous for night celebrations and special suppers.
2. Tanah Lot Temple – This heritage temple can never miss the list. The temple was built centuries ago on the top of a rock structure formed on the top of seas.
3. Ubud – One of the major farming lands of Bali, it's surrounded by rainforests, and it's also known as a center for traditional crafts and dance. This beautiful place is filled with vast fields, greenery and gardens.
4. Kopi Luwak plantation – Civet coffee from this coffee plantation is very famous. Civets are fed with well ripen coffee beans, and later the coffee beans are collected from their excreta, and processed to prepare coffee. This coffee is high in demand in many foreign countries and is costly too. These coffee plantations have attracted tourists a lot.
5. Sekumpul waterfalls – This waterfall surrounded by forests owns a wild beauty. It's a favorite spot for trekking too.
6. Mount Batur – The active volcano of Bali with the backdrop of village beauty and natural scenery.
7. Uluwatu Temple (Pura Luhur) – This temple is situated on a hill top, constructed on the top of limestone. Deep seas are located in the posterior end, giving a unique experience.
8. Agung Rai Museum of Art – It's a museum built to preserve and propagate Balinese art and culture. the museum was officially opened in 1996.
9. Sacred Monkey Forest – It's the centre of different species of monkeys. Rainforests appeal spectators' eyes a lot.
10. Tirta Gangga water palace – One of the ancient palaces of Bali, the complex structure is filled with ponds, fountains and sculptures.
How to reach Bali from India?
From Kerala, it takes almost 8 hours of journey to Bali, and services are available from Kochi and Thiruvananthapuram international air ports. The service is provided by Malindo Air of Lion Group, Indonesia. Apart from Kerala, their services are also available from Trichy, Mumbai, Delhi and Amritsar airports. Services from Chennai are provided by Batik Air, owned by Lion Group. Service from Bangalore will be started soon, and company's name may be changed to Batik Malaysia. From Kochi, the flight takes off at 11 pm, which reaches Kuala Lumpur, the capital of Malaysia at twilight. Connection flight will be available to Bali, provided by Malindo Air of Lion Group and in the afternoon you can reach the Island capital.
Image source: Wikipedia
Also read a few more articles on temples of Kerala. Click on the images in the gallery to read
(Visited 233 times, 1 visits today)