7 Simple tips for your lovely feet
We give a lot of preference to our face and hair, and almost ignore our feet which also need attention. It's said a person's attention to oneself can be easily noticed by his feet. So let us take a bit care for our feet so that it gives a positive impact on us and others. Through this column I would like to give a few simple but natural tips for your feet.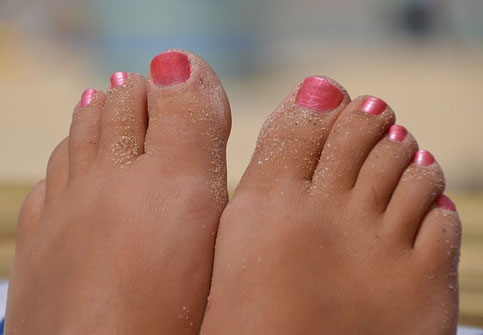 1. Add a little lemon juice and salt to warm water and mix well. Then dip your feet in this solution to soak. Then use lemon skin to rub your feet. It can get rid of your dry skin and remove bad marks also.
2. Soak a little rice in coconut water for two days. Then grind this rice well and apply on your heels. Then wash it off later.
3. Oil massaging is good for body as well as your feet. Before you go to sleep, apply a little oil to your feet and massage well. Coconut oil, olive oil, mustard oil or sesame oil can be used for massaging.
4. While bathing, wash completely the soap in between the fingers and also the nails. Clean your feet well and remove moisture completely.
5. Never use sandals too much tight or too loose. Use only sandals of right size which give enough comfort to your feet and fingers. Flat sandals are best than high-heel ones.
6. Socks are good for feet. But they should be washed after every use to keep your feet hygienic. Cotton soaks are best.
7. You can also apply moisture or oil based cream before you got to sleep. If so wear a pair of cotton soaks. It retains moisture of feet.
If taken care of these simple things, you need not spend a big amount of money at beauty parlours for keeping your feet beautiful. Above provided tips are natural also. You can also read 10 more tips here.
Image source: pixabay
Read a few more articles on foot care & beauty treatments. Here is the page link. Click on the images in the gallery to read