Chocolate – For beauty and anti-aging
When you hear the word chocolate, what comes first to mind is of course a sweet dairy milk or dark piece of chocolate. A chocolate smile can also give a few glimpses for a while. Chocolate is best known for its taste, and we often gift kids with chocolates. It also owns some romantic flavours, and a best gift for your dear one. If you forget to tell him something, chocolate helps you to remember it easier. Do you know chocolate has some health and beauty benefits too? Chocolate is good for heart, changes our mood and owns some miraculous anti-aging contents too. It's also used as a beauty product, and used for facial treatments. Chocolate waxing also has less side effects and resist skin allergies, though a bit expensive.
Dark chocolate is healthy
Dark chocolate is made using coo butter, sugar and coco solids. If you are on dieting and want to eat something sweet, bite a piece of dark chocolate. It won't harm you. Rich in anti-oxidants, you can eat chocolate regularly. They can stimulate cells and make them energetic. It can also resist cancers and heart diseases. You can give dark chocolates to kids occasionally, as they induces their brain power and intelligence. Cocoa element in dark chocolate gives happiness and positive energy too. It's good to begin a romantic relationship with dark chocolate, though it gives a little bitter taste.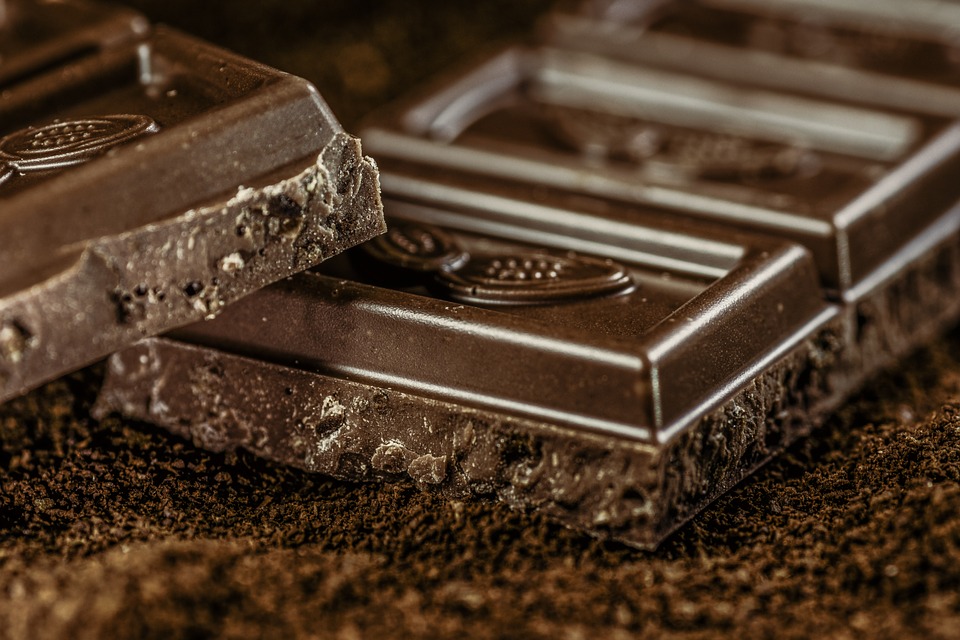 Let us see a few of the beauty benefits of chocolate first
Chocolate contains the anti-oxidant flavonoids which resists anti-aging. It also protects skin from damage due to exposure of sunlight. In short, age cannot conquer you easily if you eat chocolates. It also contains Sulphur, also known as beauty mineral.
Presence of Vitamin components – Vitamin A, B12, B-Complex, D and E present in dark chocolate stimulates absorption of calcium and cell construction. So, eating dark chocolate regularly can give body beauty of 20 at the age of 40 also.
Checks face wrinkles and adds skin glow – Loss of skin's glow and appearance of face wrinkles turns fast due to tensions and mental stress. To reduce stress and mood off, you can keep a little dark chocolate with you. They reduce the level of stress hormones in the body, thus reducing the breakdown of collagen and blocking wrinkle formation. Dark chocolate improves blood circulation and retains skin moisture.
Chocolate for strong hair
Minerals present in dark chocolate enhances the process to take more nutrients of scalp. Thus it improves health and growth of hair. It can also block infection of the scalp. Here is a chocolate scrub for hair. Melt 3-4 chocolate and add to smashed banana. Add a small spoon of honey too. Allow this pack to cool off completely, and apply on hair. Never apply on hair. Cover your hair using cling film and wash it off after half an hour.
Chocolate to remove paleness
Use dark chocolate scrub to get rid of paleness and tarn caused due to over exposure of sun. Melt a little dark chocolate. Add milk membrane and coffee powder and make a thick pack. Apply on affected areas and massage using hands or loofah after 5-10 minutes. Then wash it off. If you use exfoliating gloves, it gives a saloon spa effect and it removes dead cells completely.
Chocolate to prevent wrinkles
Chocolate can strengthen collagen of skin and improves blood circulation. Dark chocolate can also retain moisture. Iron and zinc helps in improving cell growth, thus enhancing the formation of new cells. Melt some dark chocolate, and add milk and powdered sugar. You can also use any one of these. Apply it as a face pack, and wash it off before the pack dries.
A few more chocolate treatments for you
Dark chocolate is a good cleanser and scrubber – Do you know dark chocolate can be used as a cleanser? Grind it with lumps (not into fine grains) and apply it on face. You can change this cleanser to scrubber by adding a little walnut powder.
Chocolate creams for dry skin – If you have dry skin, you can regularly use creams with coco butter ingredient. The skin changes to soft.
To remove dead cells of face – Take one big spoon of sweet-less granulated coco powder and add a small spoon of coco butter. Mix it well and massage your face with this paste. After some time, remove it using tissue paper and wash your face with warm water.
To remove black spots from face – Take two small spoons of sweet-less chocolate powder. Add a little milk and three drops of almond oil to it, and make a fine paste. Apply it on face in equal thickness and wash off with warm water after 15 minutes.
To remove oil from face – Mix coffee powder granules with melted chocolate and massage your face with this paste for a while. Wash it off after 10 minutes. Not only does it remove oil from skin, also improves skin's glow.
Image source: Pixabay
Also read: Home Made Natural Cleanser
Read a few more articles on Wrinkles & Anti-Aging. Here is the page link. Click on the images in the gallery to read.