10+ Terms related to Kerala's New Year festival Vishu
Vishu 2020 is here. Though this year's celebration is unlike Vishu celebrations every year, it's sure every Malayali will celebrate it simple, despite Corona worries. In my life, I have never experienced such a Vishu season. I really wish this bad time will get over when Vishu season comes to an end, and things will get normal very soon. Wishing you all a very happy Vishu too. Through this column, I shall explain 10 of the most common terms related to Vishu festival. Also read: What's the significance of Kani Konna during Vishu season?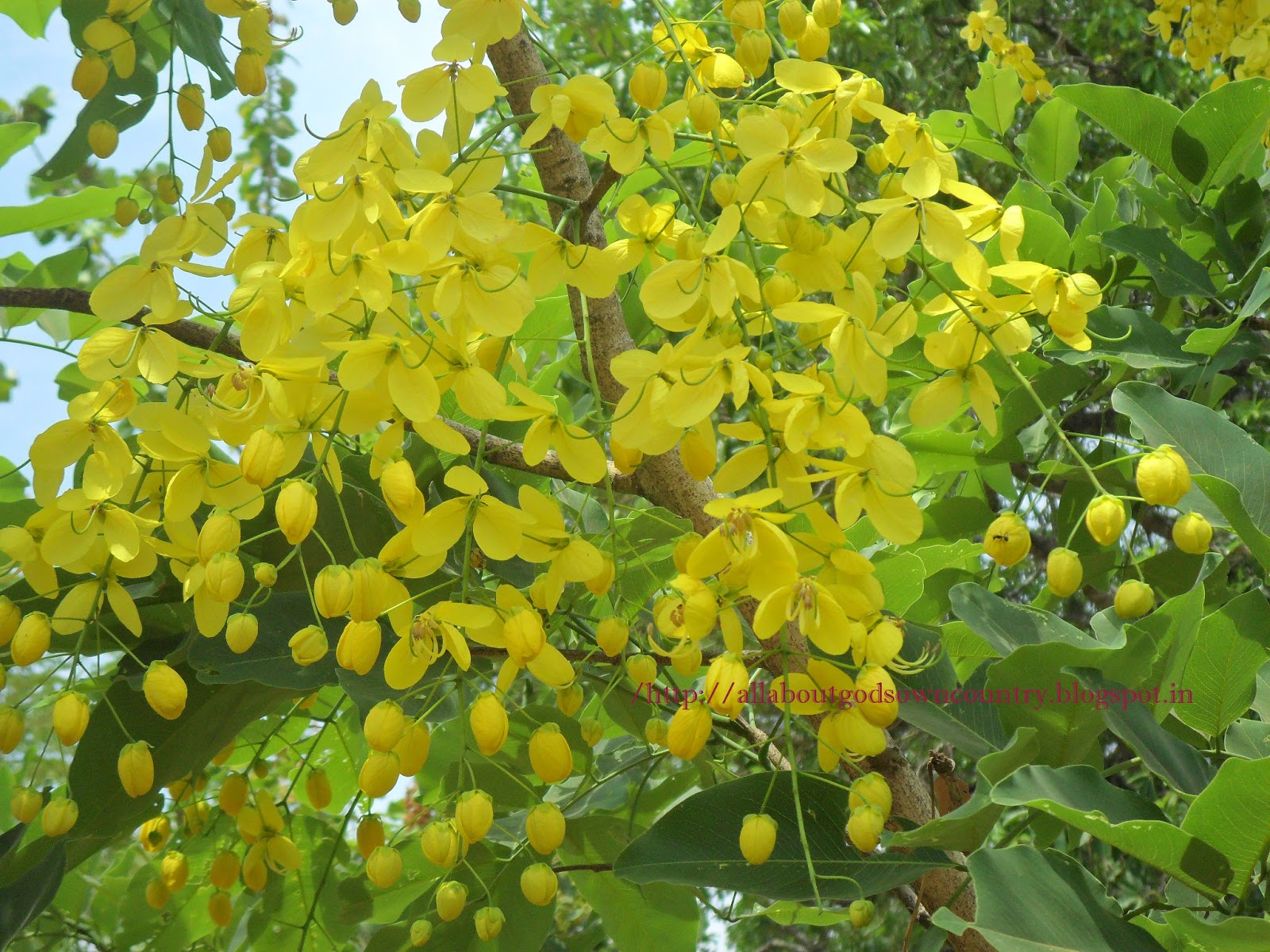 Vishu Bhalam
During old days, astrologers used to visit homes and read Vishu Bhalam of the family members. It gives predictions of next one year beginning with that particular Vishu season. This custom is still followed in a very few remote villages. Dakshina given to astrologers is called 'Yaavana'. How different planets and their movements influence each person belonging to a star, that's what explained through Vishu Bhalam or simply Vishu prediction or astrology.
At many homes, soon after Vishu Kani, people open Ramayana and read a few verses. He randomly opens a page and read a verse, and it is said that those lines have deep link with the upcoming year, thus predicting his future.
Vishu Kani
As per Indian calendar, it's beginning of a New Year, and for a good beginning we should see good things first. After everyone sleeps on Vishu night, the senior lady of the family arranges things for Vishu Kani next day morning. In a bronze Urli, she places things which indicate happiness and prosperity. Rice corn, coconut (after removing husk), mirror (Vaal Kannadi), Vermillion pot, Kerala off-white silk, gold coins, small cucumber (Kani vellari), yellow coloured Cassia fistula flowers, fruits of different types such as banana, grapes, pineapple, apple etc, vegetables like green mango and jackfruit etc are among the common things placed for Kani.
Statue of Krishna is placed, multiple lamps are lighted, and the lord will be decorated with jasmine and Konna flowers (Cassia fistula). In the early morning each family member would watch Vishu Kani first, before starting their daily routine, and young kids love it a lot. People also hang small sized golden cucumbers (Kani Vellari) in veranda and see it as Vishu Kani. In some regions, people give Vishu Kani to cow and calves too. Vishu Kani is also arranged at every temple of Kerala, and coins are given to devotees too.
Vishu Kaineettam
Soon after seeing Vishu Kani, the senior most person gives coins to family members, and this custom is called Vishu Kaineettam. During old days coins too were precious, and young kids used to receive it only during Vishu. There was a time when Karanavar (senior most male member) sits in the veranda with a bundle of coins. He opens the bundle and waits for each family member to see Vishu Kani and then receive Vishu Kaineettam as a precious gift in the morning.
As each person stretches his hand to receive the coin, this custom came to be known as Vishu Kaineettam, especially as this custom is practised on Vishu day. As per customs, only coins are given. But in the present times, kids prefer big currency notes and good gifts. Things are slowly changing.
Vishu Pakshi
Vishu pakshi (Vishu bird) has different nicknames such as Vishu Kili, Uttaraayana Kili, Kathirukaana Kili etc. In English it's known as Indian Cuckoo. They reach villages by mid-March to lay and hatch eggs. They are not easily visible. But they beautifully sing in the high branches of trees, and quite familiar to Keralites. They follow a rhythm and unique tone while singing, and many Malayalam traditional songs follow the same rhythm.
Vishu Katta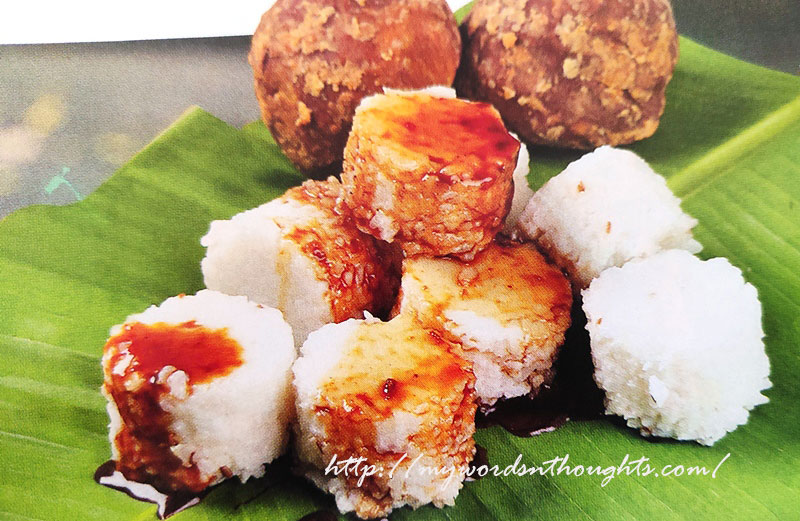 Vishu Katta is a special dish prepared on Vishu day. Unakkalari (Payasam rice/parboiled rice) is cooked adding coconut milk and spread into banana leaves. Then it is cut into pieces. Vishu Katta is served with Sharkkara Pani (jaggery boiled and melted adding sufficient water). In some regions, people eat Vishu Katta with Pappadam. Read the recipe of Vishu Katta here.
Vishu Sankramam
As per astrology, Vishu Sankramam means change of Raasi or Zodiac signs. Sun travels its path from Meenam Raasi to Medam Raasi. On Vishu day, sun rises exactly at the centre point of equator. As it is a condition of 'equal', Vishu got this name. Twice in a year, length of day time and night time are equal. Meda Vishu is the first one which falls on Medam 1st, and the second one falls on Thulam 1st.
Malayalis give importance to Meda Vishu rather than Thulam 1st. It's mainly because it marks the beginning of farming and many things related to agriculture. Many new farming are started during Vishu season.
Vishu Kanji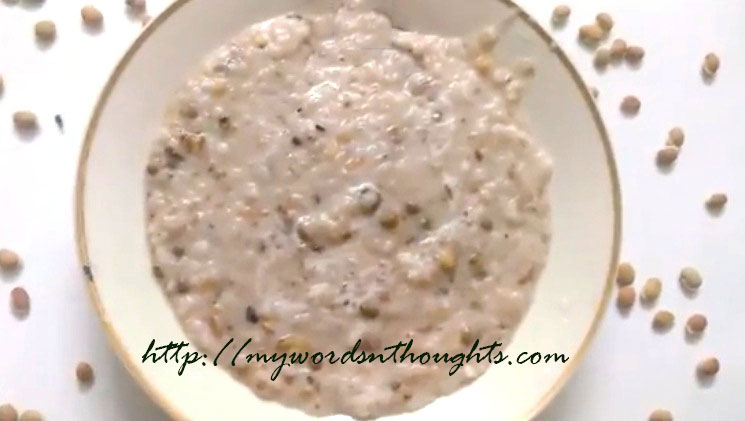 Vishu Kanji is served as breakfast on the auspicious Vishu day. Parboiled rice (unakkalari) without removing its bran and coconut milk are used to prepare this tasty dish. There was a time when Vishu Kanji was served at noon too. It was prepared using jaggery, coconut milk etc and served aside pappadam, Mampazha Kaalan, Chakka Erisseri, Jackfruit fried (Chakka Chula fried) etc.
Vishu Bihu
When Malayalis celebrate Vishu, Assamese people celebrate Bihu. It is a festival of agriculture and farming, and the occasion is also celebrated as New Year and spring festival. People assemble together and celebrate it in a great way. Pooja of farming land, worshipping cattle, giving gifts to relatives and friends, group dance etc form a part of Bihu celebration.
The event is known in different names in different parts of the country. Yet a few things are common. Mid-April always mark New Year in Indian calendar and it is deeply linked to agriculture culture and related events too, in all parts of the country. Gudhi Padwa (Ugadi), Bihu, Vaisakhi, Songkran, Tamil Puthandu and Pohela Boishakh – New Year is celebrated in different names, not just linked to Hinduism, but linked with Buddhism as well, celebrated in Thailand and many other countries.
Vishu Pushpam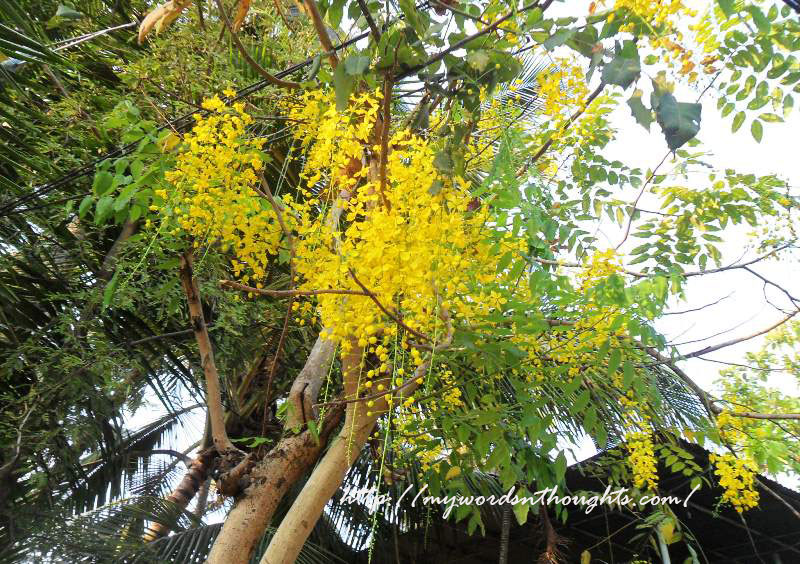 Vishu Pushpam literally means Vishu flowers. Cassia fistula or Vishu Kanna – the beautiful yellow flowers represent Vishu season. Also known as Kani Konna (as it is widely used for the ritual of Vishu Kani), it blossoms everywhere in Kerala during Vishu season. Before sun moves from Meenam Raasi to Medam Raasi, the arrival of Vishu season is notified by the blossoms of Konna.
Earlier the flowers start blossoming during mid-Meenam month and it completes its season during Mid-Medam. Due to climatic variations, nowadays we can see blossomed Cassia fistula during the winter December season or much earlier. Even in hot summer, the flowers in bunches stay fresh for a long time, and won't shed easily. They stay fresh for many weeks. Tender leaves, bark and roots are used for preparing medicines too.
Vishu Padakkam
Vishu is a season of bursting crackers as well. Mid Kerala, especially Thrissur celebrate the occasion with grand with crackers. Crackers means Padakkam, and crackers for Vishu season becomes Vishu Padakkam. Needless to say, Vishu is equally important as Onam to Thrissur people, and the world famous Krishna temple at Guruvayur is a part of Thrissur district.
Vishu Sadya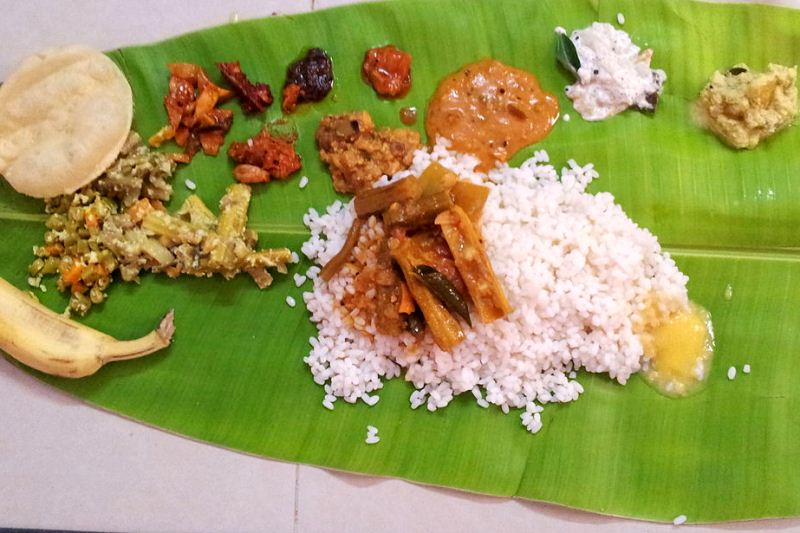 A grand vegetarian feast known as Sadya is served on plantain leaf, and the whole family members assemble for the lunch. From pickles to Kichadi, Erisseri to Sambar, and Avial to Payasam, Malayalis serve some of the best vegetarian dishes during the special eve of Vishu.
Vishu Kodi
Like Onam, it is a season of new dress too, and kids are presented with Vishu Kodi during this auspicious occasion. In brief words, Vishu is a regional festival of Malayalis, an another version of Onam, celebrated during hot summer season.
Pathamudayam
Let me summarize this list with Pathamudayam or 10th rising day of sun – 10th day since Vishu. For many people, this day ends Vishu season. Earlier this day was celebrated grand, exchanging agricultural products like tapioca, yam, mango, jackfruit, ginger, turmeric etc symbolizing the ancient tradition of barter system. Such products are kept for sale too, some traditional crafts are displayed and Kerala temples too celebrate on this occasion. As per astrological beliefs, it's the most powerful day of sun in a year, and in some homes 10 wicks are lighted in traditional lamp in the evening, to symbolize 10 sunrises. It's also known to be an auspicious day to begin new ventures. Animal sacrifices were held long time back. Now such customs are slowly shrinking.
Read a few more topics on Vishu. Here is the page link. Click on the images to read.
(Visited 1,104 times, 1 visits today)