Yashasvi Jaiswal – Promising young cricketer and the player of tournament of 2020 U-19 World Cup
Yashasvi Jaiswal is a young promising cricketer from the state of UP. He plays as a left-handed opening batsman for his team, and currently plays domestic cricket for Mumbai. He has been signed for IPL 2020 by Rajasthan Royals for a whooping amount of 2.4 crore. He owns the world record of the youngest cricketer to a List A double century in year 2019. During his early childhood and teens he has played a lot of hardships while pursuing his cricket training in Mumbai. He has slept in a tent for 3 years and did a lot of odd jobs and even spent his days with empty stomach those days. He was a member of U-19 team which played finals at 2020 U-19 WC and also scored 400 runs from 6 innings, which helped him to come to spotlight.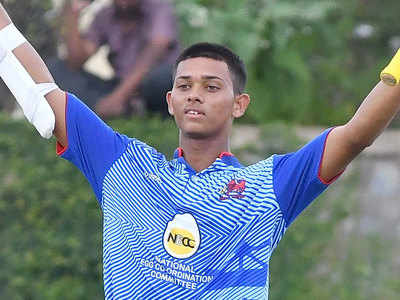 He did odd jobs in Mumbai during childhood days while receiving training
Yashasvi Jaiswal hails from Suriyawan, Bhadohi. He was born in December 2001 into a family of 6 siblings. His father Bhupendra Jaiswal owned a hardware store. Yashasvi's dream to play for Indian national cricket team was never discouraged by his father, who owned a small shop. He moved to Dadar, Mumbai at the age of 10 to receive training in cricket from Azad Maidan. But Dadar was far away from the training ground. So he relocated to Kalbadevi. As he couldn't afford the rent he worked in a dairy shop. In return he got accommodation. But when he couldn't help the shopkeeper much, in between his training, he was asked to leave the shop. Though he had a relative in Mumbai, his home was not spacious to give shelter to Yashasvi, who was a kid then.
Jaiswal stayed in a tent with the grounds men at the Maidan for three years, while he was receiving training at Azad Maidan. He did many odd jobs including selling panipuris for financially support, and sometimes slept hungry. His bad days came to an end when he was spotted by Jwala Singh in 2013, who ran a cricket academy in Santacruz. By that time he had spent three years in the tent. Later Jwala Singh took him under his wing, gave him practise and shelter and became his mentor too. He also became him legal guardian and obtained his power of attorney. His life changed only after that, and his bad days came to an abrupt end.
He came to limelight for the first time in 2015
He scored 319 not out and took 13/99 in a Giles Shield match in 2015, which brought him to spotlight. He was at school when this score was entered in Limca Book of Records. Very soon selected to Mumbai under-16 squad, and has been playing domestic cricket since then. He later got selected to India under-19s, where he has been playing for the past few years. In 2018 ACC Under-19 Asia Cup, which India won he became the player of tournament. With 318 runs, he was the highest run-scorer of the tournament.
He has been playing in full swing since 2018
He debut first class cricket in 2019 playing for Mumbai in the 2018–19 Ranji Trophy on 7 January 2019, and A-list debut in September. He played Vijay Hazare Trophy 2019–20, and finished as one among the 5 run scorers. It also includes his world record of 203 runs. He was also named at 2019–20 Deodhar Trophy.
In 2019 he played a memorable test match against South Africa under-19s, where he scored 173 off 220 balls, and presented innings win to his team. Same year in U-19 tri-nation series held at England he scored 294 runs in 7 matches. Very soon in December he was named for 2020 Under-19 Cricket World Cup. Playing as an opener, he became the highest run-scorer of the tournament. His century against Pakistan in the semi-finals helped India to reach finals, though they were beaten in the finals by Bangladesh. He was elected as the Player of the series.
As a junior, with a tremendous career record to his credit, he has a great career ahead and hopefully he plays for team India this year (2020), while I am preparing this post. Hats off to such a great player and inspiration to youngsters, never to leave their dreams midway, whatever hardships one has to face to achieve the feat which he has been dreaming about!
Yashasvi Jaiswal – Some interesting and less-known facts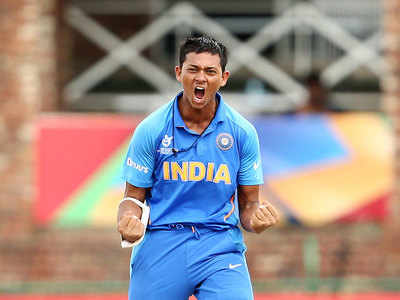 1. On 16 October 2019, in his debut A-list series, he scored 203 runs off 154 balls in a Vijay Hazare Trophy match against Jharkhand. Thus he became the youngest cricketer to score a double-hundred in the history of List-A cricket.
2. While he was giving his career best performance in year 2019, he is a school student too, studying in class 10.
3. His elder brother Tejasvi has received training in cricket from Madan Lal Academy in Delhi.
4. In 2020 U-19 WC he scored 400 runs from 6 innings, which include 4 half-centuries and one unbeaten century against Pakistan in the semi-finals. The only time he didn't get a half-century was against Japan when he scored 42.
5. When India suffered a batting collapse against Pakistan and Bangladesh in 2020 U-19 WC, he scored two memorable innings – 105* and 88 respectively.
6. Just before his memorable innings in 2020 U-19 World Cup semi-finals against Pakistan, his coach and mentor asked him to break his innings into two, and start counting from zero soon after completing 50. It helped him to break the 'century' barrier, who had already score 4 50s in 4 innings without any hundred.
7. He became the second highest run-scorer for India in Under-19 World Cup history after Shikhar Dhawan, who scored 505 runs in the 2004 edition. After this dream run Yashasvi Jaiswal was also selected as the player of the tournament. He also took 3 wickets.
8. He is the only batsman to score 4 50s in a row in U19 World Cup, and he created this new record in 2020 WC edition. He is only the third world player to score 5 fifties in U19 World Cup, in a single series.
9. As a child he practised cricket at Ram Leela Azad Maidan in Mumbai with his friends. In the evenings he also sold pani puri in the same playground. During those days he slept in hunger many days, and later revealed that in those days he used to pray god that his friends should not approach him to eat pani puri.
10. He once revealed that he had cried many times during his days in Mumbai, not because of home sickness, but for not finding a good toilet.
11. In cricket Sachin Tendulkar and Wasim Jaffer are his idols.
(Visited 200 times, 1 visits today)