When two legends come together! R. D. Burman – Lata Mangeshkar Top 25 Bollywood Songs
In my Bollywood blog, I think I wrote maximum posts of R. D. Burman. I have prepared different combination songs, his career best songs, his top songs with Kishore Kumar, Rafi, Lata, Asha etc. I have also prepared the list of solo and duet tracks sung by Lata Mangeshkar and Asha Bhosle for this legend. Scroll down to get the post links. Perhaps R. D. Burman is the only composer from Bollywood, whose compositions cannot be tied exclusively to just three or four categories or genres. His each and every composition hold some kind of individuality, though he has experimented with a few tunes to create new songs; for instance Hume Rasto Ki Jaroorat Nahin Hai.
In the previous list, I prepared individual lists of best solo and duet songs sung by Lata for Mangeshkar. What an amazing list! And needless to say, I had to exclude many of my favourites. I combined both those lists to iterate 25 of the best songs of this combination. Hope you will like it. I have sorted these songs in alphabetic order.
1. A Ri Pawan Dhunde Kise Tera Mann from Bemisaal – Lata Mangeshkar-Pancham da combination has given some soulful solos in the late 1970s and early 1980s featuring Amitabh Bachchan and Rakhee. Title track of Kasme Vade, Sawan Ke Jhoole of Jurmana & Apne Pyar Ke of Barsaat Ki Ek Raat (a duet with Kishore Kumar) are a few such. One of the finest tunes in the worst era of Hindi music, Bemisaal was released in 1982. Let us begin the list with this solo number. Anand Bakshi gave full justice to the song with its lovely lyrics, and the song was lovely filmed too.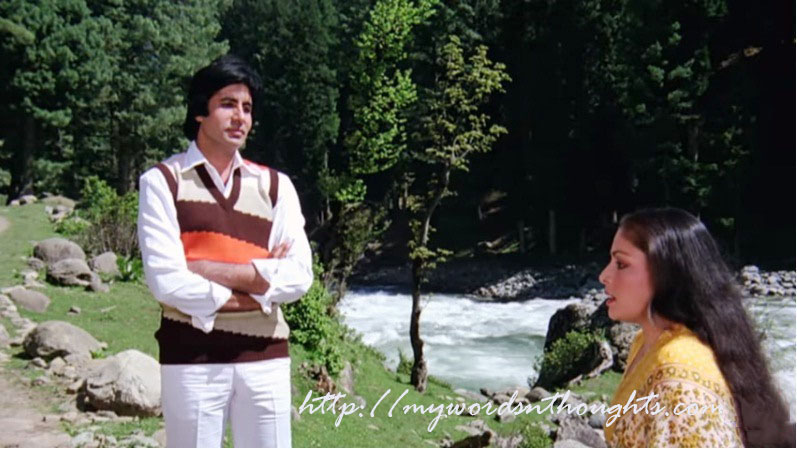 2. Aaja Piya Tohe Pyar Doon from Baharon Ke Sapne – The movie is still remembered for two of the best solos sung by Lata Mangeshkar. It's not easy to point out which one is better. In this song sequence, Rajesh Khanna is seen in a gloomy mood, and Asha Parekh tries to make him happy. Before Pancham da started his innings with Anand Bakshi in the late 1960s/early 1970s (may be after Aradhana magic, when Pancham da completed the unfinished works of his father, and Anand Bakshi penned all of its popular songs and they worked together), he worked with Majrooh Sultanpuri in almost all his works of 1960s. Songs of Baharon Ke Sapne can never miss our list.
3. Agar Tum Na Hote from Agar Tum Na Hote – It was used as the theme song of the movie, and title track too, and used for the continuity of the film. The song had solo versions sung by Lata Mangeshkar and Kishore Kumar and their duet version too. Lyrics written by Gulshan Bawra, and Rajesh Khanna and Rekha were featured in different versions of this song.
4. Aisa Sama from Zameen Aasmaan – This romantic movie is best remembered for one solo of Lata Mangeshkar featuring Sanjay Dutt and Anita Raj, and is definitely one of the best compositions of R. D. Burman in the 1980s. Anjaan penned its beautiful lyrics, which brings thoughts of beautiful seasons of human hearts to our minds.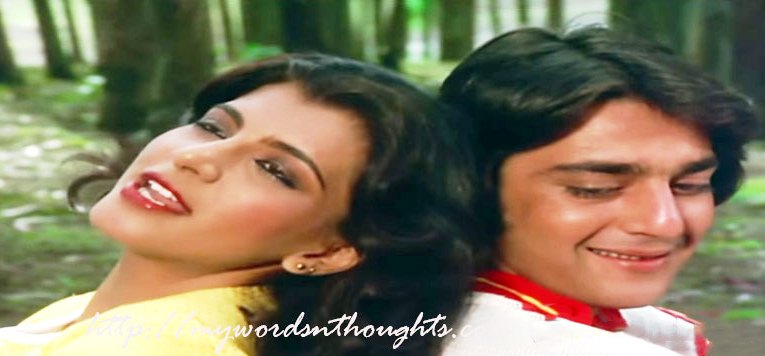 5. Baahom Mein Chali from Anamika – One of the finest compositions of Pancham da sung by Lata Mangeshkar, this particular song always rank top among my favourites. You can sort their combination songs based on any criteria of your preference. But if you are a diehard Lata fan or Pancham da fan, you can never miss this song in your playlist. What an amazing tune and what a wonderful rendition! Lyrics penned by Majrooh Sultanpuri also played a magnificent role in making this song such a huge chartbuster. The song was listed at #36 on Binaca Geetmala annual list 1973. The song was filmed on Jaya Bhaduri and Sanjeev Kumar, shot at Sur Mandir, a bungalow owned by S D Burman and the famous swing seen in the song was actually purchased by R. D. Burman for his first wife Rita Patel, who was then separated when the song was shot. The movie had 5 solos, but no duets. Isn't it interesting?
6. Beete Na Bitayi from Parichay – This particular song and Raina Beeti of Amar Prem are two of the finest raga based songs composed by Burman for Lata Mangeshkar in the era of 1970s. Ghazal singer Bhupindra sang this duet aside Lata. The song featured actor Sanjeev Kumar and Jaya Bhaduri, who played father and daughter in the film, quite strange. The composer had earlier tuned some evergreen songs of Anamika, in which the same lead actors played a romantic couple.
7. Bheegi Bheegi Raaton Mein from Ajnabee – This sizzling rain song featuring Rajesh Khanna and Zeenat Aman is one of the finest rain songs ever. Also read: Top rain songs of Bollywood. Kishore Kumar and Lata Mangeshkar sang its original version, penned by Anand Bakshi. The movie had four songs, and R. D. Burman used Kishore's voice in all of them. The song had a remixed version in the 2000s, and it helped a lot to make this song popular among youngsters.
8. Dilbar Dil Se Pyare from Caravan – Aruna Irani lip-synced to Lata Mangeshkar for this dance number. The song also featured Jeetendra and Asha Parekh. Caravan was one of the major hits of Pancham da's career during his initial days, and also presented before listeners a demo of tunes which he is to tune for next one decade. Majrooh Sultanpuri penned lyrics for all the 8 songs, and it was one among the last major works of the poet with the composer.
9. Hum Dono Do Premi from Ajnabee – The first Bollywood song to be fully shot on the top of the train, it was the first film of the lead pair – Rajesh Khanna and Zeenat Aman too. Kishore Kumar sang this duet with Lata Mangeshkar. Lyrics were penned by Anand Bakshi.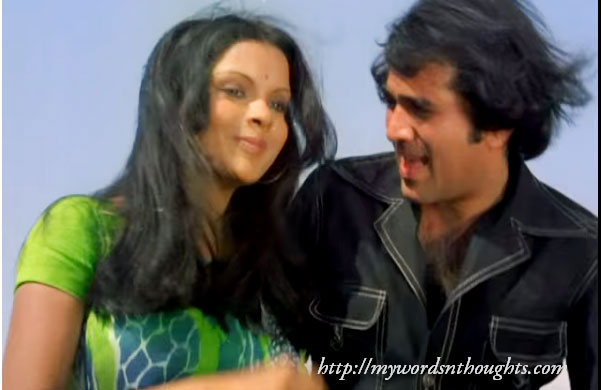 10. Karvatein Badalti Rahe from Aap Ki Kasam – This Kishore – Lata duet is widely regarded as one of the top duets composed by R. D. Burman. All the songs were well received by critics and audience alike. This romantic track penned by Anand Bakshi was filmed on Rajesh Khanna and Mumtaz. However the movie was not a big hit as expected. R. D earned a Filmfare nomination for its compositions. The movie also included the extremely energetic duet of the duo – Jai Jai Shiv Shankar. After this movie, Mumtaz took a sabbatical from acting, following her marriage.
11. Khamosh Sa Afsana from Libaas – The soft ghazals of the movie composed by Burman are timeless, and done during his low phase of professional career. The movie showcased at several film festivals had a theatric release in India most recently only in 2017. Shabana Azmi, Naseeruddin Shah and Raj Babbar played lead roles in the film based on human relationships. Lyrics were penned its director Gulzar. This Lata – Suresh Wadkar duet holds the fragrance of a sweet ghazal, and R. D should be praised for such a lovely composition in an era fully dominated by loud music. Music videos of the songs of Libaas are yet to release online.
12. Kya Janu Sajan from Baharon Ke Sapne – No one can deny the fact that it's one of the finest solos ever sung by Lata Mangeshkar, in association with any music composer of Bollywood. Though the movie was B&W, this particular dream sequence song featuring the lead pair – Rajesh Khanna and Asha Parekh was filmed in colour. The song was reused in 2002 film, Dil Vil Pyar Pyar, a film which offered tribute to the legendary composer, and was sung by Kavita Krishnamurthy. All the songs were penned by Majrooh Sultanpuri, with whom Pancham da frequently worked throughout 1960s, before the beginning of his long-term association with Anand Bakshi.
13. Kya Yehi Pyaar Hai from Rocky – The movie marked the acting debut of Sanjay Dutt and he was featured aside Tina Munim in this evergreen romantic song composed by R. D. Burman. Anand Bakshi penned the lyrics, and the male voice belongs to Kishore Kumar.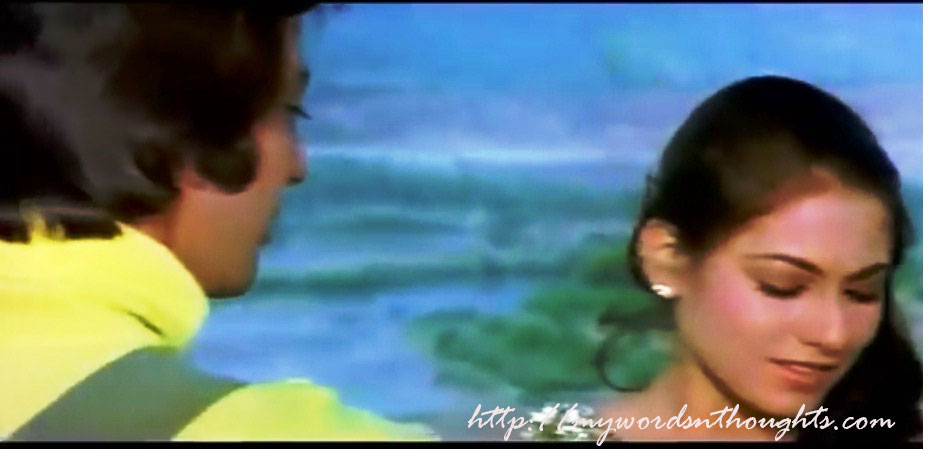 14. Gum Hai Kise Ke Pyar Mein from Rampur Ke Laxman – The duet sung by Kishore Kumar and Lata Mangeshkar was filmed in a colourful set. Randhir Kapoor and Rekha also looked extremely beautiful & romantic, and they express their love and feelings towards each other through the lovely and meaningful lyrics penned by Majrooh Sultanpuri.
15. Na Jaa O Mere Humdum from Pyar Ka Mausam – It's one of my top songs featuring Shashi Kapoor and Asha Parekh. Lyrics by Majrooh Sultanpuri, music by Burman and lovely picturization that touches the soul are sufficient to make it one of my most favorite Lata songs ever. You can read my top 10 favourite Lata songs here. Also go through my list of top Shashi Kapoor and Asha Parekh songs. The movie also included one more Lata solo, my top favourite too – Mein Na Miloongi.
16. Na Koi Umang Hai from Katti Patang – It's the single solo Lata track of the whole album and indeed popular too. The song featured Asha Parekh in a sad mood. Anand Bakshi was nominated for best lyrics at Filmfare awards, and the compositions played a major role in establishing the career of R. D. Burman – Rajesh Khanna – Kishore Kumar trio in Bollywood in the early 1970s. We can't neglect Anand Bakshi's presence too, who presented some of the most wonderful songs of the era.
17. Ni Sultana Re from Pyar Ka Mausam – I think it's the first recorded duet of Lata Mangeshkar and Mohammed Rafi in R. D. Burman's composition. It's indeed a very rare composition of Bollywood ever, best noticed for its unique rendering by Rafi and Lata. Both the singers crooned it amazingly well by bringing high variations in pitches from low note to high and in reverse order, and Asha Parekh and Shashi Kapoor too danced pretty well. Majrooh Sultanpuri wrote the song. The film director repeated the film sequences from his hit film, Dil Dekhe Dekho, filmed on Asha Parekh and Shammi Kapoor (Yaar Chulbula Hai). Asha appeared in both these sequences, while Shammi's younger brother appeared in Version no: 2. What a strange co-incidence!
18. Panna Ki Tamanna Hai Kii from Heera Panna – A very popular duet pictured on Zeenat Aman and Dev Anand, its music composed by R. D. Burman is still popular. Its lovely lyrics were written by Anand Bakshi who regularly worked with R. D. The duet was sung by Lata Mangeshkar and Kishore Kumar. In this particular song, Zeenat Aman tries to con Dev Anand with her sweet words to find something precious in his car.
19. Raina Beeti Jaayi from Amar Prem – The songs of Amar Prem really surprised critics, particularly this track, strongly with classical base. Burman tuned this song in Raga Khamaj and Lata Mangeshkar rendered it brilliant as well. The song is widely regarded as one of the best Lata songs of the decade. All the songs were penned by Anand Bakshi. Definitely, as the title of the film suggests, the songs of Amar Prem will definitely remain immortal in the minds of his fans, and can be tagged under his best 10 works ever.
20. Rhim Jhim Gire Sawan from Manzil – R. D and Kalyanji Anandji composed some of the finest tunes for Amitabh Bachchan in the 1970s and 1980s and recorded them in Kishore Kumar's voice. This monsoon song has two solo versions sung by Kishore Kumar and Lata Mangeshkar, and Moushumi Chatterjee was featured in both. I loved both versions. Also read: Rain songs of Lata Mangeshkar. Lyrics were penned by Yogesh.
21. Sili Hawa Choo Gayi from Libaas – This song with a ghazal touch is yet another wonderful combination of Gulzar-Lata-Burman trio. Though the movie is yet to have a release online, the song composed three decades back still finds place in the hearts of ghazal lovers, and those who love melodies.
22. Tere Bina Jiya Laage Na from Ghar – The movie starring Rekha and Vinod Mehra is known for some evergreen tunes composed by Burman, and recorded in Lata Mangeshkar and Kishore Kumar's voice. All the five songs were penned by Gulzar. This particular solo track featuring the lead pair was sung by Lata Mangeshkar, and one of the classic Pancham da tunes ever. Lata's Aaj Kal Pao Zameen Par too is a familiar song to everyone.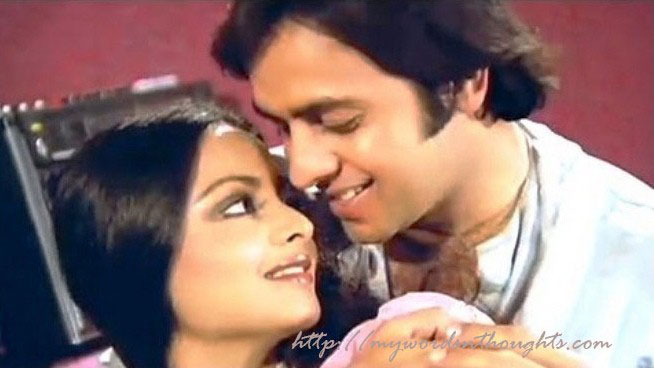 23. Tere Bina Zindagi Se from Aandhi – Aandhi is one of the finest compositions of R. D. Burman with some finest duets of Lata Mangeshkar and Kishore Kumar. All these duets of Aandhi were filmed Sanjeev Kumar and Suchitra Sen and look realistic, so close to life. Gulzar added extra life to its scenes as well as lyrics. It's not easy to point out which duet is better – Tere Bina, Tum Aa Gaye Ho or Is Mod Se.
24. Wada Karo from Aa Gale Lag Jaa – The songs of the film became instant chartbusters. In this romantic track Shashi Kapoor tries to woo Sharmila Tagore on a skating floor in fancy costumes. The duet was sung by Kishore Kumar and Lata Mangeshkar and memorable lyrics were penned by Sahir Ludhianvi. The movie was a box office hit, and its songs composed by R. D. Burman also got noticed.
25. Waadian Mere Daman from Abhilasha – This song had two solo renderings by Rafi and Lata and both featured Nanda and Sanjay Khan. This extremely melodious track composed by Rahul Dev Burman is the greatest claim to fame, and lyrics were penned by Majrooh Sultanpuri. The movie also included a peppy dance number, actually a dream sequence – Pyar Hua Hai Jabse, featuring the lead pair, and sung by Lata Mangeshkar and Kishore Kumar.
A few more top Bollywood songs of R. D. Burman – Lata Mangeshkar combination
1. Aajkal Pao Zameen Par from Ghar
2. Abke Na Sawan Barse from Kinara
3. Apne Pyar Ke Sapne Sach Hue from Barsaat Ki Ek Raat
4. Bada Nathat Hai from Amar Prem
5. Badal Yun Garajta Hai from Betaab
6. Bangle Ke Peechhe from Samadhi
7. Bhai Battur from Padosan
8. Do Ghoont Mujhe Bhi Pila from Jheel Ke Us Paar
9. Do Nainon Mein Ansoo Bhare Hai from Khushboo
10. Is Mode Se Jaate Ho from Aandhi
11. Jaane Kaise Kab Kahan from Shakti
12. Jaane Kya Baat from Sunny (Original Bengali version sung by Asha Bhosle)
13. Jahan Pe Savera Ho Basera Wahin Hai from Baseera
14. Jai Jai Shiv Shankar from Aap Ki Kasam
15. Kanchi Re Kanchi from Hare Rama Hare Krishna
16. Kasme Vaade Nibhayenge Hum from Kasme Wade
17. Kitna Pyara Wada from Caravan
18. Main Hoon Diya Soni from Jal Mahal
19. Mein Chali Mein Chali from Padosan
20. Mere Nayana from Mehbooba
21. Naam Gum Jayega from Kinara
22. Ni Soniye from The Train
23. Phoolon Ka Taron Ka from Hare Rama Hare Krishna
24. Sawan Ke Jhoole Pade Hai from Jurmana
25. Sharm Aati Hai from Padosan
26. Sun Champa Sun Tara from Apna Desh
27. Tere Liye Palkon Ki Jhalar from Harjaee
28. Tu Pyar Tu Preet from Paraya Dhan
29. Tum Aa Gaye Ho from Aandhi
30. Yaad Aa Raha Hai from Love Story
Go through the gallery links to read some of the posts of country's beloved and the celebrated female voice of Hindi cinema – Lata Mangeshkar. Here is the page link. Click on the images to read.
(Visited 671 times, 1 visits today)