Top 20 Bollywood solo hits of Mohammed Rafi composed by Shankar Jaikishen
Among all music composers, Rafi's lion share of chartbuster songs belong to Shankar Jaikishen, especially in the 1960s, when the trio enjoyed celebrity status. Though SJ has recorded countless solos and duets in Rafi's voice, I feel that Rafi's solos excel his duet versions, like any other playback singer. While singing solo versions, a singer gets full freedom to express his/her feelings and talents, and check the list below, you will definitely agree with me.
Among all leading stars of 1960s, Rafi's voice best suited Shammi Kapoor, followed by Rajendra Kumar for whom Shankar Jaikishen regularly composed music. Here I list 20 best Bollywood solos of Rafi tuned by Shankar Jaikishen. I have sorted the songs in the list based on year of release. It's indeed strange that out of the 20 songs listed below, 18 songs were penned by Hasrat Jaipuri, while the rest two by Shailendra.
1. Chahe Mujhe Koi from Junglee (1961) (Lyricist: Shailendra)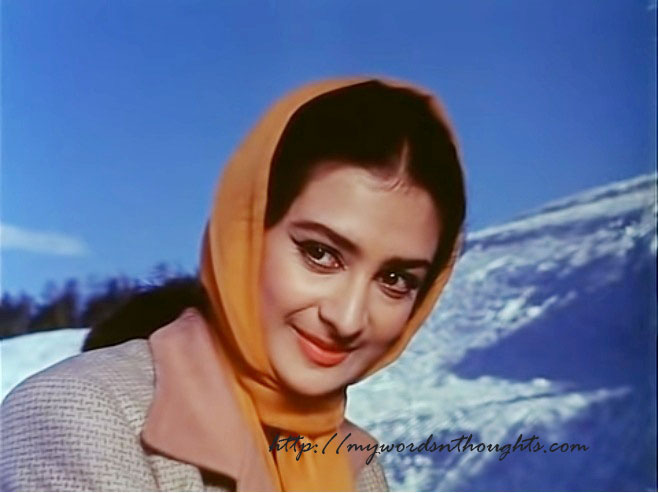 The song was a turning point to the careers of all artists associated with it. 'Yahoo' tag penned by Hasrat for Shammi Kapoor became a signature for the star, who later got identified as 'Yahoo' star. It's considered to be the most popular song filmed on Shammi Kapoor. The movie and its songs also re-invented Shammi as an eccentric romantic hero and rockstar, and SJ's compositions and Rafi's voice played a magnificent role. In the song energetic Shammi Kapoor can be seen shouting and sliding through the snow slopes, and he also expresses his love to his lady, Saira Banu.
2. Ehsaan Tera Hoga from Junglee (1961) (Lyricist: Hasrat Jaipuri)
This top romantic song of 1960s had two solo versions, one in Rafi's voice and the second one in Lata Mangeshkar, filmed on its lead pair – Shammi Kapoor and Saira Bhanu. Rafi's song became more popular. Let me add, whenever I hear Lata's version, I always feel that her voice cracks at Mujhe Tumse Mohabbat 'Ho Gayi Hai', and Rafi sang that part with much ease, and I easily came to a conclusion that Rafi is definitely better singer than Lata. Though I am not sure if I am right, it's my impression about two versions.
3. Dheere Chal from Boyfriend (1961) (Lyricist: Hasrat Jaipuri)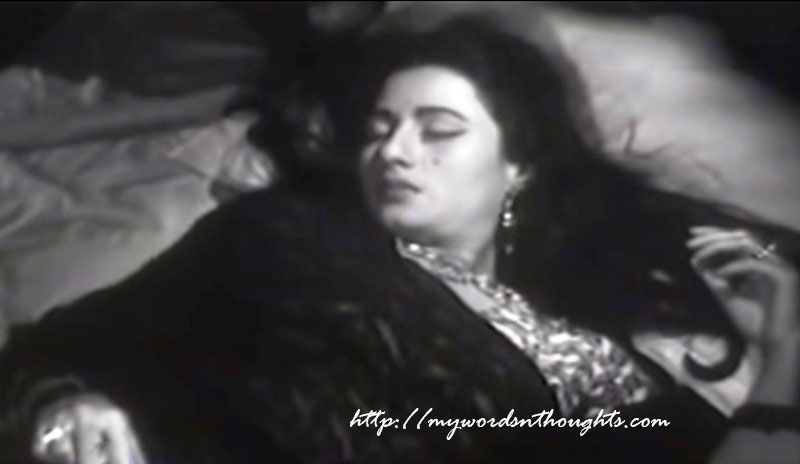 The song filmed Shammi Kapoor as a lover in an eccentric romantic and joyful mood while Madhubala as a 'sleeping beauty' who pretends so and smiles for Shammi's mannerisms. It's an inspired English tune, later used by R. D. Burman to tune the seductive "Kaatey Nahin Kat Tey, Yeh Din Yeh Raat" of Mr. India. The tune of the Mukda was earlier used in 1959 Dev Anand film, Love Marriage as background score (composed by SJ) in both the train sequences in which Dev Anand and Mala Sinha travel together.
4. Aye Gulbadan from Professor (1962) (Lyricist: Hasrat Jaipuri)
One of the best instances that good lyrics immortalize a beautiful tune forever it is the best song of the movie, no doubt. Both Mohammed Rafi and Hasrat Jaipuri earned Filmfare nominations in respective categories, while Shankar Jaishen took away the trophy for best composer. With strong influences of Urdu, Hasrat Jaipuri penned down an intense love song for Shammi Kapoor, and he appears alongside Kalpana for this song. Though Kalpana had a magic entry in Bollywood through Professor, she couldn't make it big. Rafi's solo – Khuli Palak Mein Jhoota Gussa was equally popular.
5. Nazar Bachakar from Dil Tera Diwana (1962) (Lyricist: Hasrat Jaipuri)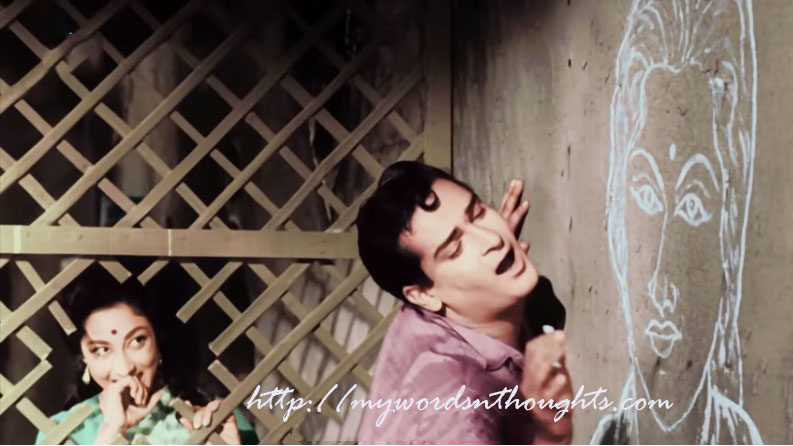 This particular song was also filmed on Shammi Kapoor and Mala Sinha, and it was their third film after Rangeen Raten (1956) and Ujala (1959). Needless to say, Dil Tera Deewana is their most successful film as a lead pair. The duo also appeared together in 1981 film Harjaee in supporting roles. Though it's a black and white film, colourized version of its songs are now available on YouTube. Today for the first time I watched a lovely duet of Rafi and Lata – Masoom Chehra Ye Qatil Adayen. I still can't figure out how such a beautiful song escaped from my ears till now.
6. Is Rang Badalti Duniya Mein from Rajkumar (1964) (Lyricist: Hasrat Jaipuri)
Three solos of Rafi were recorded for the film. The title track was a fast peppy number, while the rest two are soft romantic tracks filmed on Shammi Kapoor and Sadhana.
7. Tumne Kise Ke Jaan Ko from Rajkumar (1964) (Lyricist: Hasrat Jaipuri)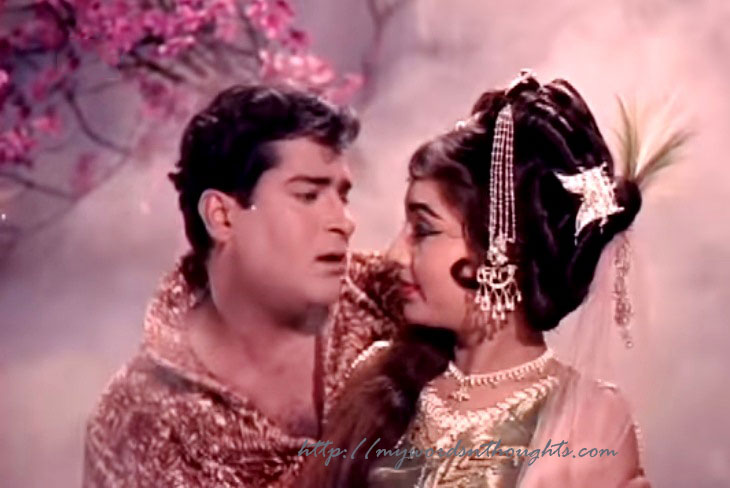 Yet another Rafi solo from the same film, the lead actors look extremely charming in grand costumes, and the locations (possibly inside a film studio) elevates the song to next level. Hats off to the art director for his creative mind to create such a lovely forest! As a child I loved it very much, though I watched it in Black & White television on Doordarshan in the late 1980s and later.
8. Aa Gale Lag Jaa from April Fool (1964) (Lyricist: Shailendra)
It was for the first time, all songs featuring Biswajeet in a single film were sung by Mohammed Rafi. Hemant Kumar composed Biswajeet's early songs and also did playback, before composers like Shankar-Jaikishen and O. P. Nayyar started working in his movies. Saira Banu is seen flaunting in a yellow-gold bikini, and Biswajeet is in an extremely romantic mood. Though Saira has donned glamorous roles in the 1970s, it rarely did skin shows in the 1960s. The title track – a prank song sung by Rafi was a hit and can fit into any joyful mood.
9. Meri Mohabbat from Janwar (1965) (Lyricist: Shailendra)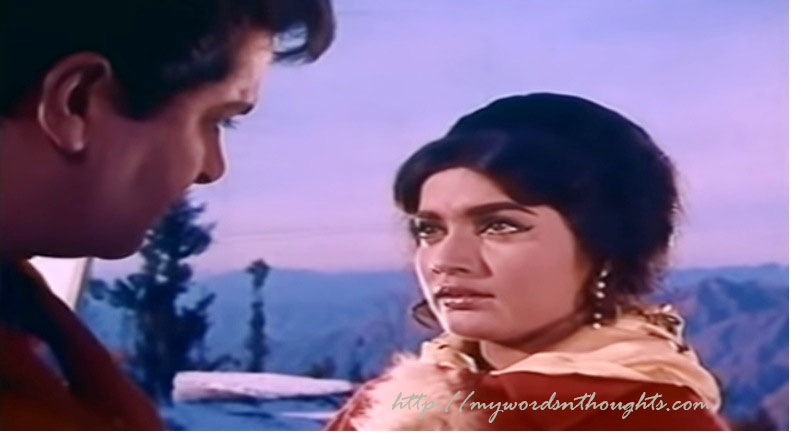 It's my most favourite song from the album, though I excluded it from some of 'Rafi' lists earlier. The song was filmed on Rajshree and Shammi Kapoor soon after she expresses and reciprocals her love.
10. Tumse Acha Kaun Hai from Janwar (1965) (Lyricist: Hasrat Jaipuri)
Shammi Kapoor teases Rajshree in this popular song. The song lyrics got well noticed, and it was later used to coin another Shammi Kapoor movie co-staring Babita, who later married his nephew Randhir Kapoor. Hasrat Jaipuri penned lyrics for its popular song, Kabhi Humne Nahi Socha Tha.
11. E Phoolon Ki Rani from Arzoo (1965) (Lyricist: Hasrat Jaipuri)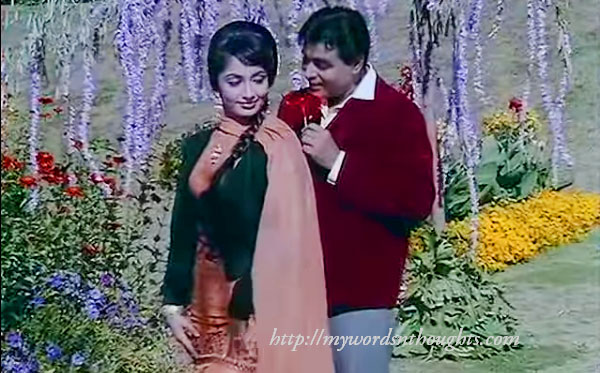 One of the finest songs penned by Hasrat, Rajendra Kumar praises the beauty of Sadhana in this song. The movie was one of the biggest blockbusters of the careers of both. Ae Nargise Mastana, Aji Humse Bachkar Kahan Jaiye Ga and Chhalke Teri Ankhon Se are other Rafi solos from the same movie, all of them belonging to romance genre.
12. Oh Mere Shahe-Khuban from Love in Tokyo (1966) (Lyricist: Hasrat Jaipuri)
It was a time when Rafi and Lata hesitated to sing together, and a few years of mid-1960s were deprived of their romantic duets. So whenever I watch the edited version of this song, where Rafi and Lata versions are combined, it gives a duet feel. Also both the lead actors, Joy Mukhejee and Asha Parekh appear in both sequences, giving the song a duet illusion. I often feel, if it was present generation where technology has far advanced, the singers would have recorded their parts separately and the composer would have later assembled it to get a full-length song. Kash Aisa Hota!
13. Aaja Re Aa Zara from Love in Tokyo (1966) (Lyricist: Hasrat Jaipuri)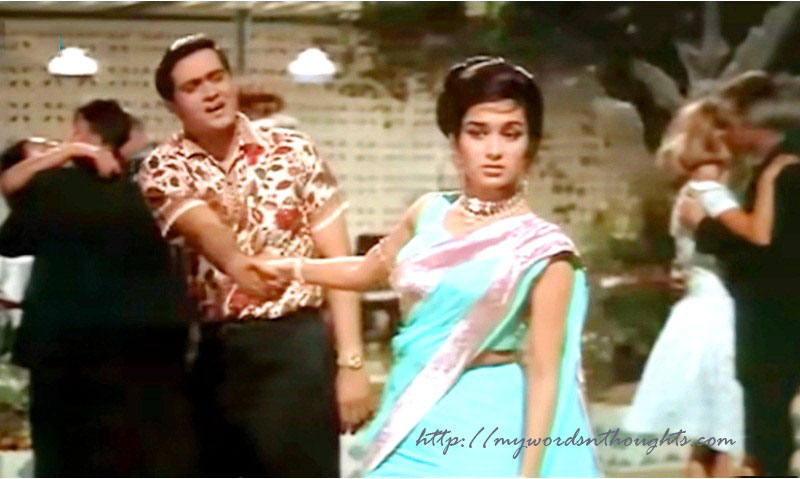 The movie is best known for its songs than its story, and SJ gave one of their career best works through Love in Tokyo. This soft sensuous song featuring Asha Parekh and Joy Mukherjee also included many embracing couples, adding sensuality and romantic mood to the song. Nothing more to say about Rafi's voice, very much more than what we want! It's a night party song with a romantic mood. Lovely rain added more spices to the song, no doubt.
14. Baharon Phool Barsao from Suraj (1966) (Lyricist: Hasrat Jaipuri)
Vyjayanthimala features in this song aside Rajendra Kumar, and wonderful art work done by the art director to create a beautiful forest and swing. The movie with several popular songs won Filmfare award for best music direction of 1966 as well as best male playback singer. Hasrat Jaipuri also earned his first Filmfare award for this song.
15. Akele Akele from An Evening In Paris (1967) (Lyricist: Hasrat Jaipuri)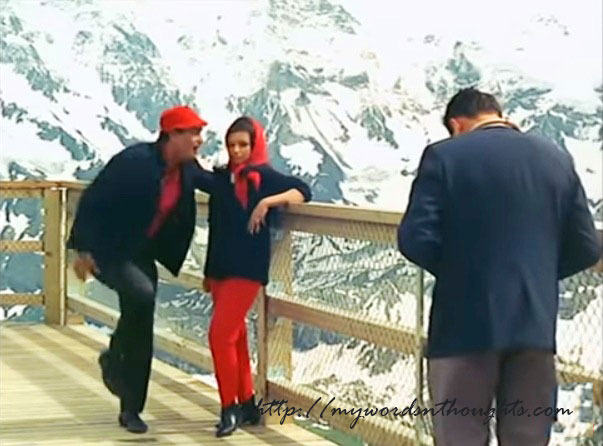 Sharmila Tagore broke all stereotypes of a sari cladded heroine of Bollywood movies through this movie, and she wanted herself to present as a sex symbol, which she succeeds. An Evening In Paris is the most glamorous role she played throughout her career. This song was shot in the splendid locations of Paris, with many visuals not familiar to Bollywood film earlier. Shammi Kapoor teases her through this song, one of the trademark styles of the Indian Rockstar. Rafi uses an entirely different voice modulation for Shammi kapoor which matches his style perfectly, and make those songs quite different from others. Title track, Mera Dil Hai Tera and Aasman Se Aaya Farista are other popular Rafi solos from the same movie.
16. Meri Zindagi Me Aate To Kuch Aur Baat Hoti from Kanyadan (1968) (Lyricist: Hasrat Jaipuri)
This Rafi solo was filmed on Shashi Kapoor and Asha Parekh, one of the top pairs of 1960s. In the 1960s Shashi Kapoor had a chocolate hero image, mostly doing romantic roles. Rafi was his ghost voice of the decade. In the 1970s we witnessed a major transformation where he mostly played action roles aside Amitabh Bachchan, and both Rafi and Kishore Kumar sang for him. Likhe Jo Hath Tujhe is the most popular track of the album, which I excluded from this list. Meri Zindagi Me Aate – is my personal favourite.
17. Dil Ke Jharoke Mein from Brahmachari (1968) (Lyricist: Hasrat Jaipuri)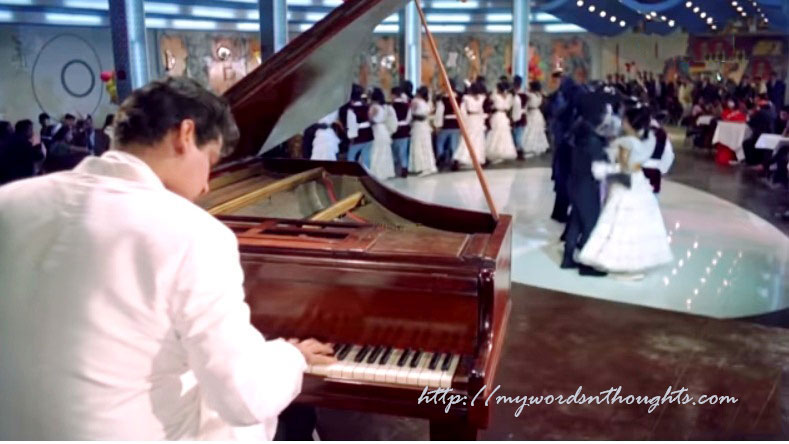 What a lovely lyrics, and how expressive Rafi expressed Shammi Kapoor's feelings through his rendition! No doubt, Dil Ke Jharoke Mein definitely lists among the top 10 heart breaking songs ever produced in Bollywood. For the year 1969, Rafi earned all the three nominations at Filmfare award, with two nominations from Brahmachari and finally winning it for Dil Ke Jharokhe Mein. Lyrics penned by Hasrat Jaipuri also earned a Filmfare nomination. Shammi Kapoor is seen playing a piano in the song sequence amidst a group of dancers telling a heart breaking love story through dance steps, and among the audience are his sweet heart Rajshree in tears and her fiancé Pran.
18. Kabhi Humne Nahi from Tumse Achha Kaun Hai (1969) (Lyricist: Hasrat Jaipuri)
This energetic Mohammed Rafi features Babita aside Shammi Kapoor. Babita later married Shammi Kapoor's nephew, Randhir Kapoor. The movie also included a soft Rafi solo – Janam Janam Kaa Saath Hai. The movie title has been coined from one of the very popular songs of Shammi Kapoor from the movie Janwar.
19. Badan Pe Sitare from Prince (1969) (Lyricist: Hasrat Jaipuri)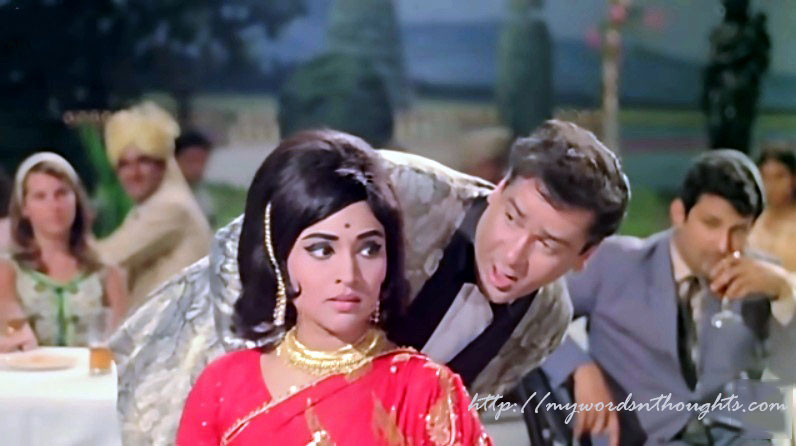 This sensuous song in Rafi's voice is a party number filmed on Vyjayanthimala and Shammi. We can see Shammiji trying to woo his heroine in this song, and he finally succeeds. Shammi Kapoor plays the role of a prince in the movie.
20. Tum Mujhe Yu Bhula Na Paoge from Pagla Kahin Ka (1970) (Lyricist: Hasrat Jaipuri)
With the rise of Rajesh Khanna as the new face of youth in Bollywood, most Bollywood heroes of 1960s lost their charm, and Shammi Kapoor was one among those. With the death of Jaikishen in 1971, an era virtually came to an end. Yes, the meaningful lyrics – Tum Mujhe Yu Bhula Na Paoge is apt for a situation like this. The song had two versions in Rafi and Lata Mangeshkar's voice, and had Shammi Kapoor and Asha Parekh featured in both. Rafi's version is a happy and romantic one, while Lata's version is a sad one.
Here I come to an end of this topic. I hope you like my list of songs. But this list doesn't imply these are the best Rafi solos tuned by SJ. In fact I excluded many of my favourite songs to reduce the list to 20 best. You can read a few more topics on Shankar Jaikishen. Here is the page link. Click on the images to read.
(Visited 658 times, 1 visits today)