Top 10 Bollywood Songs of Kavita Krishnamurthy composed by A. R. Rahman
As we know A. R. Rahman is not permanently associated with a particular playback singer, he recorded only fewer songs with different singers. He is one of those rare composers who always prefer less-heard and less-known voices over well-established singers. In fact he gives more importance to newcomers and promotes unique voices. Yet it's not a difficult task to list 10 of the best tracks of Rahman, which he recorded in Kavita Krishnamurthy's voice.
We can easily say that Rahman remains one of the rare Indian composers who explored Kavita's voice amazingly. Apart from Hindi, he also recorded Kavita's songs in Tamil language. So we have some memorable songs of A. R. Rahman – Kavitha Krishnamurty combination, though a few. Here I list 10 of their best tracks in Hindi. Most of the songs featured in the list are duets aside different male playback singers.
Top 10 Bollywood songs of A. R. Rahman – Kavitha Krishnamurty combination
1. Dheeme Dheeme from Zubeidaa (Lyricist – Javed Akhtar) – Solo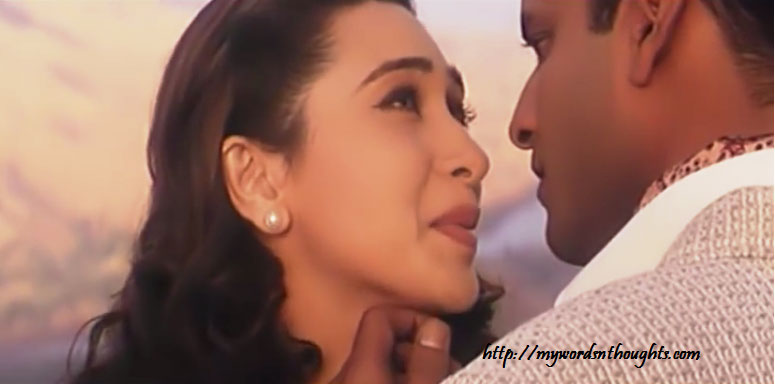 Let me begin the list with one of my favourite songs, released in year 2000. Featuring Karishma Kapoor and Manoj Vajpay, Zubeidaa is one of Karishma Kapoor's top performances. This solo track was the top song of the period drama. The movie also included the dance number – Mein Albeli sung by Kavita and Sukhwinder Singh. I made a choice between two songs.
2. Ishq Bina from Ishq – Sad Version (Lyricist: Anand Bakshi) Co-singer: Sukhwinder Singh
Top musical album of year 1999, Taal also bagged Filmfare award for best music. The song had multiple versions, and was the top song of the album. This sad version featured Akshay Khanna, Anil Kapoor and Aishwarya Rai, where Rai appears as a performer on stage.
3. Ke Sera from Pukar (Lyricist – Javed Akhtar) Co-singer: Shankar Mahadevan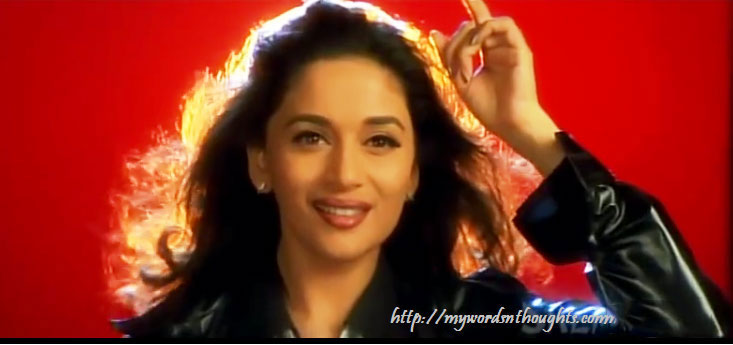 This tune originally belongs to Rahman's Tamil film – En Swasa Kaatte released in 1999. The song lyrics are 'Kathal Naigra (Chillallava)'. Rahman reused the tune with a few modifications the following year for Pukar. It's for the first and last time, two great dancers of Indian screen shared screen space for a single film, and it was so delight to watch to watch. The album included one more popular duet of Kavita Krishnamurthy – Sunta Hai Mera Khuda which she recorded aside Udit Narayan.
4. Nazron Ki Milne Se from Vishwa Vidhaata (Lyricist – P. K. Mishra) – Solo
The tunes of his popular Tamil album – Puthiya Mugham were reused for the Hindi remake – Vishwa Vidhaata released in 1997. In fact the producers reused the tunes without his consent. If the movie had not delayed for many reasons, Puthiya Mugham would have marked Rahman's debut, not Roja.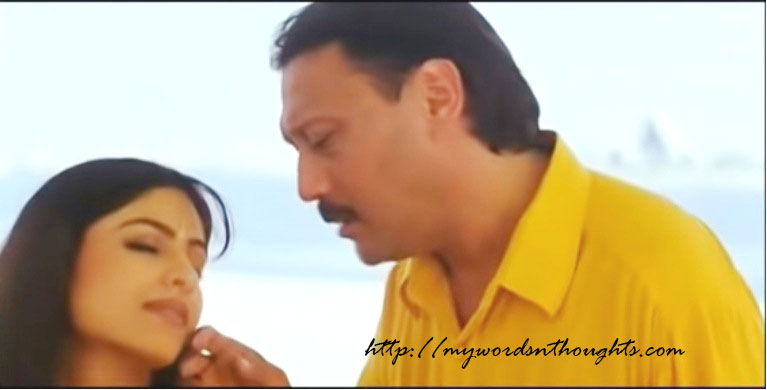 The songs of Vishwa Vidhaata couldn't revive the popularity of its original version with beautiful lyrics penned by Vairamuthu, who associated with the composer for many popular works of 1990s and 2000s. "Kannukku Mai Azhagu" is the original song in Tamil with two versions. Critics felt that tunes are a little old and slow, comparing songs released at the same period. This particular song had one solo version in Hariharan's voice – Kaliyon Si Palke Hain Palakon Mein Kaajal Hai, and this particular song was filmed on Jackie Shroff and Ayesha Jhulka. The movie is long forgotten. I don't think this movie was watched many.
5. Paigaam Laaya Saawan from Lakeer (Lyricist – Mehboob) Co-singer: Shaan
Yet another reused Rahman track from Tamil original released in 2000 – Rhythm, songs of Lakeer – The Forbidden Lines (2004) couldn't revive the success of Rhythm. The original version was recorded in the voices of Unni Menon and Kavita Krishnamurthy. Kavita sang its Hindi version aside Shaan. What I feel is Tamil lyrics are more powerful, which worked among music lovers.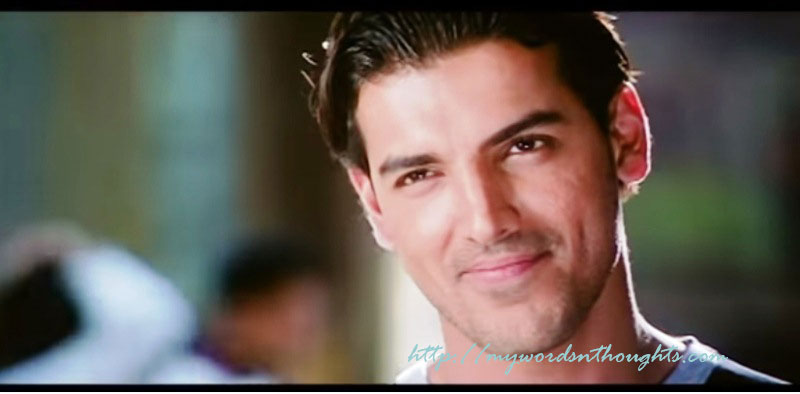 In year 2000, Rahman had some of the biggest musical hits in Tamil – Alaippayuthey, Rhythm, Kandukondein Kandukondein etc. Rhythm was the top popular album. In fact songs of Alaippayuthey were reused for its Hindi remake Saathiya, which turned an instant chartbuster. Rhythm contained 5 songs, inspired from the 5 elements of the world, and its Hindi version terribly failed in lyrics. Song picturization was also not up to the mark comparing the original. This monsoon song was filmed on John Abraham and Nauheed Cyrusi, which well expresses love at its early moments.
6. Chalo Chale Mitwa from Nayak (Lyricist – Anand Bakshi) Co-singer: Udit Narayan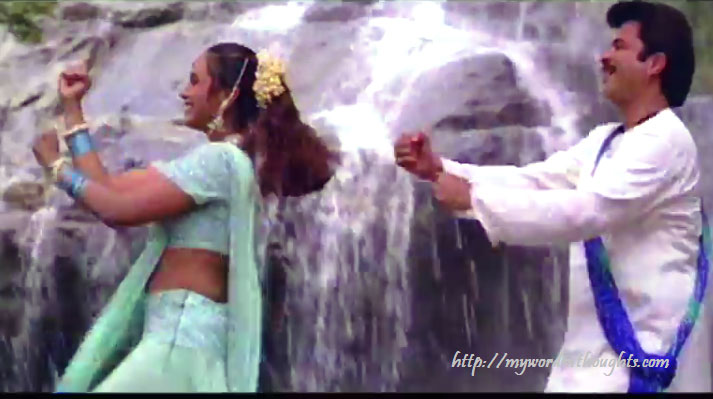 This tune was reused for the Bollywood remake of Tamil hit – Muthalvan (1999) and this romantic track featuring Anil Kapoor and Rani Mukerji became extremely popular. Manisha Koirala who played lead in the original version one year earlier was to reprise her role in Hindi remake. But things didn't work. Original version was sung by Hariharan and Mahalakshmi Iyer.
7. Tu Hi Re from Bombay (Lyricist – Mehboob) Co-singer: Hariharan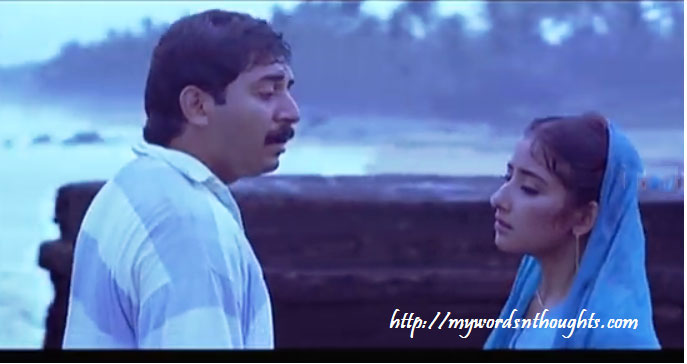 Ranked among top songs of Rahman, this song needs no introduction. This sad song featuring Aravind Swamy and Manisha Koirala was equally loved by south Indian and Hindi music lovers. The movie had a multi-lingual release in year 1995, and the Tamil version – Uyire Uyire was sung by Hariharan and K. S. Chithra. I can't say which Hariharan version is more beautiful.
8. Bol Sajna from Doli Sajake Rakhna (Mehboob) Co-singer: Sonu Nigam
A. R. Rahman recorded two popular duets of Sonu and Kavita in year 1998, long before Sonu Nigam established as the leading male voice of Hindi cinema. Those songs are Satrangi Re of Dil Se and Bol Sajna from Doli Sajake Rakhna. Though songs became extremely popular, both movies failed at box office.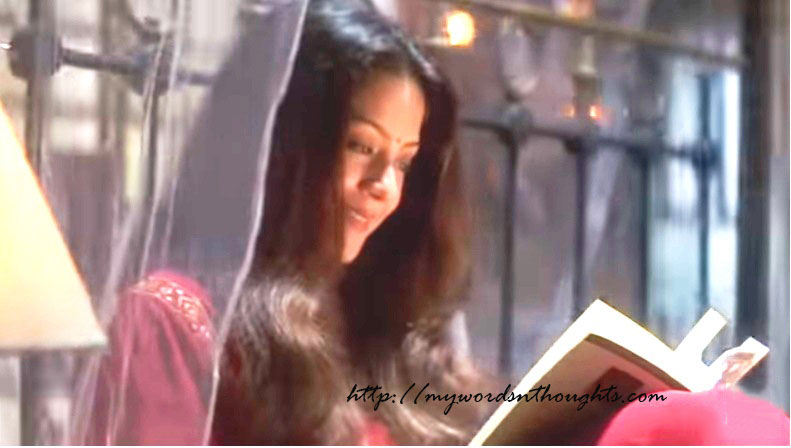 This particular song filmed on newcomer Jyothika and Akshaye Khanna depicts an old love story as scenes, which the actress reads and visualizes, and it was lovely filmed onscreen too – a new experience in Bollywood cinema. An intro-tune recorded in Sonu Nigam's voice in the second half of the song was later reused by Rahman to compose 'Ghanan Ghanan' song of Lagaan. It was recorded in the voices of Udit Narayan, Alka Yagnik and a few more artists.
9. Satrange Re from Dil Se (Lyricist – Gulzar) Co-singer: Sonu Nigam
It's my most favourite duet of Sonu Nigam and Kavita Krishnamurthy. Sonu Nigam was the leading voice behind this song, while Kavita Krishnamurthy provided back vocals. I am sure, you will also agree with me, that it's the best duet recorded in their voice. Even after 20 years, the tune stays so fresh and we never feel bored listening to it. After 'Yeh Dil Deewana', it was the most popular song sung by Sonu Nigam for Shah Rukh Khan, and both the songs established his career in Bollywood. Needless to say, Sonu Nigam was the leading voice for SRK for the next few years till 2008 before he got replaced with new voices. Also read: Top 10 duets of Sonu Nigam and Kavita Krishnamurthy.
It's the most difficult track composed by Rahman for the album with fresh lyrics provided by Gulzar, and Sonu Nigam gave new life to the Satrangi song pictured on Shah Rukh Khan and Manisha Koirala. The song gave seven flavours and stages of love with Gulzar trying to find new definitions and shades of love with final stage being death, and Sonu sang in different pitches for each stage. I doubt if any other song of this genre has earlier been sung by someone in Bollywood and Sonu was not an established artist then. Kavita Krishnamurthy had only a few lines to sing in this lengthy song. However she gave full justice to those lines.
10. Yeh Jaan Le Le Re from Daud (Lyricist: Mehboob) Co-singer: Vinod Rathod
The movie was one of the biggest flops of 1997. Though the movie starred hot pair – Urmila and Sanjay Dutt, it could not replicate the success of Ram Gopal Varma's previous outing – Rangeela. Both movies had two things in common – hot Urmila and chartbuster Rahman tunes. This song was filmed on the lead pair.
A few more A. R. Rahman – Kavita Krishnamurthy songs for your playlist
1. Humdam Pyara Pyara Hai Ye Mausam from Vishwa Vidaata (Co-singer: Udit Narayan)
2. Mein Albeli from Zubeidaa (Co-singer: Sukhwinder Singh)
3. Tu Accha Lagta Hai from Nayak (Co-singer: Hariharan)
4. Sunta Hai Mera Khuda from Pukar (Co-singers: Udit Narayan and Swarnalatha)
5. Pyar Yeh Jaane Kaisa Hai from Rangeela (Co-singer: Suresh Wadkar)
6. Chand Aaya Hai from Dil Hi Dil Mein (Co-singer: Udit Narayan)
7. Tum Ko Paa Hi Liya from Rockstar (Solo)
8. Mein Vari Vari from Mangal Pandey: The Rising (Co-singer: Reena Bhardwaj)
A few more Rahman posts for you…
(Visited 1,912 times, 1 visits today)