Maheswaram Sri Shivaparvathi Temple at Chenkal – The temple with largest Shivalingam of the world
Shivalingam with 111 feet height covering 65 square feet and with 7 storeys constructed at the Maheshwaram Sri Shiva Parvathi Temple at Chenkal in Thiruvananthapuram is the highest among all Shiva lingas across the world. The renovated temple most recently opened to public during Shiva Ratri celebrations began its construction long back in 2012 and took almost 6 years to complete, taking many crores of money and huge efforts. Finally their efforts paid off. It was not easy to accumulate the materials for its construction, workers and huge amount of money. It's only through the dedication of Swamy Maheswarananda Saraswathy and his dedication and bhakti which made this almost impossible mission possible.
Maheswaram Sri Shivaparvathi Temple at Chenkal – Main highlights
Now Maheswaram Sri Shivaparvathi Temple belonging to a very remote village of Thiruvananthapuram is known across India and its fame is spreading far wide. The temple is situated near Neyyattinkara & Parassala in the district of Thiruvananthapuram. Neyyattinkara is famous of Sree Krishna Temple also known as Guruvayur of South Kerala, while centuries old Mahadeva temple of Parassala has conducted Athirudra Mahayajna almost two decades back, and one of the most famous Shiva temples of Thiruvananthapuram district.
At that time, Shiva Parvathy temple owned by temple trust was only a small temple, but known far wide for its religious rituals, astrology and 'Parihara kriyas' or solutions based on tantric principles conducted by Brahmachari priest Swamy Maheswarananda Saraswathy, then known by the name Krishanankutty. People from other districts also used to visit the temple to solve their family issues and other problems, for prosperity and fulfil their goals and dreams through Hindu tantric rituals. But now the architecture of the temple has placed its name in the cultural map of Shiva temples of India.
Surprising facts behind this newly renovated Shivaparvati temple doesn't end here. The Shivalingam at Chenkal broke the world record of the highest Shivalingam of the world, previously held by Kotilingeshwara Temple in the village of Kammasandra in Kolar district, Karnataka. It has a measuring height of 108 feet (33 m) which was a world record, later broken by Chenkal Mahadeva – Parvathy temple of Kerala.
The six storeys of Shivalingam are constructed on the basis of 6 chakras or energy centres of our body – Muladhara, Swadishtana, Manipura, Anahata, Vishuddha and Ajna. As per astrological predictions, the temple is Svayambhoo and 5000 years old, which might be demolished because of some natural calamities.
For the construction of the idol, they used soil and water from the holy places of Kasi, Badrinath, Gomukh, Rameswaram, Gangotri, Gomukh, Dhanushkodi and Kailasam, and the whole construction was carried out based on Vasthu Shastra. Apart from giving homage to the presiding deity, Lord Shiva and Shakti, it also promotes meditation. The construction has six meditation halls, 108 different shivalingams and 64 forms of Lord Shiva, which is very rare and unique across the nation. Devotees can also directly worship Lord Shiva in one of the idols in the ground floor without the aid of a temple priest.
The temple also has 32 different forms of Lord Ganapati – from Balaganapati (child Ganapati) to Yogaganapati (meditating Ganesa), and also an installation of 12 major Jyotirlinga temples of India, outside the Mahashivalingam. All of them have been installed exactly the same way done in the original temples and rituals of worship are also followed the same way. Daily poojas are conducted for all the 32 forms of Ganesa, which is very rare and unique. Rituals followed for Ganapati Homam are also slightly different. It's the only temple in the whole world where devotees can worship 12 Jyothirlingam of Shiva and 32 forms of Ganesa at a single place.
All the 108 Shivalingas and 32 Ganapati idols have been curved from Mahabalipuram, and the whole structure following the traditional temple architecture is indeed astonishing. It's one of the rarest Shiva temples of Kerala where Athirudra Mahayajgnam has been conducted twice, and it was most recently done just before temple inauguration in 2019.
The whole structure has 50 feet diameter at the base and 30 feet diameter at the area of worship. The three white lines on the Shivaligam are 20 feet length each. It's around the height of a 10-storey building and that much surface area for worship. Most recently Shivalingam of the temple has been recognized as the tallest of the country by the India Book of Records, and the temple is now recognized as Dakshina Kailas also.
The temple is constructed entirely out of Krishna Stone and wood, based on the principles of Traditional Architecture of Kerala and Vasthu Shastra. Kailasam or Sannidhi – the ultimate destination is at the top floor, and because of the unique architecture, the interior always has cooling effect even during summer.
Because of the divine nature of the whole atmosphere, the whole architects and workers associated with the construction of the temple observed penance right from the first day of work. It was something like a meditating experience for them guided by Swami, which had a positive change in their minds as well. 30 artists worked continuously for years to give the work perfection.
A temple dedicated for peace of world and meditation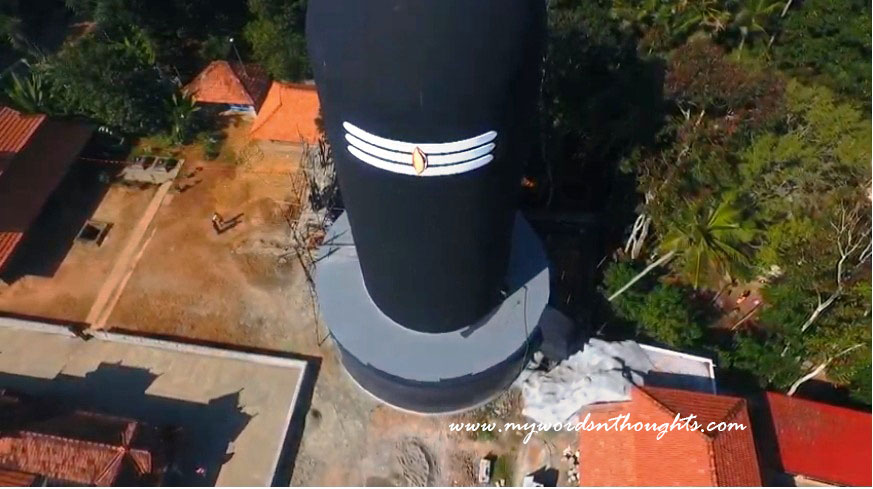 "It's my prayer to the whole world, this temple and Shivalinga" says the administrator Swamy Maheswarananda Saraswathy. He feels that in a rat race for personal gains and money, the peace of world is disturbed and it also affected the co-existence of the world. People are in search of god when he lies within, and as a symbol to foster peace, a Shivalingam has been constructed. In 2011 Lord Mahadeva gave Swamiji divine darshan and commanded him to construct a temple as designed by ancient saints. That's why he decided to renovate the already existing small Shiva-Parvati temple to a big structure, though it needed huge funds of money, without the backing of Devaswom boards or big guns of the society.
His true dedication towards Lord Shiva has been fully visible throughout the process of making, and gave him the final results once the temple was opened to public during the occasion of Maha Shivaratri in 2019. Now the whole world is sincerely praising his efforts, and he truly deserves it. If I share things from my personal experiences, our family has been closely associated with the temple for around past two decades as true devotees and we share a good relation with Swami. For more details, you need to read till the end of the article where I reveal a few personal matters. Yes, I & my family know well the hardships faced by the temple trust and the mental agony went through to complete this mission, which at many times got stuck because of financial reasons, when it went beyond expectations. In true sense I am really feeling proud when the praises for this renovated temple are shooting new heights.
A brief note on the history of the temple
Puttarakkal is the real name of the place where the temple is situated. Devathaabhavam (divinity or divine nature) of this space is Thiruvathira, birth star of Lord Shiva. As per popular belief, the idol of Lord Shiva and Parvati came as termitary spread and is of Swayambhoo nature. Termitary is called 'Putt' in Malayalam, and hence the place was earlier known as Puttarakkal. The space where termitary was seen, Swamy Maheswarananda Saraswathy then known as Krishnankutty built a temple dedicated to the divine couple. Krishnankutty was given diksha by Sri Sri Jayendra Saraswathi swamigal who visited the temple in 2010. He was deeply influenced by the spiritual activities of Krishnankutty and blessed him as well. Swamy received divine darshan of Lord Mahadeva after that, who ordered him to build a temple based on old architectural style.
He conducted a pilgrimage to different Shiva temples across the country before he started the construction process. Previous model of the temple was a 'Thekkath' – a divine space where a small temple (Sree Kovil) with single room is built. The name 'Thekkath' is commonly used in Travancore areas of Kerala, where the temple belongs to. So the early existence of the temple was a 'Thekkath'.
As per astrologer predictions of Paravoor Sreedharanan Thampi, the temple is dated to more than 5000 years and might be destroyed due to any form of natural calamity like earth quake. He also predicted that the Samadhi of a religious monk with knowledge of Brahma also happened here centuries back and years later, all the members of Shiva family were installed here and conducted rituals by Brahmin priests. As years passed by the temple complex got buried because of some natural calamity. Interestingly when the land was excavated as a part of renovation in the recent past, remains of some centuries-old stone statues were also dug out which proves astrological findings were really true. As per astrologer, Swamy Maheswarananda Saraswathy is a rebirth of the religious monk who achieved Samadhi at the same place.
Separate spaces for prayers and meditations at each floor
Interior of Mahashivalingam is divided into 8 storeys. Based on certain principles, special space is arranged in each storey for prayers and meditation. At a time 50 devotees can sit and pray in each floor. The whole construction processes were administrated by Swamy – the head of the mutt in the temple and Tantri Devanarayanan. The coolness of Krishna stones used for walls is one of the major highlights of the whole construction. Stones and wood were curved based on old measurements and craftsmen/architecture rules to construct the temple, and it follows ancient Kerala architecture rules strictly.
Many of the figures in the interior of the construction make us remember the reminiscences of old era of Cholas, Pandyas and the temples built by them. The first idol of the temple is dedicated to Lord Nandi who guards the lord, followed by Rajagopuram in three storeys constructed using wood and stone pillars with traditional tile roof.
Interior of Mahashivalingam is the real beauty
Mahashivalingam is located in the north-east direction of the temple complex. Human body built using Panchabhuta has 6 basic elements, and the Shivalinga is made based on these elements. Soil and water from different pilgrim places including Kailasa, Rameswaram and Kasi, and rare ayurvedic medicines have been used for the temple construction.
When you enter Mahashivalingam, it seems like you are entering a den or cave, and it also gives a cave-like atmosphere. At the top most position, it's Kailasa Sankalpam. When you reach Kailasa after travelling through different experiences, you achieve Moksha – that's the basic principle used for this temple architecture. In the top most storey, beneath 1000-petal lotus structure resides the presiding deities – Shiva and Parvathi.
Based on 'Shadaadhaarangal', there are 6 meditation centres within Mahashivalingam. First storey is beneath ground level. Vinayakan resides in Mooladhaaram. Saraswati and Brahma are other major installations, accompanied by different shades of Shiva. Lord Shiva in 64 Moortheebhavam (characters & moods) is installed inside the Mahalingam. As per legends Parasurama installed 108 Shivalaya across south India, and as a representation to it, 108 Shivalingas are installed inside the main structure. The halls representing 6 chakras were given distinct colour shades – Red for Muladhara, Orange for Swadhishthana, yellow for Manipura, green for Anahatha, blue for Vishudha and indigo for Agna.
The centre portion of each storey is left vacant for devotees to pray and meditate. In each storey, Devathabhavam (or the way by which Lord appears) is different. Statues of saints are curved from stones and placed on sides, and Saint Agastya is also installed, where patients offer prayers to cure their diseases.
Lord Shiva takes different forms and they are well described within the temple structures, from the ground floor to Kailasa where the presiding deity resides. After travelling 6 storeys, when you reach the seventh floor, your mind will definitely be filled with the chillness of Kailasa. In the ceiling, Sahastra Chakra – a 1000 petal lotus flower has been carved out (according to the principles of Yoga), and beneath it preside Lord Shiva and Parvathi, blessing the devotees.
Because of unique construction methods, even during hot Kumbham month, a chillness of early morning fills the whole atmosphere inside. In the lowest level, a Shivalingam has been installed exclusively for deities, where they can pray the lord according to their wishes. They can perform abhishekam and directly conduct poojas without the interference or assistance of any priest.
Chuttambalam for Jyothirlingam
When you come out of Mahashivalingam, you can reach Chuttambalam. Representing different forms of Shiva, 12 Jyothirlingas have been installed here. They represent different Jyothirlinga temples across India, and they have been installed here following the principles and rules of the respective temples. They also follow exactly the same temple rituals. So it's a rare phenomenon to worship all the 12 Jyothirlingas in a single place within a temple boundary, and a unique idea and experience too.
Lord Ganesa in 32 different forms
Ganapati temple lies in the western corner of the temple complex and you need to cross Chuttambalam to reach here. Ganapati has a great significance in this temple of Swayambhoo nature. Within a single roof 32 different Ganesas are installed in different moods and stages – from child Ganesa to Yogi Ganesa, and daily poojas are conducted for all these 32 idols, which is really unique. Each Ganesa Bhava is deeply linked to human life in different aspects and hence way of worship for each idol also differs. Ganapati homam of the temple is really auspicious.
108 Shivalingas placed inside the Mahashivalingam and 32 Ganapati idols were curved from Mahabalipuram of Tamil Nadu by skilled artists. Also all idols placed inside the Sreekovil (or main temple) were also curved there.
Kumar Maheswaram is the Melshanti (or main priest) of this temple. He is the nephew of Swamy Maheswarananda Saraswathy. Swamy lives with his younger brother and family under same roof, just near the temple complex. As he has not entered a family life and a Yogi, his nephew is to follow his legacy. They are strict vegetarians and the whole family members follow a strict devotional life.
Second Athirudra Mahayajnam conducted most recently
The whole temple authorities are extremely happy and satisfied because it's rare to conduct Athirudra Mahayajnam and very rarest to conduct it for the second time. Rudran means 'One who destroys sorrows and worries'. Athirudra Mahayajnam is a big process with a lot of efforts and ritual procedures which erase away worries and provide devotees with knowledge, prosperity, wealth and happiness.
When 121 priests chant Sreerudra manthram for 11 days continuously and repeat it 11 times every day, it turns to Athirudra Mahayajnam. Abhishekam is conducted using 121 pots (called as 'Kalasam' in Malayalam) using 11 ingredients including honey, tender coconut water, sugarcane juice etc. When abhishekam is conducted, the whole atmosphere is filled with chanting mantras, and the holy smoke from the fire fills the whole atmosphere making it medicated.
The temple trust is also known for charity purposes
It's not a pilgrim centre exclusively. The temple trust is also associated with several charity and social activities. The temple owns a Kalyanamandapam (marriage auditorium) which is given free for poor families to conduct marriages. Financially help for homeless, books and study materials from poor children etc are a few more.
How to reach the temple?
The temple is situated in Neyyattinkara taluka of Thiruvananthapuram district, Kerala. From Thiruvananthapuram city boundary, the temple is 26 kms away. After reaching Neyyattinkara (which is 20 kms away from Thiruvananthapuram central/Thampanur bus stand and railway station in NH-17 route), you need to take Parassala-Kaliyakkavila route (a continuation of NH-47) and reach Udiyankulangara which is around 5-6 kms from Neyyattinkara. Then you need to take diversion from NH route and take Chenkal path. Neyyattinkara is the nearest railway station or you can take bus from Thiruvananthapuram also. KSRTC buses are available from Neyyattinkara to Chenkal.
The temple is 28 kms away from Thiruvananthapuram international airport. If you are coming from Tamil Nadu, the temple is 46 kms away from Nagercoil. Contact numbers – 0471 2236273, 8281809731.
Now sharing my personal experiences with Chenkal Shivasakti temple
I think it was long back in 2001 or 2002 when I visited the temple for the first time. I have never told on any online platform before about my father's profession or anything related to it. It's for the first time I am doing so, just because many portions may be left incomplete. I firmly believe that, right now in 2019 my father is the senior most Fireworks artist (called as 'Aasan' in respect by people of Kerala) of our state, with experience in this field since 1972. I am not going into too much details about it. My childhood memories are deeply filled with different colours of fireworks, temple celebrations and colourful festival stories related to it, and that may be one among the reasons why I write about Kerala temple culture a lot.
Let me come back to the point. My father has been doing fireworks in the temple since early 2000s (not sure if he has conducted fireworks in the 1990s), and it's not just a business relationship. We have been visiting the temple since then, because of the firm belief in Swami as well as the presiding deity, to do many poojas and rituals to bring prosperity to our family, my and my younger brother's education, prosperity in business, well-being of family members etc. Our family has been very close to the temple family and regular visitors as well. Also most of the fireworks conducted in the temple are done by my father, and he conducts free fireworks on the Kodiyettam day of every year commencing Shivaratri celebrations. He has been doing so for the past 15 years or so.
When I asked him today about this year's fireworks, he told me that he could conduct only a small firework because of financial constraints. I hope next year it shall be grand. After Puttingal fire incident a few years ago, the demand of traditional Indian fireworks has drastically fell down in Thiruvananthapuram and Kollam district and rules have been made strict also. Also Chinese items are high in demand, which is a profitable business too, though it can never replace the charm of traditional Indian fireworks. My father was the first one to introduce fireworks to his family in the late 1960s in his 20s, later turned a family business, and now my brother and first cousins following the same route.
My younger brother's marriage was conducted at Chenkal temple. Chorunnu ceremony of my daughter and his three children were also conducted there. Members of their family attended my marriage and also gifted me a huge lamp which I still use in my worship room. We have been so close to Swami that we never felt reluctant to share our personal issues or downfalls of business and Swami has always helped us with a solution.
Let me share one more personal experience. At the time of my delivery (she had some complications inside uterus which we knew at the 7th month) he conducted special poojas for me and my child, and she was born without giving so much pain to her mother, which my doctors exclaimed as nearly impossible. Actually the doctors were so surprised to see such an easy delivery, and told "We have never experienced such an occasion before". But she had to spend two more weeks in the hospital, and Swami prayed for the well-being of my child. The words of Swami who strengthened my mother saying, 'Don't worry, I will look after her and the child' strengthened me also. Earlier the first thing my mother did soon after scanning report went wrong was to inform Swami, who assured that he will take care of it. We had so much belief in him and his words that we were less worried, after all. That's what I told he personally took care of our family in many such occasions.
Later I went to the temple for the Chorunnu of my brother's kids, a couple of months later, and then during the occasion of Chorunnu and Thulabharam of my kid when she was 6 months old in 2008. After I shifted to Thrissur, I rarely got opportunities to visit the temple and when I go for the next time, I shall definitely pay a visit there. Last time when visited there a couple of years ago, temple constructions were going on where the temple stood earlier and worships were conducted in a nearby place. I could also see many kids taking free religious lessons in the early morning.
During temple constructions, Swami asked my family to do some financial help. Though it was not huge, they helped in whatever way they can. Swamiji has not changed too much. Time flies. Yet he is exactly the same I saw him 10 or 15 years ago, may be because of his spirituality and devotion to Shiva which helps him to remain so. A couple of years ago, my sister-in-law told that when they visited him at temple, they felt that he was so weak and agonies an deep worries of unfinished works were behind his deteriorating health condition. Though he started temple work with some calculations, the actual expenses went very much beyond that, and it took nearly 6-7 years to complete. So when I see articles about him and the temple in different forms of publications, I feel extremely happy and proud, because….. Swami, you definitely deserved it. The way you carry forward Lord's command is really commendable. In fact many well-wishers and devotees came forward with a helping hand to make this mission possible.
On the eve of this year's Mahashivaratri occasion, let me share one more unique experience with the temple also. I took Mahashivaratri Vrita only once in my life time while doing by college studies, and interestingly the whole night I spent in Chenkal Shiva temple without any of my family members present there. It was for the first time I acquainted with the family members of Swami, who took me to his home near to temple. I befriended his niece, younger sister of present Melshanti Kumar Maheswaram (I forgot her name) and we two along with her group of friends spent whole night in the temple premises. Temple festival was also going on and hence there was source of entertainment as well, in the form of religious ballets. Next day morning my father came and took me to home and I had to wait one long day till moon came out, to go to sleep. But by that time my sleep has gone, and I was enjoying the moonlight with a feel of iternal happiness, I could complete Mahashivaratri Vrita, though it was not an easy task.
Now a brief note about Swamy Maheswarananda Saraswathy
It would be unfair if I conclude the article without telling anything about Swamy, who I used to call 'Potti'. Devotees mostly address him as Swami. He was born on 16 November 1954 in Chenkal village, Thiruvananthapuram, Kerala. He was the eighth son of Chellamma and Jnanaprakasam, and born as a miraculous boy with many peculiarities since birth. His matted hair is one such peculiarity which he still maintains, and matted hair has always been connected to divinity in Hinduism. (I had one such classmate at school, who later cut his matted hair and now a family man with a government job.)
Since the age of five he used to meditate sitting in the southwest corner of his house (Kanni room) and was deeply interested in religious rituals, and at the age of 10, he started calling himself Krishnan. Later he came to be known as Krishnan Kutty. Later a termitary was seen in the place where he regularly meditated and initially his parents destroyed it. But the termitary started growing again and his parents destroyed it multiple times as well. It accelerated its growth which took the shape of Shiva-Shakthi. When a priest ridiculed it and also tried to destroy it, a serpent was seen inside the termite. After that his parents never tried to destroy the termite and as instructed by the child, they started bringing pooja accessories.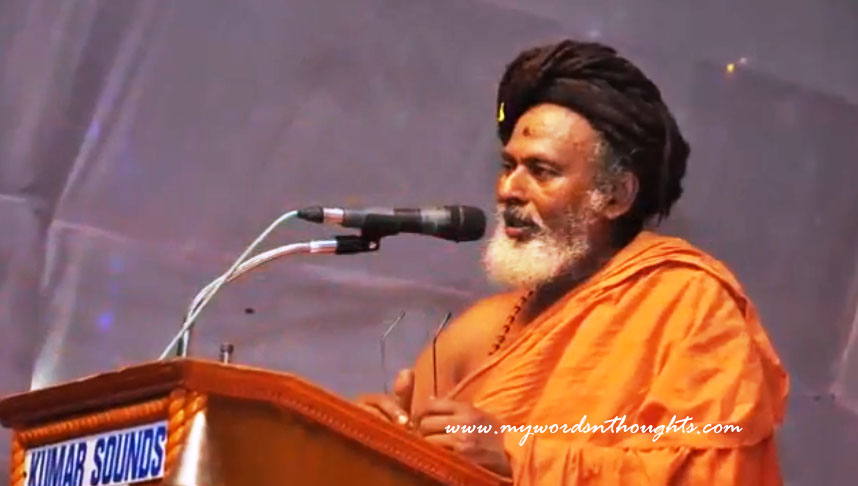 Years later Krishnankutty built a temple there and started worship. He started worshipping the termite and people started to arrive in his place believing that he has the magical power to cure their diseases and sorrows. As years passed by his fame far spread to other districts and neighbouring states as well, and he gave solutions to their problems. A single-room Thekkath was constructed later. People belonging to different castes started worshipping the place and they also offered Ponkala to the deity. As expression of gratitude people also offered money and other forms of helps to the temple, and later a small temple with sub-temples for Ayyappa, Ganapati and Subramaniya was built there. 25 years later, he got the darshan of Lord Shiva to build a new temple with traditional architecture. This temple complex was completely demolished to construct a new temple with gigantic Shivalingam model. Now with the inauguration of the temple with country's largest Shivalingam, the devotion of the devotees and Swami have paid off. As Shiva resides at Chenkal along with his family, devotees visit the temple for the welfare and prosperity of their families in all aspects.
You can read a few more articles on Kerala temples, with detailed description of legends and celebrations associated with them. Here is the page link. Click on the images in the gallery to read
(Visited 3,274 times, 1 visits today)