Top 10 Bollywood Songs featuring Nanda
Nanda – one of the charming faces of 1960s and early 1970s. Though she has never belonged to the list of most celebrated and glamorous female stars among her contemporaries, similar to Asha Parekh, Sharmila Tagore etc she created a niche of her own through a handful of movies where she got opportunity to work with leading heroes of Bollywood. She regularly worked with Shashi Kapoor, Dev Anand and Rajesh Khanna, and gave some major hits also. She also remained one of the top paid actresses of her time, and has played both traditional and glamorous roles.
She was unmarried, and enjoyed a social life in Bollywood old friends' circle till her death in 2014 at the age of 75. Jab Jab Phool Khile (1965) played a magnificent role in establishing her career and Gumnaam, Kanoon, Ittefaq, Hum Dono and The Train are her other big movies.
This graceful actress has been a part of two major Bollywood thrillers – Kanoon and Ittefaq. Both the movies were song-less and both emerged as box office hits. Through this column I would like to list her top 10 Bollywood songs. Lata Mangeshkar sang majority of her songs, apart from a few notable hits by Suman Kalyanpur and Sharda and some of them are still loved by melody fans.

And here goes my list.
1. Yeh Sama from Jab Jab Phool Khile – When someone thinks about this graceful actress, the first song running to mind is the sizzling solo track sung by Lata Mangeshkar featuring Nanda and Shashi Kapoor. The success of Jab Jab Phool Khile played a significant role in the career success of both its lead actors, and they paired in a series of movies after that. Nanda also broke her stereotype next-door girl avatar through this film. Definitely Jab Jab Phool Khile is the most successful film of Nanda's career. This Bollywood blockbuster celebrated its golden jubilee.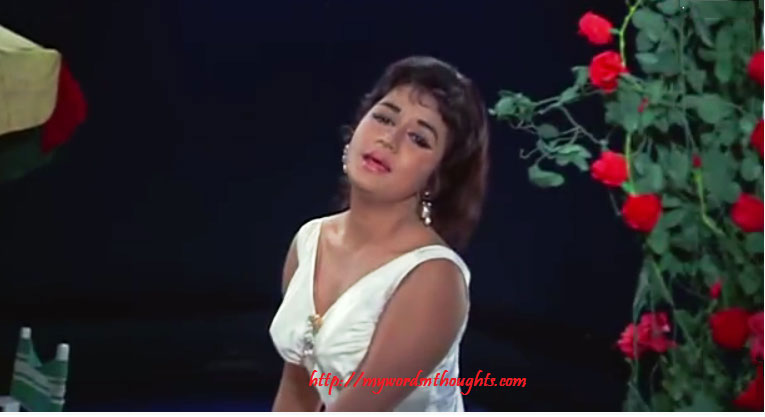 2. Na Na Karte from Jab Jab Phool Khile – This duet also deserves a special mention in the list. The duet was sung by Mohammed Rafi and Suman Kalyanpur. All the songs were extremely popular. Pardesiyon Se Na Ankhiyan Milana had a female version featuring Nanda and sung by Lata Mangeshkar. Rafi's "Ek Tha Gul Aur Ek Thi Bulbul" also included Nanda's voice.
3. Gulabi Aakhen from The Train – This suspense thriller starring Rajesh Khanna and Nanda was a Bollywood blockbuster. Music composed by R.D. Burman became extremely popular, and lyrics written by Anand Bakshi. When the movie was released, a successful association of R. D and Anand Bakshi for Rajesh Khanna movies has already begun in Bollywood. Though it's a solo sung by Rafi for Rajesh Khanna, it's counted among top songs featuring Nanda. The movie also included the duets – Kis Liye Maine Pyar and Ne Soniya. It's one of the rarest works of R. D. Burman where he used Rafi's voice to record Rajesh Khanna songs. Also read: Top songs of Rafi for Rajesh Khanna.
4. Gumnaam Hai Koi from Gumnaam – Extremely melodious track composed by Shankar Jaikishen featured a row of actors including Nanda, Helen and Manoj Kumar. The dancing track of Helen – Is Duniya Mein Jeena also featured Nanda.
5. Jaan-e-chaman Shola Badan from Gumnaam – In the year 1965 Nanda transformed herself to a glamorous avatar through a couple of movies – Jab Jab Phool Khile and Gumnaan. This extremely hot song featured Manoj Kumar and Nanda, and was sung by Rafi and Sharda. Nanda and Manoj Kumar shared amazing screen chemistry in this song.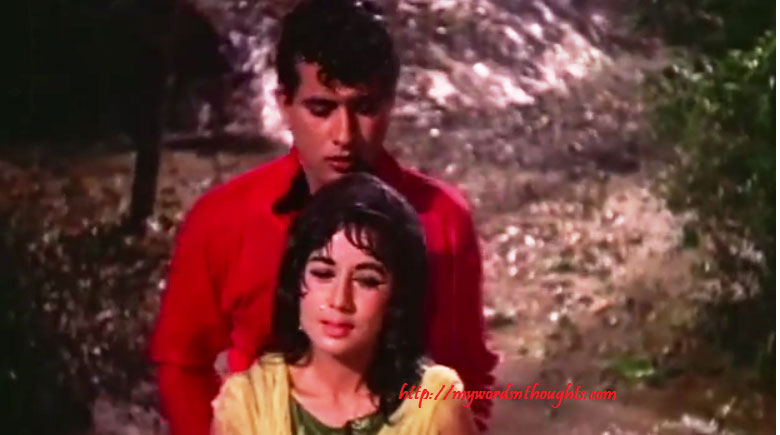 6. Waadiyan Mera Daaman from Abhilasha – This song had two renderings by Rafi and Lata and featured Nanda and Sanjay Khan. This extremely melodious track was composed by Rahul Dev Burman and lyrics penned by Majrooh Sultanpuri. The movie also included a duet – Pyar Hua Hai Jab se sung by Lata and Kishore.
7.

Allah Tero Naam from Hum Dono – It's one of the finest bhajan renditions by melody queen Lata Mangeshkar, and featured Nanda. The movie also included one less-known bhajan, Jo Dhyaaye Phal Paaye. But it's my personal favourite in Lata's voice. Nanda was also featured in yet another bhajan – Na main dhan chaahoon (Kaala Baazar) and the movie also starred Dev Anand in lead role. All the songs composed by Jaidev are extremely melodious.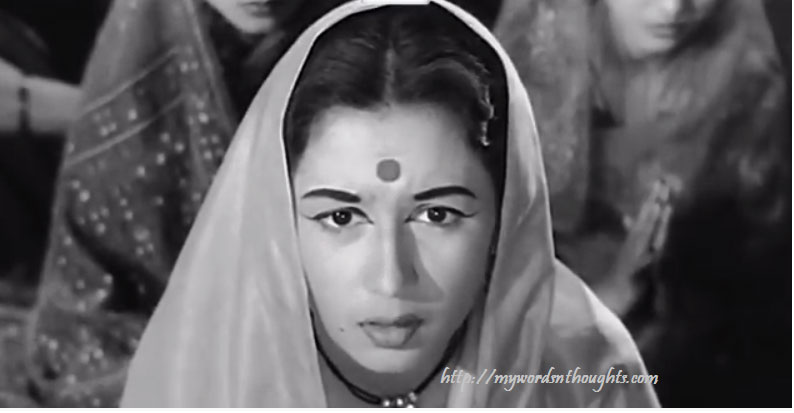 8. Likha Hai Teri Aakhon Mein from Teen Deviyaan – She played one among the three female leads and Dev Anand played male lead. The popular track – Likha Hai Teri Aakhon Mein was sung by Kishore Kumar and Lata Mangeshkar and composed by S. D. Burman. Also read:
Top 16 films for which S. D. Burman used Kishore Kumar's voice
.
The movie also included an extremely popular romantic track – Aise To Na Dekho featuring Dev Anand and Nanda, and the song definitely deserves special mention in the list, despite being a solo Rafi track.
9. Ek Pyar Ka Nagma from Shor – Nanda played a cameo role in the movie as Manoj Kumar's dead wife, and this haunting melody composed by Laxmikant-Pyarelal is enough to bring tears to eyes. The happy version featuring Nanda was sung by Lata, and the song also had a sad solo version sung by Mukesh. Lyrics were penned by Santosh Anand, who frequently associated with Manoj Kumar movies.
10. Yeh Wadiyan Yeh from Aaj Aur Kal – Music was composed by Ravi and lyrics written by Sahir Ludhianvi. The song featured Nanda and Sunil Dutt. Though it's a solo track sung by Rafi, I would like to mention this romantic song in my list. She played a paralyzed princess in the film, and Sunil Dutt played her doctor.
Songs which narrowly missed the list
Before I conclude, I would like to mention a few more songs featuring Nanda – Kabhi Tere Daaman Na Chodenge Hum and Yu Rooto Na Haseena from Neend Hamari Khwab Tumhare, Na Na Karte Pyar from Jab Jab Phool Khile and Humsafar Ab Yeh Safar from Juari featuring Shashi Kapoor, Nainon Mein Neendiya from Joru Ka Ghulam featuring Rajesh Khanna and Aha Rim Jhim Key Eh Pyare Pyare from Usne Kaha Tha featuring Sunil Dutt. And last but not the least it's not easy to forget – Bhaiyaa Mere Rakhi Ke Bandhan Ko Nibhaana from the movie Chhoti Bahen in which Nanda played an adorable sister.
You might be interested to read some of the classic hit

songs of Bollywood heroines of yesterdays.

Here is the page link. Click on the images to read.
(Visited 1,063 times, 1 visits today)