Top 10 Bollywood classic songs of Mohammed Rafi – Roshan combination
Roshan is best associated with qawwali and semi-classical genres of music in Bollywood cinema, and he has composed some of the finest songs of Mohammed Rafi and Lata Mangeshkar career. Though he has composed only a few number of songs of Bollywood, many of them are now regarded as evergreen classics. He gave some of the best songs to Pradeep Kumar and Bharat Bhushan. Needless to say, among all male playback voices, he worked with Mohammed Rafi most. Taj Mahal (1963) is the most famous work of the duo, which also gave Roshan the only Filmfare award for best music composer. Through this column let us revisit through 1950s and 1960s to listen to some of the best songs of Rafi tuned by Roshan. Here I listed 10 of the best songs.
1. Jo Wada Kiya from Taj Mahal (1963) (Lyricist: Sahir Ludhianvi)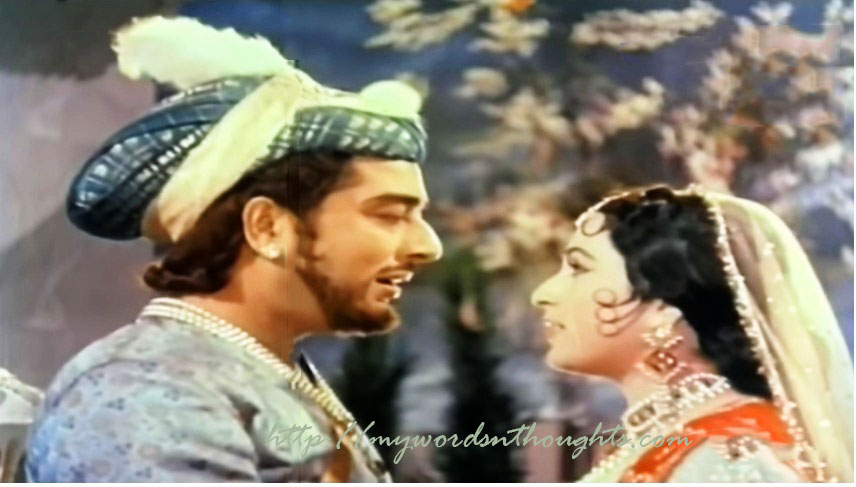 Whenever there happens a discussion of Roshan songs, this particular song with 'Promise' theme comes to our mind first. The song is shown several times in the movie. This Rafi-Lata duet is counted among top romantic songs of Bollywood ever, and Roshan received Filmfare award for best music for the compositions of Taj Mahal. The movie also included the popular duet of Rafi and Lata – Paaon Chhoo Lene Do, and Rafi solo – Jo Baat Tujh Mein Hai.
2. Jo Baat Tujh Mein Hai from Taj Mahal (1963) (Lyricist: Sahir Ludhianvi)
It's single Rafi solo of the entire album and was beautifully filmed too. The song was filmed on Pradeep Kumar and Bina Rai. Shah Jahan compares the beauty of Mumtaz with her picture, and Sahir Ludhianvi at his best.
3. Dil Jo Na Keh Saka from Bheegi Raat (1965) (Lyricist: Majrooh Sultanpuri)
The beautiful romantic song had two solo versions – an erotic version sung by Lata Mangeshkar and sad solo in the film climax rendered by Rafi. Both these versions starred Meena Kumari and Pradeep Kumar. Jaane Wo Kaun Hai and Mohabbat Se Dekha are two more Rafi solos from the album, though not as popular as Dil Jo Na Keh Saka. Let me add an interesting bit of information along with it.
Bollywood is always known for some commercial formulae on which it exists, and one such hit formula is love triangle with a leading romantic pair and obsessive lover with grey shades, who falls for lead actor or actress. Meena Kumari – Pradeep Kumar – Ashok Kumar trio has been repeatedly casted in 4 love triangles in the early 1960s almost with the same storyline, with Meena Kumari and Pradeep Kumar playing the lead pair while Ashok Kumar with a few grey shades, which is a rare phenomenon in Bollywood. After the success of Aarthi, the trio was featured in Chitralekha, Bheegi Raat and Bahu Begum and none of these movies could replicate the success of the predecessor. Quite co-incidence Roshan composed music for all these four films. It's really a strange co-incidence that Roshan became a part of all these projects. Isn't it?
4. Man Re Tu Kahe Na Dheer Dhare from Chitralekha (1963) (Lyricist: Sahir Ludhianvi)
As discussed above, Chitralekha also belongs to the series of love triangles with same three actors. In the early 1960s, Pradeep Kumar was one of the most sought heroes of Bollywood, and his pairing with Meena Kumari was appreciated most. This song was filmed on Pradeep Kumar who carries a drink glass in his hand.
5. Hum Intezaar Karenge from Bahu Begam (1967) (Lyricist: Sahir Ludhianvi)
The movie belongs to the above series and this romantic duet sung by Asha Bhosle and Mohammed Rafi, was filmed on Pradeep Kumar and Meena Kumari. It's one of the very rare duets of Rafi and Asha in Roshan's composition. The song also had a solo version sung by Rafi. Though the movie had 10 tracks, this particular song featuring the lead pair became more popular.
6. Ab Kya Misaal Doon from Aarti (1962) (Lyricist: Majrooh Sultanpuri)
The success of Aarti gave a series of movies with the same artists and same plot. No doubt, after Taj Mahal, Aarti remains the most celebrated work of Roshan as a music composer. Lata Mangeshkar's Kabhi To Milenge, and the duets of Rafi and Lata – Aapne Yaad Dilaya and Tere Bin Saajan Lage Na Jiya can be classified under evergreen classics. This Rafi solo was filmed on Pradeep Kumar and Meena Kumari.
7. Mile Na Phool To Kaaton Se from Anokhi Raat (1968) (Lyricist: Kaifi Azmi)
The movie had a total of 5 songs, and Mile Na Phool To Kaaton Se is the single Rafi track of the entire album, and most popular too. Interestingly Indeevar penned all its film songs except this one. The movie is all about a single night at a mansion, where different characters share their life stories with others. Parikshit Sahni sync lips to this evergreen sad philosophical track of Rafi.
8. Na Tau Karvaan Ki Talash Hai/Yeh Hai Ishq Ishq from Barsaat Ki Raat (1960) (Lyricist: Sahir Ludhianvi)
Roshan is best remembered for some of the finest qawwalis of Bollywood, and Na Tau Karvaan Ki Talash Hai tops the list. In fact 'Yeh Hai Ishq Ishq' is an extension of Na Tau Karvaan. Rafi performs the song aside Manna Dey, Sudha Malhotra and S. D. Batish, and he gives his voice to Bharat Bhushan. Dil Hi To Hai is yet another finest work of Roshan which has a popular Qawali, Nigahein Milane Ko Jee Chahta Hai. As it's a Raj Kapoor film, none of its songs belong to Rafi who has worked with Roshan for almost every Bollywood film.
9. Zindagi Bhar Nahi from Barsaat Ki Raat (1960) (Lyricist: Sahir Ludhianvi)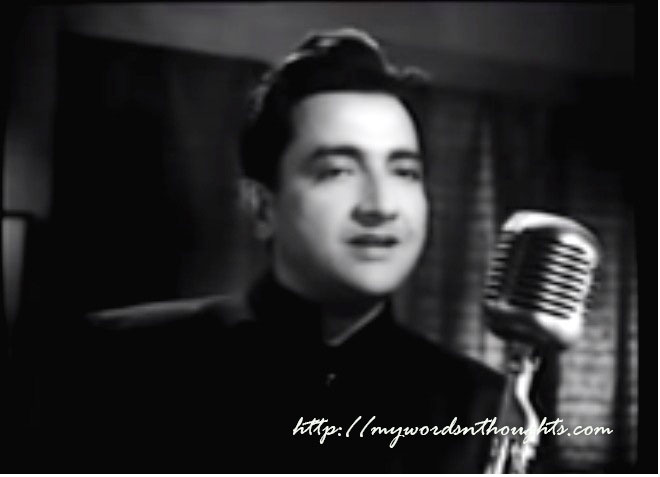 Let me tell you a secret. During my childhood days, when I watch this song on Doordarshan, I often feel that Bharat Bhushan has face resemblance with Rafi, and it seems Mohammed Rafi performs onscreen before the microphone for this song. Thanks to Rafi songs of Baiju Bawra composed by Naushad, which played an important role in planting this thought in my mind. If you also feel the same, please leave a comment. No doubt, Rafi's voice is a perfect match for Bharat Bhushan. The song also had a duet version with Lata Mangeshkar, and Madhubala was featured in both versions.
10. Rahen Na Rahen Hum from Mamta (1966) (Lyricist: Majrooh Sultanpuri)
I chose this Rafi-Lata duet as the final song to complete the list of Rafi-Roshan songs for many reasons. I know Lata's solo version is more popular. Yet I chose this song because it was one of the last works of Roshan as a composer, before he passed away in 1967 following a heart attack. He was only 50 then, and he could have contributed much more if he was alive. Ironically it became the swan song of the composer, and the lyrics penned by Majrooh Sultanpuri was also very apt. This version was filmed on Dharmendra and Suchitra Sen.
Before I wind up, let me add a few interesting facts about the song. This song was one among 10 songs which were actually inspired from S. D. Burman's Thandi Hawayein composed in the early 1950s. Three years later in 1954, Roshan became the first music composer to draw inspiration from Thandi Hawayein to create the classic hit – Tera Dil Kaha Hai for Chandni Chowk, and the song was sung by Asha Bhosle. The tune influenced him a lot that years later he used it again to compose Rahen Na Rahen Hum, one of his masterpieces works ever. Mukda of both the songs are similar. Read more:
A few more memorable songs of Roshan – Mohammed Rafi combination
1. Paon Choo Le from Taj Mahal
2. Aapne Yaad Dilaya from Aarti
3. Tere Bin Saajan Lage Na Jiya from Aarti
4. Aaj ki raat badi shokh badi natkhat hai from Nai Umr Ki Nai Fasal
5. Chha Gaya Badal Neel Gagan Par from Chitralekha
6. Main Ne Shayad Tumhein Pehlay Bhi Kahin Dekha Hai from Barsaat Ki Raat
Also go through the gallery to read a few more articles about Rafi. Here is the page link. Click on the images to read.
(Visited 915 times, 1 visits today)