Today is Guruvayur Ekadasi
Guruvayur Ekadasi – is one of the auspicious celebrations associated with famous Guruvayur Sri Krishna temple of Thrissur district, Kerala. It's observed every year on Malayalam month – Vrischikam, known to be the Mandalakalam, the pilgrim month of Sabarimala Ayyappa temple. Guruvayur Ekadasi falls on Ekadasi day of Vrischikam. There are two Ekadasi days in every month of a Hindu calendar and Velutha Paksham (bright fortnight) of Vrischikam month is taken as Guruvayur Ekadasi. Navami and Desami days preceding Ekadasi day are also auspicious. In 2016, Guruvayur Ekadasi falls on 10th December 2016. Also read:
The story behind 'Oru Neramenkilum' song of Lord Krishna
.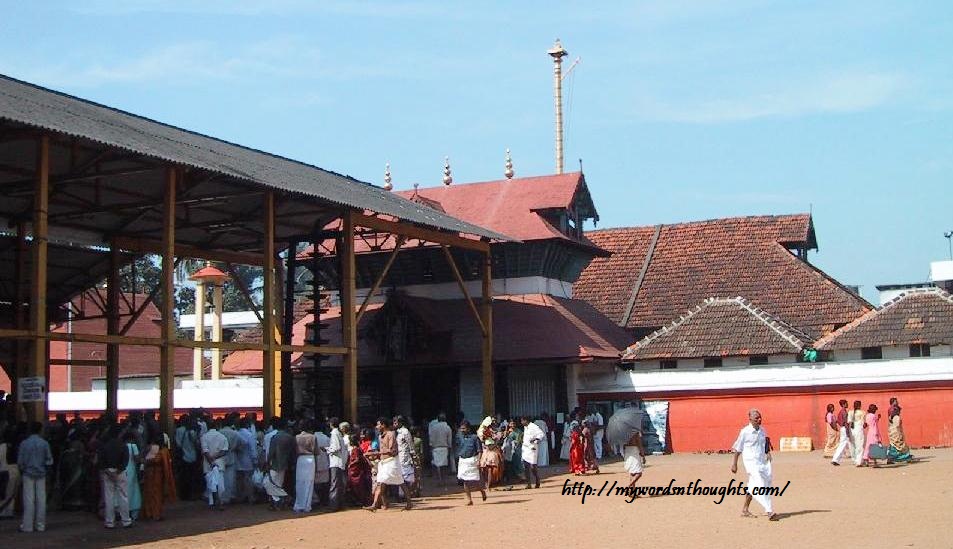 Why is Guruvayur Ekadasi so auspicious?
Guruvayur Ekadasi is one of the major celebrations associated with Guruvayur temple. It's also believed to be the auspicious day when Lord Sree Krishna gave Geetopadesa to Arjuna, when he hesitated to fight against his dear ones. Lord Narayana wakens from sleep on Shukla Paksha Ekadasi of Vrischikam month.
It's also believed to be auspicious day on which Adi Shankara and Vilwamangalam Swamiyaar received Bhagavan's vision (darshan). Melpathur Narayana Bhattathiri dedicated his iconic work – 'Narayaneeyam' also on a Guruvayur Ekadasi day. And above all Ekadasi day is also the installation day (Prathishta Din) of Lord Guruvayurappan.
Ekadasi Vilakku starts one month before Guruvayr Ekadasi, and every day lamps will be lighted in the temple as an offering. It's done by persons, families, institutions etc.
How Ekadasi Vritham is taken
On Desami day, devotees take a single meal only to start Ekadasi Vritham. On Ekadasi day they need to bath early morning and visit temple before dawn break. The whole day they spend reciting bhajans and divine thoughts. Rice food is avoided. A few devotees fast the whole day, avoiding the single meals too. On Dwadasi day (day after Ekadasi), they consume Thulasitheertham from temple to break fasting.
After the midnight of Ekadasi, there is a custom called Dwadasi Panam conducted in the Koothambalam of Guruvayur temple where a token amount is offered. It continues till 9 am of Dwadasi day when temple closes after 54 hours of darshan.
Temple doors not closed for 54 hours on Guruvayur Ekadasi
Temple opens on Dasami day morning dawn break for Nirmalya darshanam and will be closed only on the day after Ekadasi in the early morning around 9 am. Thus the temple remains open for 54 hours. Kovilakam will be closed only for daily poojas and deeparadhana, as a part of customs. Normally the temple closes everyday with the custom Trippuka Dasami. But it is not done on Dasami and Ekadasi days.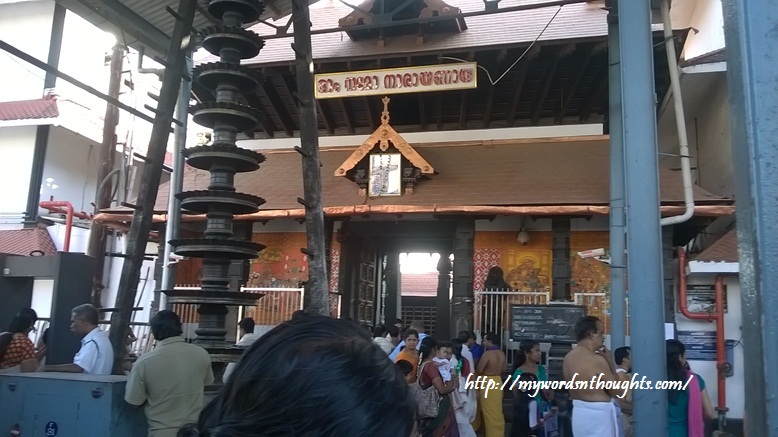 Vilakk Ezhunnallipp (Procession of lamps) is conducted on Desami day and it ends at around 2 am in the morning of Guruvayur Ekadasi. The temple doors remain open and rituals of Ekadasi start soon after Vilakk Ezhunnallipp comes to an end. Vilakk Ezhunnallipp of Ekadasi day completes by next day morning around 2 am on Dwadasi day.
On Guruvayur Ekadasi day, during Vilakkezhunnellipp, Ezhunnellipp (procession) of Swarnakolam will be conducted on the 4th pradakshinam. Thousands of lamps in will be lighten in ghee. Idakka Pradikshanam and Mela Pradikshanam are also conducted as a part of Guruvayur Ekadesi, and when all these customs are over it will be dawn break.
15 Poojas will be conducted at Guruvayur temple on Ekadasi day, and Udayasthamana Pooja will be conducted by Devaswom. A grant elephant procession is done the Parthasarathi temple on Ekadasi day to remember the famous 'Geetopadasam' by Lord Krishna to Arjuna. The temple closes on Dwadasi day soon after Usha Pooja at around 9 am. Then it reopens only at 3.30 pm. There is no entry to temple premises to devotees once the temple doors at closed soon after Usha Pooja on Dwadasi day. When the temple is closed, marriage ceremonies, Thulabharam, Vehicle Pooja and Chorunnu (Annaprasam) are not conducted.
Navami Vilakk and Dasami Vilakk associated with Guruvayur Ekadasi
Thousands of devotees visit the temple during the auspicious occasion, especially in those three days. Vilakk is normally conducted by Devaswom Trust. Devotees light lamps dipped in turmeric as a part of celebrations. Panchari Melam or Panchavadyam will be conducted during Sheeveli conducted in the morning and noon. Meals will be provided to devotees – Namaskara Sadya during Uchapooja (Noon Pooja) and Annadanam at Narayanaalayam.
Deepalankaram (decoration of lamps) in the evening, Nagaswaram, Iratta Keli, Naamajapam and distribution of sweets to kids are also conducted as a part of the celebrations. Many artists will be included during Idakka-Nagaswara Pratikshanam, conducted as a part of Vilakkachaaram.
Honouring Guruvayur Kesavan
2016 marks the 40thdeath anniversary of Guruvayur Kesavan, the celebrated elephant of Kerala. Head among elephants of the temple, he was given the title – Gajarajan by Guruvayur temple. Due to his popularity he was given the title, Gajarajan, and hence he is the first elephant to hold this title. Kesavan died on December 2, 1976 aged 72. It's quite co-incidence that he died on an Ekadasi day after fasting for a day, and hence regarded auspicious.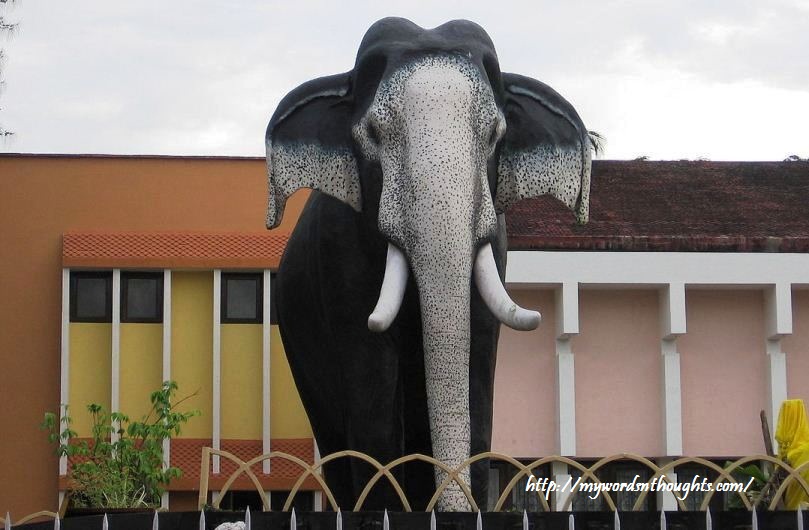 During Annual Ekadasi Festival, memorial honour is conducted for Gajaraja Guruvayur Kesavan. Gajarajan or Karanavar among the elephants places a wreath at the statue of Kesavan in front of Sreevalsam guest house to honour the most famous elephant of Guruvayur temple. All other elephants stand around in line and pay obeisance to their senior leader.
Anayoot is also conducted as a part of Gajaraja Anusmaranam soon after memorial honour is done for Gajarajan Guruvayoor Kesavan. Also read:
Anayoot during Karkidakam month
.
Elephant fans get an opportunity to feed elephants with rice, banana and cucumber during this occasion.
Guruvayur Ekadasi 2016
This year 37 lakh Indian rupees have been included for the budget. Chembai Ulsavam is not included in this budget. Expenses include lamp decoration, vadyam, procession and Prasada oott.
On Dasami day, Sampoorna Neyvilakk was dedicated by Sree Guruvayurappan Sankeerthana Trust. Kazhcha Seeveli was associated with Panchari Melam on early morning 7 am. Panchavadyam was conducted during Ucha Seeveli. Visesha Keli, distribution of sweets to kids and Namajapam were also conducted as a part of Dasami.
Pancharatna Keerthanaalapanam at Melpathur Auditorium was conducted from 9 am onwards on the next day, as a part of Chembai Sangeetolsavam. Akshara Slokam contest was also conducted on Ekadasi day in the afternoon from 2 pm onwards. Vilakkezhunnellip will be conducted from 10.30 pm onwards.
Special pooja to Guruvayur Kesavan was also conducted as usual, as a part of Ekadasi celebrations. It included Pushparchana and 16 elephants participated in the event. The procession was started at Thiruvenkadachalapati Temple on Desami morning soon after Gajapooja and Anayoot. Gajaratnam Padmanabhan carried the picture of Guruvayur Kesavan and Kuttikomban Balram carried the picture of Guruvayurappan, and they guided the procession.
This year Prasada Oott was prepared for 30000 devotees. Gothamb Choru (meals using wheat), rasakaalan, puzhukk, pickles and wheat payasam were prepared and served. This year 20.58 lakh rupees were spent for Prasada Oott only. Meals were given to devotees from 9 am onwards.
Image source: Wikipedia and self
You can read a few more articles related to temple rituals, offerings, customs and celebrations, mostly associated with temples across across Kerala. Here is the page link. Click on the images in the gallery to read
(Visited 1,693 times, 1 visits today)