Thiruvambadi Sivasundar – A legendary elephant associated with Thrissur Pooram fades away
The one and only Thiruvambadi Sivasundar – the integral name associated with Thiruvambadi and Thrissur Pooram for the past 15 years is no more! He won't carry Thidamb from Thiruvambady side in the coming season of Thrissur Pooram, just 2 months away; a role he carried on his shoulders for the past 1.5 decades. He passed away in the wee hours of 11th March 2018 after brief illness, but so unpredicted and unexpected. A hero with millions of fans across Kerala, Sivasundar's fame was nothing short of that of a film star. He was only 48, so much early to go.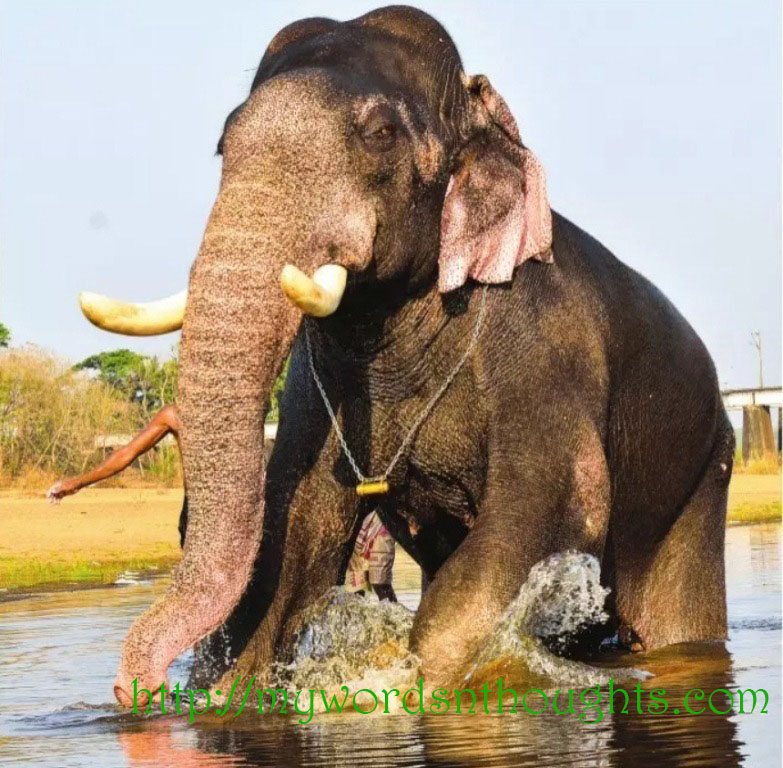 He owned almost all symbols of elephant beauty, a divine elephant blessed among thousands, and his obedience and calm nature too earned him a lot of popularity and fans. His fan bid adieu with teary eyes, and no other elephant, after the legendary Guruvayur Kesavan, would have received such a grand farewell. That shows the immense popularity of Sivasundar among the masses, irrespective of ages. He owns several fan clubs too.
He symbolized elephant beauty to perfection
Elephant beauty can also be measured based on its physical structure, and Thiruvambadi Sivasundar was a rare elephant which possessed most of the symbols which attribute to elephant beauty. It's said that his physical qualities are very rare, not even in 100s of elephants, and that's why he stood as Thiruvambady's pride for the past 15 years in Kerala's biggest temple event, Thrissur pooram. He was fondly called King of Beauty (Azhakinthe Thampuran) by his fans.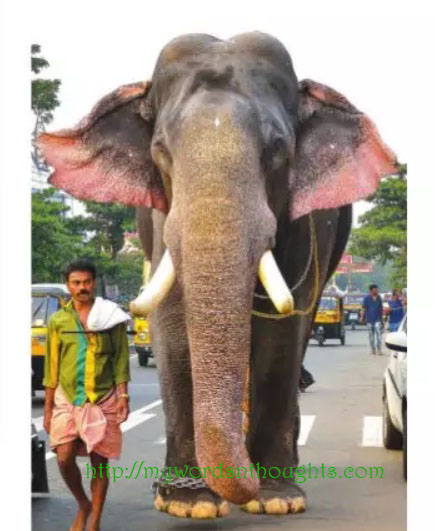 His beauty was celebrated by elephant fans during the major event of Thrissur Pooram, apart from Arattupuzha Pooram, Nenmara-Vallangi Vela, Uthralikavu Pooram and Irinjalakuda Koodalmanikyam temple festival, where he regularly participated. During Thekkotterakkam (procession from temple to south) and Kudamattam – the highlights of Thrissur Pooram, Sivasundar played a major role for more than a decade and impressed his fans by every way he can.
His height reached to 300 cm or more, and his lengthy trunk touched the ground. Apart from these two major features, his tail too was unique and beautiful, which resembled ezhuthani, a pen used in early days. These features together seen in a single elephant is a very rare feat, may be one in thousand. Beautiful belly elevated slightly upwards, beautiful forehead, royal and wide spread brain and head,18 nails, beautiful body ….. His features are not ending here. He also held a dignity in his behaviour, royal walk and eating habits till he was alive.
How Pukkodan Sivan became Thiruvambadi Sivasundar
He reached Thiruvambady temple only in February 2003 before Thrissur Pooram season, and was earlier owned by NRI industrialist, T. A. Sundar Menon. He was brought to the temple as a replacement to the elephant, Thiruvambady Valiya Chandrasekharan for Thrissur pooram and other major events. Chandrasekharan was wounded deeply by Thechikottkavu Ramachandran, yet another elite name among tamed elephants of Kerala.
He was found from Kodanad forests aside his mother as a calf, and was brought from forests by forest department authorities in the year 1978. His mother got trapped in a pit, and he was helplessly circumvillating the pit & mother, crying and making noise to save her somehow. Mother too responded to his cries, who lifted her trunk, and tried to get out of the pit. When forest authorities found him, they felt pity to him and mother, and they were deeply touched seeing the bonding of mother and her child. They rescued mother elephant from pit. They liked the calf of just three or months old as it owned some distinct features, and hence decided to take him along with them. Mother was sent to forest, and she had to part with him.
He spent his childhood days in elephant sanctuary of Kodanad till he was bought by Aboobaker of Chengamanad. At the age of 8, he was bought in an auction by Pookodan Francis, who gave him the name, Pookodan Sivan. Like his kids, he made the elephant's horoscope from the famous astrologer Kongad Vaidyar, who predicted that the elephant will become very famous. Francis was so font of elephants, and there was a deep bond between the owner and the animal. Once at the age of 15, quarreling with mahouts when the elephant fled to deep forest, it was the sincere love of his owner and his call which drew him back and prompted to return after 15 days.
Later many celebrities and rich people came forward to buy the elephant. But Francis was not willing to part with jim at any cost. But later he was sold to Sundara Menon at an amount of 28 lakhs, which was a very big amount that time, and also highest selling cost of any Kerala elephant till then. (Now an elephant may cost more than 70 or 80 lakhs). When his ownership was handed over to Thiruvambady devaswom in 2003, he was rechristened as Thiruvambadi Sivasundar. In fact, Sundara Menon kept Pookodan Sivan for just two days before he handed over to Thiruvambady temple.
Sivasundar's festival season begins with Nitya Seeveli of Thiruvambady temple
Sivasundar's beauty has been captured multiple times through camera shots – as the leader of Thiruvambady group carrying Thidamb at Thrissur Pooram, in the walkways of Peruvanam, Vela festivals of Palakkad, temple maidans of Ernakulam apart from different auspicious occasions of many leading temples of Thrissur district. The elephant carried idol (thidamb) of almost all leading temple festivals of mid-Kerala. He walked through the minds of millions of elephant lovers in all those journeys. This obedient elephant was conferred with Gaja Kesari Title at Gajaraja Sangamam held at Elangulam in 2007. He also won Mathanga Kesari title in 2008.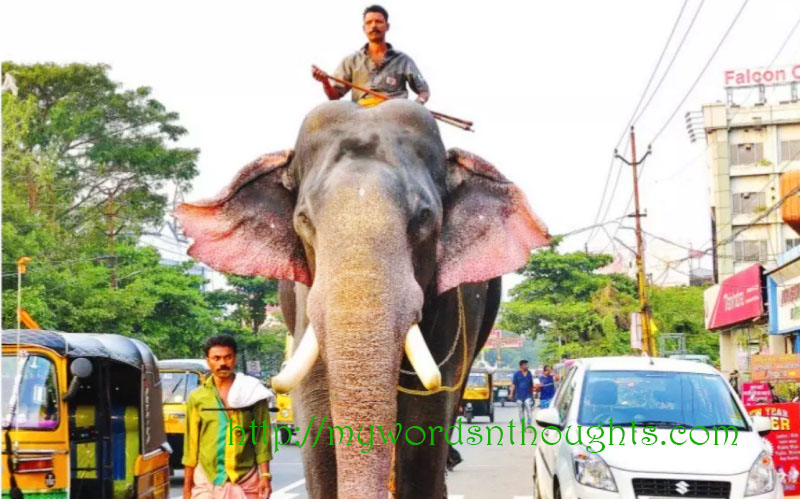 Sivasundar's festival season begins with Nitya Seeveli of Thiruvambady temple. Soon after Thiruvambady Ekadesi which falls in the month of December, Sivasunder's annual journey resumes. Yes, it begins with carrying Thidamb for Ekadesi festival of Thiruvambady temple of Thrissur. Kunisseri Pookkulangara Ayyappan Vilakk, Maala Airanikulam Thiruvathira festival, Ayyappa festivals of Palakkad district – a busy festival season begins in December, and it lasts till May with the commence of Thrissur Pooram, the last one among the major temple festivals of Thrissur, and also Irangalakuda festival.
He usually visits Chottanikkara on Vishu day and paid long visits to Palakkad for Vela festivals in the month of April. Nenmara Vela is famous among all. Aarattupuzha Pooram, Cherpp Makayryam Purappad, Peruvanam Oorakathamma Ezhunnallipp, Kuttanelloor Pooram, Thiruvambadi Aaratt, Annanad Uthram Vilakk, Palakkad Manapullikavu, Tiroor VadakurambakavuVela – The list is not ending here. Sivasundar showed his prominence in all the temple festivals he attended in the past 15 years, and known to be a gigantic figure in the present generation of temple festivals of Kerala. Throughout his journey from one temple to other, his fans follow him, and he owns many fan clubs in and outside Thrissur.
In the temple festivals too, he was always noticed among the leading elephants in a group, and he stood as a leader. Fans celebrate his presence with huge flex board placed in the different venues of temple festivals, and cheer for him. There have been many occasions when people visited the place to get a glance of this beautiful elephant, and for that his fans never hesitated to travel from distant places. During Thrissur Pooram season, he is so busy, and soon after the festival is over, he takes a deep rest. Annual rut season follows and he will be safety shifted to another location. His rut season is lengthy, if compared with other elephants, and it turns fierce during monsoon season. He takes a long rest to get prepared for the next festival season which starts around mid-December.
He goes to other temple festivals only if he is a 'Thidamb Aana' – the leader who carries the idol during temple procession. As per customs, if an elephant carries Thidamb for the famous Thrissur Pooram and leads the famous 'Thekkottirakkam' procession, he can later be used only as Thidamb Aana, throughout his life. That's the reason.
Thiruvambadi Sivasundar's last days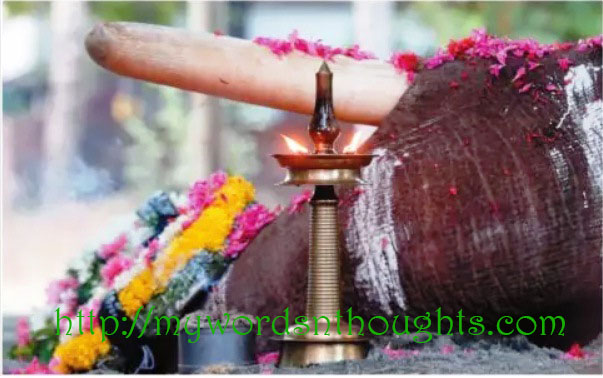 He was undergoing treatment for impaction for the past 66 days. Gradually his body failed to respond to medicines and his weight reduced significantly during his last days. Undigested food remains were obtained from his stomach, and if he was able to withstand the treatment for two more days, the end result would have been just opposite, many people believe so. The sharp pointed edges of 'Iranda' had injured his intestine too, and he succumbed after 66 days of struggle.
It's not for the first time Sivasundar underwent treatment for impaction, and it may last up to 10-12 days normally. It normally happens once in every year. But at one occasion, it lasted up to 25 days. He was very seriously ill that no one believed he will return. After he got cured, he visited Guruvayur temple, prayed before Lord Krishna and also gave a small elephant statue of gold as offering. As Sivasundar managed to withstand that worst situation of his life, many people believed that same condition won't repeat again. But everything was beyond prediction.
Sivasundar was given by a grand farewell by local people and some prominent figures of the society, and was laid to rest at Kodanad forest (15 kms away from Malayattoor) in the evening, his native place from where he was brought as a kid. Many prominent names associated with temple Poorams such as Peruvanam Kuttan Maarar and also elephant physician Aavanaparamb Maheswaran Namboodiripad also paid their final tributes to the legendary elephant at Thiruvambady. Nine elephants, which accompany him in Thrissur Pooram for almost all seasons, also paid offerings. Many of his fans were crying, while others were deeply moved. His pyre was lit at Perunthod forest in Kodanad range, after following regular procedures such as post mortem. His tusks were handed over to Social Forestry Department after cremation.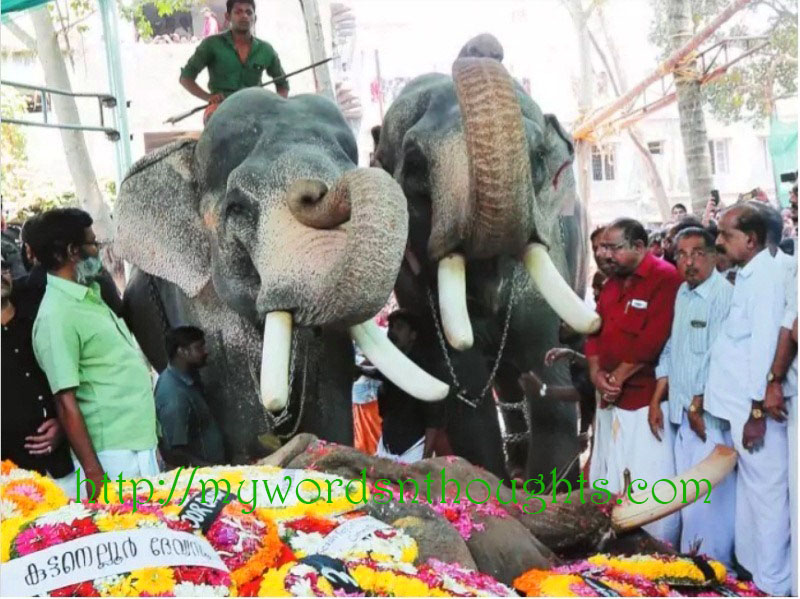 An elephant regarded as the other name for elephant beauty is no more; an elephant associated with Thekkottirakkam and Kudamattam. He was not at all dangerous, and was calm and quiet. No doubt, his tales and memories will last forever. As a fan of Sivasundar and all temple elephants, it's my humble tribute to the divine elephant. With some annoying thoughts in mind, just asking, who will carry Thiruvambady's Thidamb this year?
Image courtesy: Mathrubhumi e-paper
Read a few more articles on elephants and elephant festivals, deeply linked with the daily life of Keralites. Here is the page link. Click on the images in the gallery to read
(Visited 2,446 times, 1 visits today)