Suman Kalyanpur – Bollywood's popular playback singer of 1960s whose voice is very often mistaken to be Lata Mangeshkar's
Suman Kalyanpur is a former playback singer who predominantly worked in Bollywood. Suman Kalyanpur's voice is very often mistaken to be Lata Mangeshkar's, and their voice quality and singing style are perfectly matching. As she remained a contemporary singer to Lata in the 1960s who had almost the same voice during the decade, it's not possible for an average music fan to distinguish between the two. Despite owning a beautiful voice with matchless talent and quality in singing, with voice so close to Lata, she received comparatively less opportunities in Bollywood. Yet she owns many hit songs in Bollywood during 1950s-1970s, apart from several hit songs in Marathi and Bengali languages, where she groomed as a playback singer. Shankar-Jaikishen gave her maximum opportunities in Bollywood.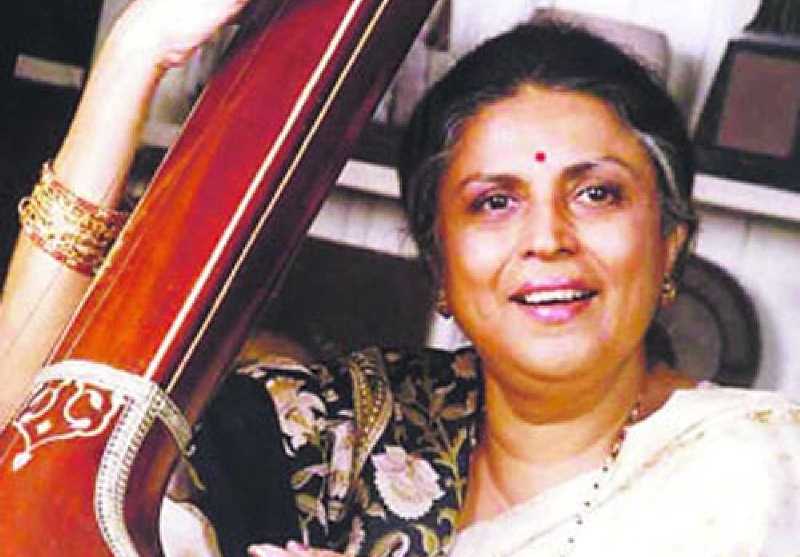 Suman Kalyanpur's real name is Suman Hemmady. She was born in Dhaka in 1937. Her ancestral roots are from Mangalore, Karnataka. Her father was a banker from Karnataka, who was posted in Dhaka. She was the eldest of 7 siblings of her family. Her family moved to Mumbai in 1943 for higher studies. As she was interested in painting she enrolled at Sir J. J. School of Arts, and simultaneously started her musical classes under Pandit Keshav Rao Bhole. Initially music was only a hobby, but later she got attracted to it and started taking it seriously. She also took advanced training in music from a few Gurus later.
In 1952 she got her first opportunity to sing for AIR. As she belonged to a conservative Saraswat Brahmin family, she was restricted from making public appearances for performances initially. Marathi film Shukrachi Chandni released in 1953 marked her debut in playback singing. 1954 release 'Mangu' composed by O. P. Nayyar marked her debut in Bollywood, where she sang the lullaby, Koi Pukaare Dheere Se Tujhe. Very soon Naushad recorded 5 songs in her voice for the movie, Darwaza (1954). Many people believe it to be her debut work in Hindi cinema.
With late 1950s, she started getting noticed for uncanny resemblance with Lata Mangeshkar's voice. She got her first major break through Baat Ek Raat Ki in 1962. She sang Na Tum Hamen Jano for Waheeda Rehman, which also had a male version in Hemant Kumar voice. From there on, she started receiving more offers from Bollywood. Read in detail here (Suman Kalyanpur's top hit songs). With the early 1970s, the careers of many romantic onscreen pairs started to fade, 1960s' heroines turned older while a few retired and with many great composers gone, Suman Kalyanpur's career too virtually came to a halt. Many music lovers of today would definitely agree with me, her talent was not fully utilized by our legendary composers, and for the same reason she lost many good songs which would have her fingerprints.
Some of the big hits of her career are Aaj Kal Tere Mere from Brahmachari, Rhimjhim Ke Geet from Anjana, Na Na Karte from Jab Phool Khile, Tujhe Dekha Tujhe Chaha from Choti Se Mulaqat, Tumne Pukara Aur from Rajkumar, Thehriye Hosh Mein Aa Loon from Mohabbat Isko Kahete Hain, Raat Suhani Jaag from Jigri Dost, Mere Mehboob Na Ja from Noor Mahal, Mera Pyar Bhi Tu Hai from Saathi, Tumse O Haseena from Farz, Behana Ne Bhai Ke Kalai Se from Resham Ki Dori, Tujhe Pyar Karte Hain from April Fool, Ye Kisne Geet Chheda from Meri Surat Teri Aankhen etc.
Suman Kalyanpur – Some interesting and less-known facts
1. Her most popular song – 'Aaj Kal' song of Brahmachari was an initially rejected tune composed by Shankar Jaikishen. Later Shammi Kapoor got impressed by the tune, approved it and it became the biggest chartbuster hit of the album.
2. Suman Hemmady is her maiden name, and Hemmady is a village of Karnataka where her ancestral family belongs to.
3. During her college days she was very much influenced by Lata Mangeshkar's voice. Later she always remained uncomfortable for drawing comparisons with Lata's voice.
4. During her early days, Radio Cylon used to relay her songs without giving her credit as singer. Some records were also given wrong names.
5. When there was a royalty issue between Rafi and Lata in the 1960s, they refused to sing together, and Suman got benefited by this. She recorded 140 duets with Rafi in this period of around 6 years in the golden era of Hindi music. Read their best 10 duets.
6. She recorded a total of 140 duets with Rafi in a time period of 6 years when he was not working with Lata.
7. She also owns many hit songs with Mukesh. She sang a total of 857 Hindi songs.
8. Apart from Hindi, she recorded songs in Bengali, Oriya, Marathi, Punjabi, Kannada, Bhojpuri, Rajasthani, Gujarati and Assamese languages.
9. Apart from music, painting is her passion.
10. Initially she was offered three songs for her debut Hindi film, 'Mangu'. But when the composer got changed, she got opportunity to sing a lullaby only.
11. Those composers who couldn't afford Lata Mangeshkar's high fees for singing often used to hire Suman Kalyanpur. Yet as a playback singer, she remained largely unexposed.
12. Popular singer Sushma Shreshta (Poornima) recorded her first song with Suman Kalyanpur and Rafi as a child artist. Movie was Andaz released in 1971 and the song was 'Hai Na Bolo'.
13. Behana Ne Bhai Ke Kalai Se Pyar Bandha Hai from Resham Ki Dori (1974) gave her the single Filmfare nomination for best female singer in her professional career.
14. She has recorded a duet with Lata Mangeshkar in Hemant Kumar's composition – "Kabhi Aaj, Kabhi Kal, Kabhi Parson" for the movie Chand.
15. A duet with Mangeshkar 'Unse Nazaren Mili to Hizab Aa Gaya' for the movie 'Ghazal' was recorded by Madan Mohan. It was a dance sequence. But later her voice was replaced by Minoo Purushottam for the best reasons known to the composer.
End note: There is one less-known playback singer of Bollywood in the 1960s, a contemporary of Suman Kalyanpur. Her name is Usha Timothy. If you closely listen the song, Tu Raat Khadi Thi Chhat Pe from Himalay Ki God Mein, it's hard to recognize it to be Usha's voice. Many people still believe that it's Lata Mangeshkar who sang this duet with Mohammed Rafi in Kalyanji Anandji's music. Yes, it's not the case of Usha Timothy or Suman Kalyanpur alone. Despite having immense talent and amazing voice quality, these singers couldn't make it big in Bollywood, solely because they lack originality. They end up with a few or no songs. Sad, but true!
Please go through Suman Kalyanpur gallery to read a couple of posts. Click on the images to read.
(Visited 526 times, 1 visits today)