Sonu Nigam and Kavita Krishnamurthy – Top 10 Bollywood Songs
Sonu Nigam and Kavita Krishnamurthy – Two celebrated playback voices of new generation Bollywood since 1990s. Though both have given numerous memorable songs to music fans, only a few duets have been recorded, mostly in the second half of 1990s and early 2000s. It was a time when Sonu Nigam reinvented himself as a playback singer with new voice, while Kavita Krishnamurthy's peek years started to decline. It was one of the reasons why only a few duets have been recorded in the transition phase of both these singers – Sonu climbing the steps while Kavita's career to a decline with early 2000s.
Comparing other lists, it was bit easy to pick 10 of their best Bollywood songs. Interestingly before Sonu Nigam – Alka Yagnik era and Sonu Nigam – Shreya Ghoshal era came into existence, Sonu Nigam and Kavita Krishnamurthy recorded some of the best duets in the second half of 1990s. A. R. Rahman recorded two of their finest duets of their career – Satrangi Re and Bol Salna, interestingly both released in 1998. Till now, Satrangi Re is considered as the finest work of the duo, when it comes to duets, absolutely!
1. Satrangi Re from Dil Se (1998)
So, let me begin with most favourite duet of Sonu Nigam and Kavita Krishnamurthy. Sonu Nigam was the leading voice behind this song, while Kavita Krishnamurthy provided back vocals. I am sure, you will also agree with me, that it's the best duet recorded in their voice. Even after 20 years, the tune stays so fresh and we never feel bored listening to it. After 'Yeh Dil Deewana', it was the most popular song sung by Sonu Nigam for Shah Rukh Khan, and both the songs established his career in Bollywood. Needless to say, Sonu Nigam was the leading voice for SRK for the next few years till 2008 before he got replaced with new voices. Satrangi Re – is the single SRK song featured in this list.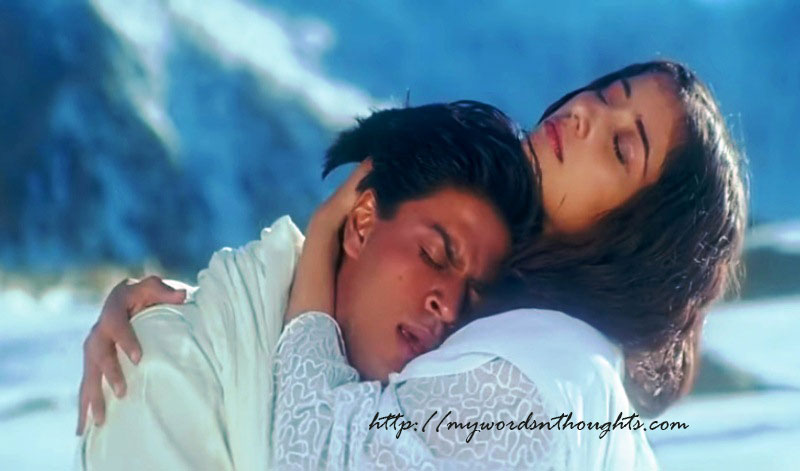 It's the most difficult track composed by Rahman for the album with fresh lyrics provided by Gulzar, and Sonu Nigam gave new life to the Satrangi song pictured on Shah Rukh Khan and Manisha Koirala. The song gave seven flavours and stages of love with Gulzar trying to find new definitions and shades of love with final stage being death, and Sonu sang in different pitches for each stage. I doubt if any other song of this genre has earlier been sung by someone in Bollywood and Sonu was not an established artist then.
2. Mujhko Khuda Ne De Diya from Pyar Tune Kya Kiya (2001)
Just like 'Dil Se' which told about obsessive love and death, Pyar Tune Kya Kiya also tries to define obsessive love, but in a 'commercial' manner. The music was composed by Sandeep Chowta, with lyrics written by Nitin Raikwar. The tune was originally lifted from his own hit "Devudu Karunisthadani" from Telugu film Prema Katha filmed on Sumanth and Antara Mali. Hindi version was filmed on Fardeen Khan and Sonali Kulkarni, who played wedded couple in the movie.
3. Bol Sajni Mori Sajni from Doli Saja Ke Rakhna (1998)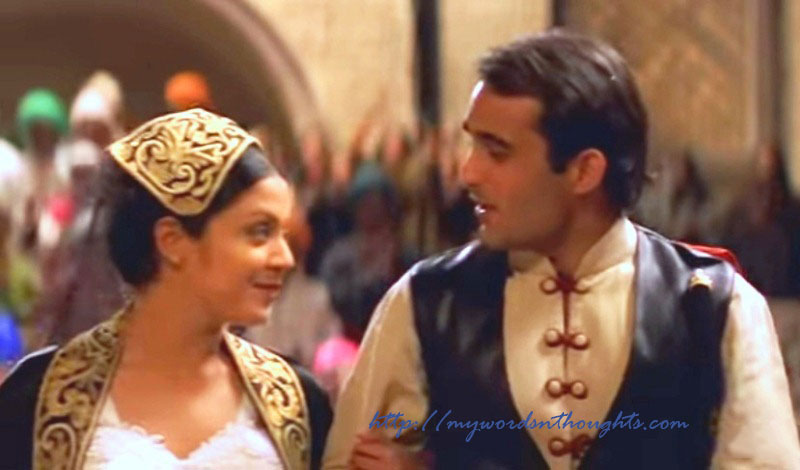 Told earlier, A. R. Rahman recorded two popular duets of Sonu and Kavita in year 1998, long before Sonu Nigam established as the leading male voice of Hindi cinema. A. R. Rahman composed music for two of Akshaye Khanna movies in the late-1990s – Doli Saja Ke Rakhna and Taal, when Khanna was one of the promising young actors of Bollywood. Doli Saja Ke Rakhna marked the screen debut of Jyothika who went on to become a huge star in Tamil cinema. This particular song filmed on the lead actors depicts an old love story as scenes, which the actress reads and visualizes, and it was lovely filmed onscreen too – a new experience in Bollywood cinema. An intro-tune recorded in Sonu Nigam's voice in the second half of the song was later reused by Rahman to compose 'Ghanan Ghanan' song of Lagaan.
4. Oh Sahiba Oh Sahiba from Dil Hai Tumhara (2002)
The film was not a commercial success. But the songs composed by Nadeem-Shravan got noticed. Lyrics were penned by Sameer. This sad song filmed on Preity Zinta & Arjun Rampal is very popular on YouTube and other music sites.
5. Meri Duniya Hai from Vaastav (1999)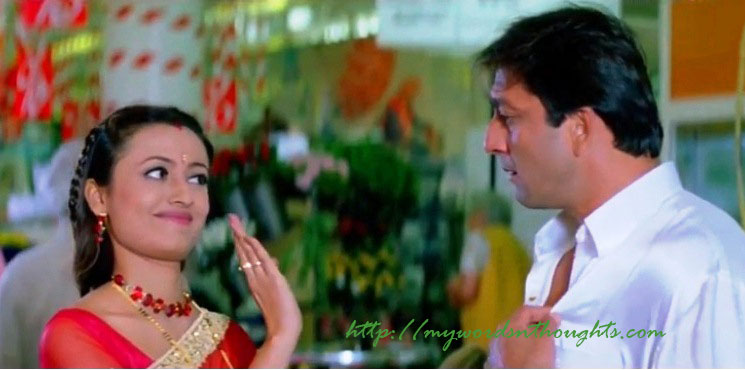 The movie was critically acclaimed, and this romantic song filmed on Sanjay Dutt and Namrata Shirodkar in foreign locations also got noticed. Jatin-Lalit composed the tune and Sameer wrote the romantic lyrics.
6. Pyar Se Pyare Tum Ho Sanam from Deewangee (2002)
One of my popular songs of this combination ever, this lovely duet was filmed on Urmila and Akshaye Khanna. Music was done by National award winning composer Ismail Darbar, and lyrics were penned by Salim Bijnori, a less-known name in Bollywood. In fact Salim Bijnori wrote 7 out of 10 songs, while Nusrat Badr wrote the rest.
7. Rehna Hai Tere Dil Mein from Rehna Hai Tere Dil Mein (2001)
The movie had two distinct musical albums and a few of those tracks were not used in film, a unique experience. Rehna Hai Tere Dil Mein was the remake of Tamil romantic film Minnale released early the same year. Madhavan reprised his original role marking his Bollywood debut while Reemma Sen's role was replaced by Diya Mirza, who also made her screen debut. Harris Jayaraj who composed the sound tracks of Minnale reused most of its tunes for Hindi version, while he created a few fresh tunes as well. The movie also marked Harris' Bollywood debut, though he rarely worked in Bollywood later.
This title track was a fresh tune created by Harris Jayaraj for the movie, which depicts the scenes after the heroine accepts hero's proposal. But sad to say, he replaced my most favourite tune of 'Minnale' – Ivan Aaro to create a new tune. Rehna Hai Tere Dil Mein is also a good song, no doubt. But I have felt several times, he should have used 'Ivan Aaro' song somewhere in the film. Its Hindi version would have been nice. RHTDM included one fresh tune – Dil Ko Tumse Pyar Hua filmed on Saif Ali Khan and Diya Mirza. The tune was reused by the composer for 2003 Tamil film, Kakka Kakka (later remade as 'Force' in Hindi) – "Ondra Renda" (a solo track sung by Bombay Jayshri of 'Zara Zara of RHTDM' fame) and it became the most popular romantic song of the year.
8. Jagte Hain Hum Raat Raat Bhar from Khiladi 420 (2000)
Music was composed by Sanjeev-Darshan and Sameer penned the lyrics. This romantic track was filmed on Akshay Kumar and Mahima Chaudhry. The movie also included a popular duet of Kumar Sanu & Kavita Krishnamurthy, "Jab Kise Ko Kise Se Mohabbat Hoti Hai/Kaisa Yeh Pyar Hai". Khiladi 420 was a disastrous movie among the movies made in 'Khiladi' series, in terms of box office collections as well as reviews.
9. Kahin Pyar Ho Na Jaaye from Badal (2000)
In year 2000, Sonu Nigam catapulted to instant glory by a series of hit songs. Needless to say, year 2000 was one of the finest years of Bollywood cinema in new era with numerous good and melodious songs. Kahin Pyar Ho Na Jaaye from Badal was one of his most popular romantic songs of the year, and it was filmed on Bobby Deol and Rani Mukerji. Anu Malik composed the song and Sameer wrote the lyrics.
10. Qayamat Ho Qayamat Ho from Tera Jadoo Chal Gaya (2000)
Year 2000 marked the screen debut of Abhishek Bachchan, with two musicals back to back, but without any box office success. Those movies were Refugee and Tera Jadoo Chal Gaya. Interestingly Sonu Nigam was the main singer for Abhishek Bachchan for both these movies, and songs of both received positive reviews from critics. Tera Jadoo Chal Gaya included some of the finest duets of the year in Sonu Nigam's voice. Qayamat Ho is the single duet of Sonu Nigam and Kavita Krishnamurthy, and needless to say, the song is extremely melodious. It was a dance sequence filmed in traditional attire, and Abhishek and debutante Kirti Reddy shared an amazing screen chemistry. Sonu Nigam also had two duets with Alka Yagnik and a single duet with Chithra for the film.
A few more duets of Sonu Nigam and Kavita Krishnamurthy
1. Jab Tum Aa Jate Ho Samne from Maharaja (1998) (Nadeem Shravan & Sameer)
2. Thero To Sahi from Maharaja (1998) (Nadeem Shravan & Sameer)
3. Ishq Mein Ek Pal from Barsaat (1995) (Anu Malik & Sameer)
4. Woh Aankh Hi Kya from Khuddar (1994) (Anu Malik & Zameer Kazmi)
5. Mannata from Heroes (2008) (Sajid Wajid & Jalees Sherwani)
6. Hayo Raba Hayo Raba from Kranti (2002) (Jatin-Lalit & Anand Bakshi)
Sonu Nigam remains the most romantic male voice since early 2000s. Click on the gallery images to read a few articles on this versatile singer. Here is the page link.
(Visited 941 times, 1 visits today)