Mohenjo Daro – With glimpses of Baahubali, But failed to impress
Mohenjo Daro – The most recent release of Hrithik Roshan is an epic film, which steals a few facts from India's History associated with Indus Valley Civilization. The marketing strategy is nice, to link a movie of present times with India's History of Mohenjo-Daro, which has never been explored before or shown on silver screen. The director Ashutosh Gowarkikar is known for successfully executing the same formula before, mixing fiction with historic facts. But was director's move a successful attempt this time? I should say this attempt back fired him.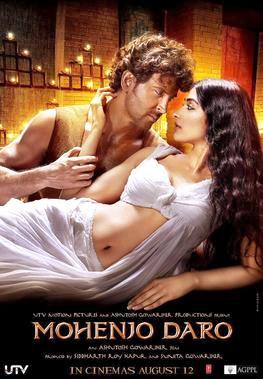 Jodha Akbar – The work of fiction by the same director and lead actor which created magic onscreen
Ashutosh is known for contributing to Hindi cinema, one of the most popular periodic films – Jodha Akbar, built similarly upon such historic facts. The romance of Jodha and Akbar onscreen is amazing, far beyond all explanations. Still debates are going on, if Jodha was the wife of Akbar, or any another Mughal Emperor belonging to same dynasty. But we cine goers have accepted Jodha to be the wife of Akbar after watching this film. That's the power of good script, direction and acting which creates magic in the mind of audience who don't care about the reality.
Audience has earlier accepted the work of fiction of Salim and Anarkali, when it was finely scripted and successfully executed on silver screen several times. But this time, it was a worst attempt made by the director known for picking stories from real history. The movie is quite unbelievable to audience.
Was Mohenjedaro inspired from Baahubali?
Since the beginning of the movie, I got a few shades of south Indian flick Baahubali: The Beginning here and there in Mohenjodaro. I don't know why, I started comparing Mohenjodaro with magnum opus of director S. S. Rajamouli. But alas! I failed miserably. There is not any surprising factor which binds audience at theater in Mohenjodaro.
The story is about identity of a prince in both these movies who have to leave their city soon after birth. Lost their parents, both the heroes are brought up by the couple in a low-profile background, who always prevent him from going to the kingdom. Later a love interest became their major reason for their stay in the city, and both exhibit their talents in front of the antagonist – cruel ruler, and their wisdom and strength in martial arts make them local hero also. Villain betraying the father and the hero identifying his own past and destiny are other major common facts. If there is a beautiful waterfall in Baahubali, the story revolves around Sindhu River in Mohenjodaro. Doesn't it sound interesting?
The highs and lows of Mohenjodaro
The film's title looked grand and anticipations were many that it would be a great film, Bollywood has never experienced before. But since the trailer got released, the movie has received negative reviews for not being authentic with the real history of Mohenjo-Daro. Its costumes, flying crocodiles, candles etc everything went wrong. The movie was trolled by social networks. It really affected its box office collection also, since the movie received negative reviews before movie release itself. If the script was nice, the movie would have given big numbers at box office, and audience would have forgotten those 'mistakes'. But sadly it didn't happen.
The movie had high production costs, and producers spent huge amount for its costumes, film sets etc. It's not easy to collect that amount back through box office collections, it seems. The movie was hugely hero-driven, and fully revolved around Hrithik Roshan. Sub-plots were not given importance, and not even a strange twist anywhere. Rather than giving importance to film sets and costumes, if the director had taken enough care with film script, the outcome would have been different.
Unlike Baahubali, where Tamannah portrayed a powerful character of a warrior, Pooja Hedge was pictured as an 'Abala Naari' with much dismay. She had nothing to add to the value of the film, except to wear feathers on her hair and smile at Hrithik. Her chemistry with Hrithik too was very much boring, I should say, unlike other Hrithik movies. I still wonder if it was a revenge saga or romantic flick, or anything else. The film story was so confusing, and failed to find what the director was actually telling about.
I was sleeping and distracted by dreams and thoughts throughout, while watching the film, except that displayed fight sequence. I think it was one of the nice shots of the film, throughout. Definitely not like the crocodile fly while looked unreal. Though the animation effects were clear in the film climax, it was far better than other parts of the film which added nothing to the film. I believe it to be a fictional climax showing the end of Indus Valley civilization.
Conclusion
I always appreciate Hrithik's decision to work in less number of movies, and fully dedicate himself for the character he plays onscreen. He also does a lot of efforts to give perfection to his onscreen character. But his last few releases after Zindagi Milega Na Dobara happened his movies have failed to receive critics' appreciation though created box office magic. This time, Hrithik magic too has failed to hold the film. As an actor, I think, Jodha Akbar was one of his finest performances, with the same director, and we want that old Hrithik back. It would be nice if Hrithik chooses some nice scripts in future.
Media that hailed Hrithik as the 'New Star of Millennium' after his debut film, with his recent release, many columns are written which say his career is over. But as a true fan of him I still believe, Hrithik to be one of the finest actors of Bollywood, who has gone through a similar phase after the release of his debut flick – Kaho Na Pyar Hai. Let his recent release be a perfect eye opener and I wish him all the very best to see him return in a bang.
Read a few more films reviews of new generation cinema written by me. Here is the page link. Click on the images to read.
(Visited 471 times, 1 visits today)