Some interesting tales of Kerala's own Parotta
Among all Kerala dishes, in terms of nutrition, Parotta scores less marks. Health conscious people also never prefer this dish, because of its maida and oil content. Doctors warn patients to stay away from Parotta. But in terms of taste, beauty and appearance, Parotta scores 100% marks. In terms of nutrition, Parotta is far behind dosa, idli, appam, upma, steamcake, rice etc. Though many people avoid this tasty dish, secretly they love this 'backbencher' – that's Kerala Parotta! You can find 100 reasons why Keralites love Parotta, and it's their staple dish often nicknamed as 'National food of Kerala'. Mostly known as a street food or restaurant food, its fame has now reached other south Indian states, a few north Indian states as well as the neighbouring country, Sri Lanka.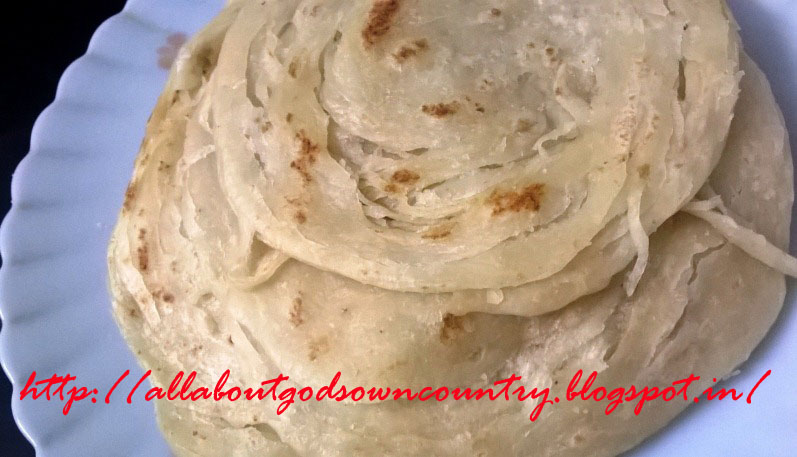 It tastes best with both vegetarian and non-vegetarian curries, but its combination with beef side dishes have most number of fans. In short, because of Keralities' love for beef and parotta, they have also received wrath from Hindu nominated North Indian regions in many occasions. But Keralites are not going to accept the threats which they receive from other parts of the country because of their love towards beef and parotta. Let us keep those controversies aside and move on, and know more about why Parotta became the most favourite dish of Malayalis.
Heroism – That's Parotta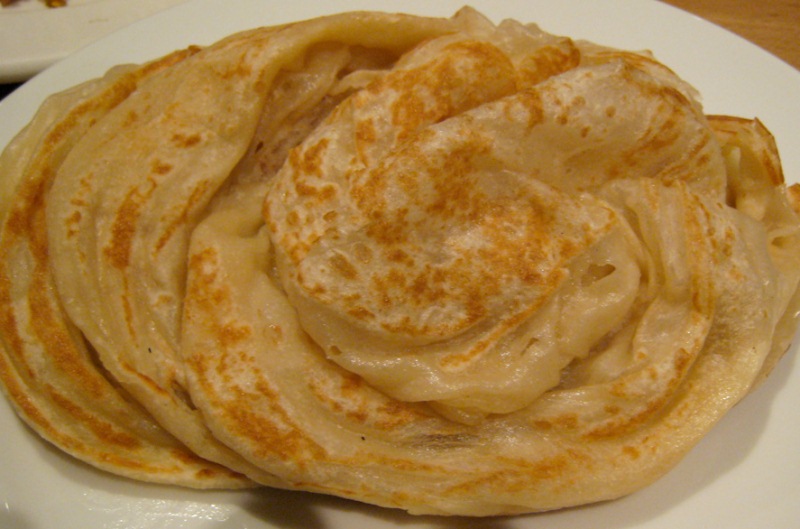 We can take the method of preparation of any Kerala dish. No other dish is this much 'punished' as a parotta. The dough is beaten hundred times just like an undisciplined student at school, so that 'he' can be turned soft and tasty. Even after accepting so much punishment, he is stiff like rubber and won't tear our easily. The kneaded dough is flattened, folded, torn into pieces and cooked in a hot pan. Even after preparation, the chef is not willing to stop his punishment. He continuously beats poor parotta so that its body parts separate as layers. Is it a police station? So much cruelty to a dish! Is it necessary? Yes of course. When punishment increases, its taste and softness also increases, and like a disciplined student, he sits as an emperor among the dishes. That's heroism.
Preparation of parotta is not so easy
Just like folding of a sari, how many layers can be separated from a parotta! Yet how steadily it sits on a plate, so beautiful! It's not an easy task to prepare this tasty dish; a tedious process. If a prize is announced to prepare most difficult dishes of the world, Parotta will definitely win at least consolation prizes. Who might have first made parotta? Whose idea was to make layers? Who has spread the flour first, knead it and continuously beat it till it turned soft? No idea!
If you go to the kitchen where parotta is made, you can witness nothing short of a war field, and if the chef is not in good mood, he may show all his anger to parotta. Maida, oil and salt are the main ingredients and it's the manual effort of the chef which pays off. At first he takes maida in a big bowl, then add sufficient water, salt and oil and perhaps a little baking powder and mixes well. Then he kneads the dough till it turns soft. He takes a lot of manual effort in this process and then place a moist cloth on it, and allow to rest for at least 1 hour.
Small balls are made from this dough in a particular shape and now oil is applied to avoid sticking. Once again the balls are covered with a moist cloth for a while. For kneading dough and make balls, machines have come. Yet for the next process known as 'Veesiyadikkal', where each ball is thrown and beaten on countertop in a particular style to make it thin before they are folded in spiral shaped balls (as shown below). This process is handmade and no other substitute till now. If the flour is odd or dough is not prepared in the right proportion of ingredients, this process won't become perfect.
Ball is placed inside the hand and spread first using fingers. Next process is to convert balls into thin and unbroken sheets (just like the preparation of North Indian Naan). This process is called 'Veesiyadikkal' where the maida balls are beaten on countertop in a particular style till it turns thin. During this process, for a right hander, like a fisherman using net, he is throwing the ball and moving right hand upwards and left hand downwards. He continues the process till parotta becomes a thin layer. He should not beat parotta too hard; if so the thin layer will break. Later it's cut into two or three if stretched too long. Otherwise it's used to make a single parotta. Now it's rolled again. While making parottas in a tawa, these layers are shown as folds.
After half an hour, these rolls are spread like chapatti and heated on a tawa adding oil. Flip both sides to fry the parotta. Then 5 or 6 parottas are taken together, beaten together on all sides till layers appear. It needs a lot of practice to prepare soft parottas with layers. Otherwise they may turn hard or layers may not appear.
From where did Parotta come?
Parotta is mostly known as a Kerala dish across the globe, though till now its story of origin is unknown. As per experts, it may be the influence of food habits of people belonging to different parts of the world, and not strictly Malayali tradition, because Kerala never had a centralized food culture since ancient days, and they were influenced by Tamilians and North Indians too. Namboothiris when they came to Kerala as well as foreigners for the purpose of trade made some major influences in Kerala's food habits, and many dishes were introduced too.
Rice cultivation formally started only after 10th century in Kerala. It got popularity only after that. As per popular belief, steam cooked food became a part of Kerala cuisine only in the 12th century. Lower caste people usually prepared congie. Rice meals were served only once a year during special occasions. Yet Malayalis always welcomed good dishes, and made them a part of their cuisine. That's how Tamil staple dishes like Idli, dosa, rasam and sambar became a part of Kerala culture too. Parotta too might have reached the same way, which Malayalis accepted.
Food experts believe that the predecessor of Parotta might have originated somewhere in North India, not more than 100 years ago. Parotta became a popular dish in Kozhikode only in the 1960s. During those days parottas were small and available as street food only in the evenings. By 1980s parotta became a staple dish of Malayalis, and it was well shown in movies released during the period. As time passed by, many restaurants started earning good name in the name of parotta.
Best pals/combo of parotta
This layered flatbread, also known by the names – porotta and barotta suits best with meat or vegetable curries. It also tastes good with chutney or sambar, yet personal choices differ. Beef is the hot favourite side dish of Malayalis for parotta, where beef curry, fry or roast (piralan) dishes are high in demand. In Malabar region, Mackerel curry (Ayala Mulakittath) with chilli and sour taste is also in demand. It is also a perfect match with chicken, mutton, egg or vegetable stews. Parotta and egg roast is a deadly combination.
There are some weird combinations too, such as milk& sugar, where parotta is dipped and eaten. Green peas curry and chickpeas curry are other such combos. In Malappuram areas, if you have shortage of money to buy curry, the customer may ask to paint parottas. It means the supplier pour some fish curry with red colour on the top of parottas and serve. In certain roadside foot stalls/restaurants of Pathanamthitta region, if customer demands 'One plate PC', it means Parotta with some gravy.
From Kasaragod to Thiruvananthapuram, there is slight difference in size and shape of Parotta and slight difference in their names too. From Kasaragod, when Parotta reaches Thrissur, it turns small and slightly changes in appearance. From Kottayam to Thiruvananthapuram, size of Parotta reduces once again. 'Barotta', 'Parotta', 'Parotta' – this staple dish is addressed so in different places. Interestingly there is one restaurant in Kollam district where Parotta is called Pathiri (name of yet another dish of Kerala prepared mainly using rice flour). Interestingly some people of Kollam address Parotta as Pathiri, and Ari Pathiri as Orotti. Mutton is the best combo of Parotta in Kollam district.
What admirers of Parotta have to say…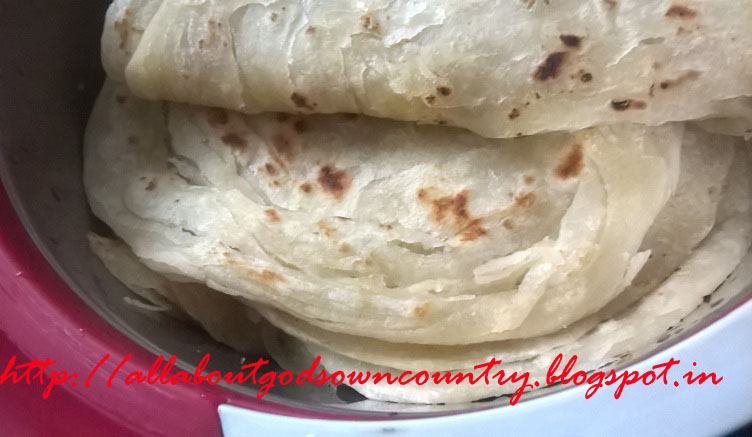 There are many food experts and doctors who have already declared Parotta as an unhealthy food. They may explain that maida used as gum to stick posters on wall is used to prepare Parotta, and is unhealthy without any nutritious facts. So, some people feel that Parotta may act as gum in the intestine, while some others feel that it's not easy to digest.
Bread and biscuit used as combo for tea when you are admitted at hospital for fever or related diseases are also made of maida. Many common dishes are prepared from maida. When bread & butter is adopted and accepted by many as a regular breakfast dish, then why not parotta? Then why restriction is given to Parotta only? Why it turned an enemy to those with health issues? Dietary fiber is comparatively low in Parotta. That's the main reason. But it can be compensated by using some side dish with vegetables for parotta, and also salads, fruits etc. Yet it is not advisable to eat Parottas frequently. Though Parotta is now a menu in restaurants across the world, you can't find such soft and tasty parottas anywhere else other than Kerala. It's said that Malayalis are the best to prepare parottas.
Different varieties of Parotta
Kothu Parotta is one of the most popular variant of common Parotta. Parotta is torn into pieces and mixed with some curry of your choice to prepare Kothu Parotta. Normally non-vegetarian dishes are used. Fried parotta and chilly parotta are other varieties. In North India, Parathas are prepared using wheat flour, which are slightly thick than normal chapattis, and some stuffing is also done. Aloo Paratha (stuffed with potato), Paneer Paratha, Methi Paratha, Gobi Paratha (stuffed with cauliflower masala) etc are some of the staple dishes.
Some people eat Parotta as a substitute of 4 O' clock snack. In a restaurant at the capital city of Kerala, there is one special dish called Parotta Loppo where chicken filling is stuffed between two parottas and served. In Kozhikode, bonda (a fried snack prepared using maida with potato masala filling) is stuffed inside Parottas and eaten by a few. In Thalassery, it becomes an egg roll, where omelette is prepared and used as stuffing for Parotta. A variant of new-gen parotta is available in a restaurant of Kozhikode when a parotta is served as a box. When the box is opened, there is a parotta roll with chicken or beef. For a vegetarian, jam may be used for the same Parotta roll as a substitute to meat. Wheat parotta is also available now. If you are health conscious you can choose this one. But it never tastes better than a maida parotta. As a saying goes, 'Can a pickle ever substitute salt?'
(Visited 2,151 times, 1 visits today)