Scotch Egg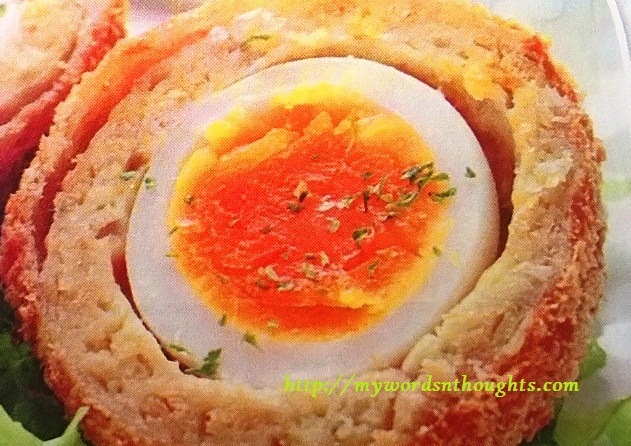 Ingredients for Scotch Egg:
1. Eggs – 5
2. Oil – For frying
3. Onions cut into very fine pieces – 1
4. Minced and cooked chicken adding salt and pepper – 1 cup
Potato cooked and smashed well (after removing skin) – 1
Salt and pepper – As required
5. Maida – 1 cup
6. Bread crumbs – 2 cup
How to prepare Scotch Egg?
1. Put four eggs in boiling water and cook for 10 minutes. Then put them in cold water.
2. Remove the shells of eggs once cooled.
3. Heat 2 spoons of oil in a pan, and add onions.
4. When onions turn soft and translucent, add all ingredients listed as 4 and mix well.
5. When the contents are well mixed, put the flame off.
6. Break the remaining one egg to a bowl and blend it well.
7. Now roll each egg in maida powder.
8. Divide the potato-onion mixture into 4 parts, and make 4 balls from it.
9. Now place each ball in a plate and spread it using hands to form circular shape. It should be spread uniformly in the size, able to cover each egg.
10. Now cover each egg using this potato-onion mixture, roll over maida once, followed by blended egg and bread crumbs.
11. Make it sphere shape once again and fry in hot oil. Fry till your scotch egg turns golden brown.
Source: Vanitha Magazine, May 1-14, 2017
Scotch Egg (Recipe 2)
Ingredients for Scotch Egg (Recipe 2):
1. Eggs – 6
2. Chicken/meat – 450 gm, minted
Garlic – 3 cloves, crushed
Lemon skin scrapped – 1 big spoon
Pepper powder, salt – ½ small spoon
Egg – 1, beaten
3. Maida – ½ cup (a little salt added)
4. Egg – 1, beaten adding a small spoon water
5. Bread crumbs – 1 cup, a little salt and pepper powder added
6. Oil – For frying
How to prepare Scotch Egg (Recipe 2)?
1. Put egg in boiling water, and cook for 6 minutes.
2. Suddenly put in cooling water, and remove the shells.
3. Cut each egg into two halves, lengthwise (oval shape).
4. Mix ingredients no: 2 in a bowl and make small balls.
5. Take one ball inside palm, spread it and place an egg piece inside it.
6. Wrap the egg fully inside the meat mixture.
7. Continue the process for remaining eggs too.
8. Take maida, beaten egg and bread crumbs in separate bowls and keep aside.
9. Dip the wrapped egg first in maida, followed by egg and finally coat it with bread crumbs.
10. Deep fry your scotch eggs in hot oil, till they turn golden brown.
11. Serve with salad of your choice.
Courtesy: Vanitha Magazine, April 1-14, 2023
You can read a few more egg snack recipes here. Here is the page link. Click on the images in the gallery to read.
(Visited 161 times, 1 visits today)