Roti Thairu Vada (Bread – Curd Vada)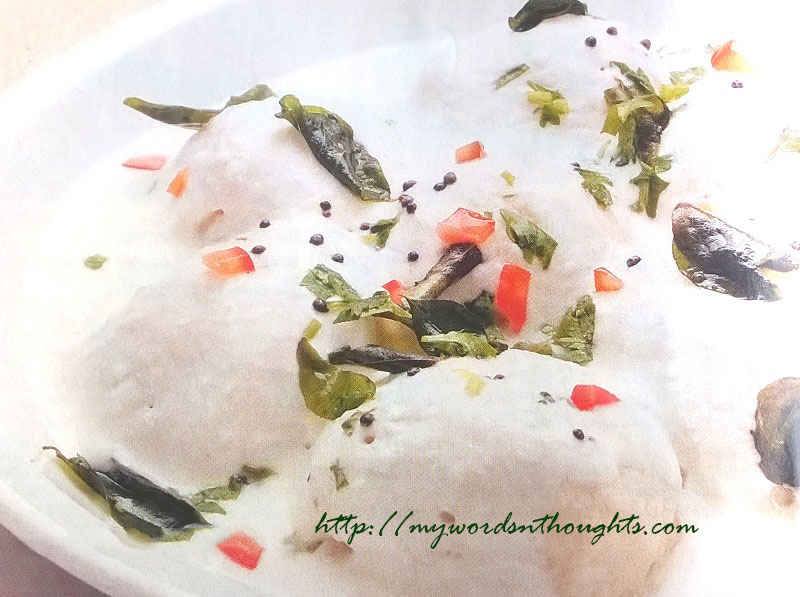 Ingredients for Roti Thairu Vada (Bread – Curd Vada):
1. Bread – 10 slices
2. Carrot – 1, small
3. Ginger – 1 small piece
Green chilli – 3
4. Lemon – 1
5. Curd – 1 cup
6. Chaat masala – A pinch
7. Chilli powder – A pinch
8. Cumin powder – A pinch
9. Salt – A pinch
10. Corainder leaves – To decorate
How to prepare Roti Thairu Vada (Bread – Curd Vada)?
1. Chop carrot to very fine pieces and transfer it to a bowl.
2. Add chopped ginger and green chillies and mix well.
3. Add lemon juice and a pinch of salt.
4. Remove the brown edges of bread slices.
5. Dip them in cold water for a second and then squeeze excess water.
6. Place a little carrot filling at the centre of each bread slice and roll them to balls.
7. Press each ball once to get a perfect sphere shape.
8. Place then in a plate and pour curd on its top.
9. Sprinkle chaat masala, chilli powder and cumin powder on its top.
10. Decorate with coriander leaves and refrigerate it.
11. Serve chilled.
Note: You can temper it using oil, mustard and curry leaves.
Archive: Vanitha Magazine April 15-30, 2010
Read a few more Vada snack recipes here. Here is the page link. Click on the images in the gallery to read.
(Visited 228 times, 1 visits today)