Pilimpi Rasam
Pilimbi is also called Irumban Puli and Pulichikka by Malayalis. Its scientific name is Averrhoa bilimbi, and it's very popular in Kerala regions, used with a wide range of vegetarian and non-vegetarian dishes. It's sour in taste and flesh inside. Apart from pickles and coconut milk curries, it's also used while preparing fish curries. It's also known for medicinal purposes. Here is a unique rasam made using Averrhoa bilimbi.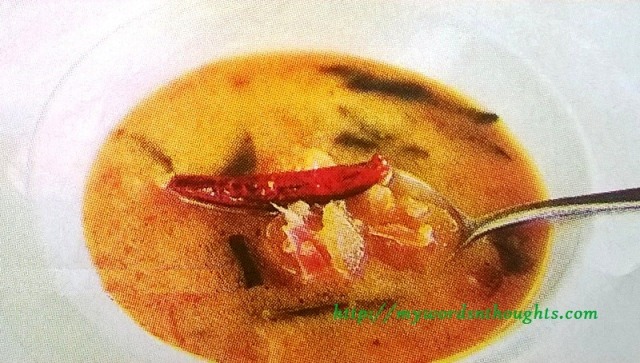 Ingredients for Pilimpi Rasam:
1. Pilimbi – 1 cup
2. Coconut oil – 1 big spoon
3. Mustard – ½ small spoon
Fenugreek – ¼ small spoon
Red chillies – 1
Curry leaves – 1 stalk
4. Onions – 1 big, finely chopped
5. Green chillies – 2
6. Jaggery – A little, to regulate sour taste
Asafoetida powder – A pinch
Salt – For taste
How to prepare Pilimpi Rasam?
1. Finely chop ilumban puli (pilimpi) into round pieces.
2. Heat oil in a pan and splutter mustard seeds.
3. Then sauté red chillies, fenugreek seeds and curry leaves.
4. Add chopped onions to it and sauté till it turns crystal clear, and then add pilimbi
5. Sauté pilimbi till it turns soft and add 2.5 cups of water. Allow your rasam to boil.
6. Add ingredients no: 6 and boil again for 5 minutes.
7. Put the flame off and serve hot.
Courtesy: Vanitha Magazine, July 1-14, 2017
Read a few more rasam recipes here. Click on the images in the gallery to read.
(Visited 363 times, 1 visits today)