Pilgrimage to Rameswaram & Ramanathaswamy Temple to wash off your sins
Seas of Rameswaram – so silent and holy; it lies in the east side of the famous Ramanathaswamy Temple, dedicated to Lord Siva. Devotees who take a holy bath chant mantras – 'Rama Rama' and 'Om Namah Sivaaya'. The shores also accept chanting mantras and pitrubali given for the beloved ones. Yes we have reached the holy seashores of Rameswaram.
As per beliefs, after killing Ravana, to absolve the sin of Brahma Hatya, Rama reached Rameswaram. Sita prayed Lord Siva in mind, and she made a Shiv Linga using sand of seashore. Rama installed the idol and worshiped Lord Siva. As per popular belief, it's the same lingam worshipped in the temple. Now a holy pilgrimage site for Shaivites, Vaishnavites and Smarthas, the temple is one of the twelve Jyotirlinga temples of India. Devotees believe that a visit to the holy temple and a bath at the seas will wash off all their sins and sorrows of life.
Before the dawn break itself, the seashores will be filled with devotees. In mandapams constructed for bali tharpanam, priests will be seated in front of fire. Devotees will be seated in front of them, chanting mantras as instructed by priests.
Sea shore filled with devotion and mantras
In the huge crowd at the sea shore, you can also see goats and cows. As feeding cattle is regarded holy, you can see several women wondering around carrying leaves in hand. People buy these leaves and feed cows and goats. On the path leading towards Kizhakke Gopuram (East Tower) of the temple, you can see sellers on both sides carrying crafts, shanghs and Siva linga statues. You can also see old beggars on paths here and there. Sea shore is very much contaminated due to the crowded people, plastic wastes, food and other wastes, clothes etc. Yet there is a silent rhythm and eco of devotion and Rama Bhakti everywhere.
The east gopuram side gets crowded before the dawn break itself. It's for Spadika Linga Aradhana darshanam, because it's the most auspicious and special pooja of the temple. The temple opens for this pooja in the morning at 5.15 am.
In front of Ramanatha Swamy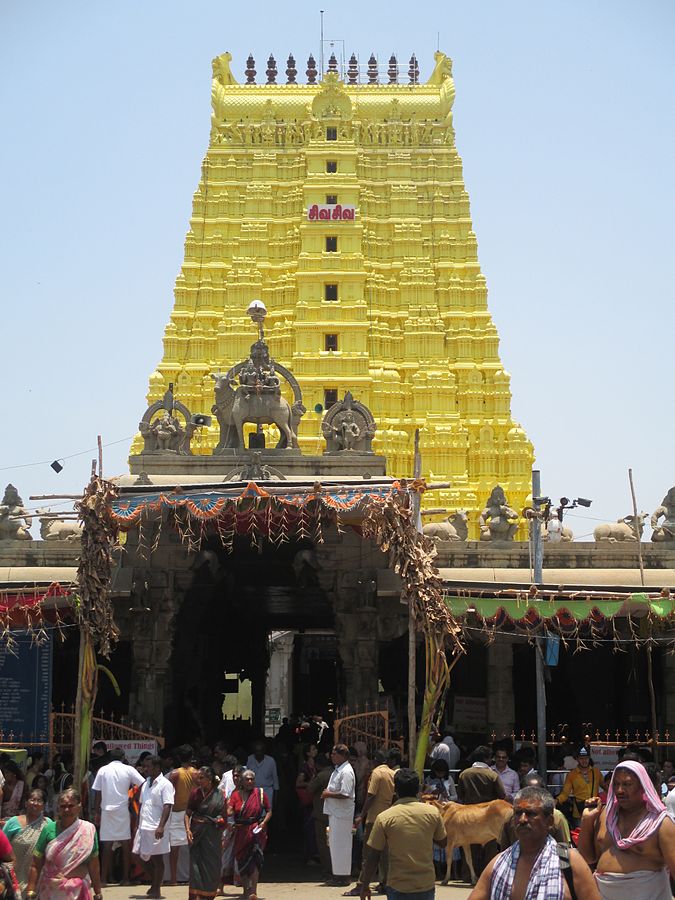 The temple spread in the area around 15 acres has a high compound wall, and two huge gopurams in east and west directions. The next two directions have well finished gates.
The temple is under tight security nowadays. Camera and mobile phones are not allowed inside. When you enter, on the left side is Vinayaka Swamy. You can start from here, and on the way you can see the symbols leading to sacred bath. There are 64 Thirthas in and around the island of Rameswaram, and 22 of them are within the temple premises. Bathing in these Tirthas is considered equivalent to penance. It's regarded as one of the major aspects visiting Rameswaram.
When you enter the temple, you first reach third prakaram best known for the famous temple corridors. The ceiling of the corridor is filled with mural paintings of Sree Rama stories and pillars imprint dragon faces and Dwarapalakar (people carrying swords and assigned the job of security in palaces and temples). Rajagopuram – the main tower is 53 metres tall. The temple also includes many shrines with other deities. The presiding deity is Lord Shiva.
After travelling through this corridor, you reach before the huge statue of Nandi. It measures 12 feet in length and 9 feet in height. The golden flag post is fixed in front of Nandi's temple, and Nandu's statue faces Sreekovil of Lord Shiva. After seeking the blessings of Nandi, you can directly enter the main temple in front of Ramanatha Swamy. Just like other famous temples of Tamil Nadu, you can take special ticket for 'easy darshan'. Siva presides here as 'Spadika Lingam' enclosed in a silver door inside the main temple, and it takes a long queue for devotees to get darshan of Lord Siva.
Sree kovil is filled with stone pillars with beautiful carvings. On the left side of Sreekovil, stone statues of 64 Nayanars are installed. Inside the sreekovil, there are two Siva lingas – in front of sree kovil near Anjaneya and on the right side near Rama, Lakshmana, Sita and Sugreeva.
Anjaneya Hanuman holds a special space
Along with Lord Siva, Anjaneya Hanuman also holds a higher position in the temple worship. There is one mythological story behind this. When saints asked Lord Sree Rama to worship Siva, Hanuman was send to Himalayas to bring Siva idol. But when he became late, Sita made an idol using sand near sea shore and Rama installed it and worshipped. When Hanuman returned with the idol, he felt sad that installation has already done.
Seeing this, to comfort Hanuman, Rama asked him to remove the already installed Siva Linga. But when Hanuman tried his level best to remove it using his tail, he was not able to, and he became humble. Yet Rama didn't let it go and installed the idol brought by Hanuman on the left side of first one. He also instructed that this idol should be worshipped first before the one made by Sita, and this procedure is strictly followed till now.
Behind the sree kovil, there are different sannidis (worshipping places) for Dakshinamurthy, Ramalakshmana and Sonamundara and a few more. When a devotee circumvallates all these shrines, he reaches Parvatha vardhini amman sannidhi. A small temple is designed here as well. In front, statues of Nandi and golden Dwajam are installed.
In the mandapam in front of the temple, there are many beautiful stone statues placed at different corners – Perumaal Sannidhi, Saint Pathanjali Sannidhi, Rama Linga Sannidhi and many more. You can see praying devotees before these sannidhis and can watch those giving offerings to please them.
Bath in 22 Theerthas to get rid of sins and displeasure
The interior of the temple premises is always soaked. The temple is holy for the presence of 22 Theertha ponds inside the premises too. As per beliefs, bathing in these holy ponds washes off all sins and sorrows. 22 theerthas denotes 22 arrows of Rama's bow. Agnitheertham – the seashore is most important of all. As per customs, one has to do sea bath here first before taking shower in the rest theerthas.
You can find many guides here at the cost of 250 Indian rupees. They can guide you to theerthas (holy tank) and even pour holy water on you. Mahalakshmi theertham is the first one. People are employed here who collect water in buckets and pour over the heads of devotees. Theertha bath is very auspicious for a devotee who pay visit here, and it gives a divine experience too.
The holy theerthas are inside the temple walls and spread over the premises, and the devotee takes bath at all the 22 wells/ponds. After Mahalakshmi theertham, one has to take bath at Savithri Theertham, Gayathri Theertham, Saraswathy Theertham etc. Sethumadhava Theertham follows Saraswathy Theertham and it is a vast lotus pond. It is followed by wells/ponds in the order –Gandhamadhaka Theertham, Gavaaksha Theertham, Kavaaya Theertham, Nala Theertham, Nila Theertham, Shanku Theertham, Chakra Theertham, Brahmahatya Vimochana Theertham, Surya Theertham, Chandra Theertham, Gangaa Theertham, Yamuna Theertham, Gaya Theertham, Siva Theertham, Sathya Mitraa Theertham, Sarva Theertham and finally Kodi Theertham. When you reach Kodi Theertham, you just need to take a little water in a small vessel and sprinkle on your head.
When you are soaked with Kodi Theertham finally, you will get a pleasant spiritual feeling of get freed from all sorts of sorrows and sins. You should not seek temple darshan with soaked clothes. So you can pray from outside, change your clothes and then only enter Sree Kovil. You can see a row of priests outside waiting to do your poojas.
The third corridor of the temple – Longest passage of all Indian temples
When you return back you can witness the magic of the longest corridor of Indian temples. It's the third one in Ramanathaswamy Temple and the longest for any Hindu temple in India. Similar to the first corridor, its ceiling is filled with mural paintings of Sree Rama stories and pillars imprint dragon faces and Dwarapalakar. It is 3850 feet in length, and the outer corridor only has 1212 pillars. Pandya Kings and Sethupathi rulers were behind the construction and renovation of India's one of the most famous Siva temples.
During early days, the idol was installed in a palm leaf hut, and a saint protected it, as per popular beliefs. The temple we see today was built in different phases by rulers belonging to different times and kingdoms. The carvings on stones, corridors, gopurams etc were gradually built increasing the total surface area of temple premises. The temple was constructed in a beautiful way for the first time in 12th century by Pandya kings. Shiv devotee rulers of Jafna also brought several renovations to the temple and its structure. The third and most famous corridor was built by Sethupathy kings in the 17th century. Near to western gopuram, oil paintings of famous Sethupathy kings are placed.
Pithru Poojas for dear ones who got separated
In the mandapam of Agnitheertham, mantras are chanted continuously and Pithrubali poojas are conducted here. Starts before the twilight, it continues till night. On busy days, a poojari may conduct more than a 100 poojas in daytime. People reach here with the separation sorrows of their dear ones, and leaves here placing their sorrows at Siva's feet.
There are more than 400 members to conduct the pooja including main priests and assistants. In the evening, whole income is collected together and divided equally. Assistants will also get their shares. There are many priests who conduct Pithrupooja since last 20 years or so and for many, it's passed from one generation to the next.
Prayers for peace of souls – the seas of Ramaswaram have many more stories to tell!
How to reach Rameswaram?
Ramanatha Swamy temple is situated in Rameswaram Islands of Tamil Nadu. The place belongs to Ramanathapuram district. The island is connected to east shore through Pampan bridge. The presiding deity is Lord Siva installed by Sree Rama. The temple is famous for Pithru Tharpanam (offerings given to dead ancestors).
We can reach Ramanathapuram through Madhura or Kanyakumari, and can use train or bus route. From Ernakulam, there is one special train to Rameswaram every Sunday evening at 4 pm. You can reach Rameswaran by Monday morning. There is a return train to Ernakulam same day night at 10 pm.
Other hot spots near Rameswaram
One among the 12 Jyotirlinga temples of India, Ramaswamy temple is also one among the four Chatur Dhama (Char Dham) temples, the other three being Dwaraka, Puri and Badri. For both these reasons, Rameswaram is one of the top Hindu pilgrim places of India. It's spread like an island and wherever you go, each stone and statue make you remember the old tales of Ramayana.
Before Sethubendhanam, Sri Rama prayed alone in Ekanda Rameswaram temple, as per beliefs. This temple is 7 kms away from Rameswaram, near to Thankachi Maadam railway station. There is a stone carrying the footprints of Lord Rama in Gandhamadaka mountain. Just near to it is Villoonni Theertham.
You can also travel to Dhanushkodi, which is 27 kms away from Rameswaram and situated in Pampan Island. Years back, Dhanushkodi too was a densely populated place. In 1964 a cyclone destroyed the town leaving a great impact on the residents. As per belief, Lord Rama constructed the bridge to Lanka at Dhanushkodi. Devotees believe that the bridge known as Ramasethu still exists below the ocean. Sri Lanka is only 27 kms away from Dhanushkodi.
Devipattanam is located in between Rameswaram and Ramanathapuram. Navagraha Prathishta (idols of 9 planets) inside the ocean is believed to be installed by Lord Rama. This small temple is known by the name, Navabhaashaanam. Devotees visit this temple for conducting Grihadosha Poojas, and they circumvallate the 9 planets through water, as the idols are installed inside seas.
You can also visit Pamban bridge which connects Rameswaran islands to the rest of the world and a museum in memory of former President of India A. P. J. Abdul Kalaam. The journey in train through Pamban bridge is really amazing. Pamban Bridge – Railway tracks on sea, it's one of the most dangerous railway tracks of the world. Hand cranking bridge opens for a ship to cross, it's really an architectural wonder piece.
Also read a few more articles on temples of Kerala. Click on the images in the gallery to read
(Visited 875 times, 1 visits today)