Pearlspot Mapas (Karimeen Mapas)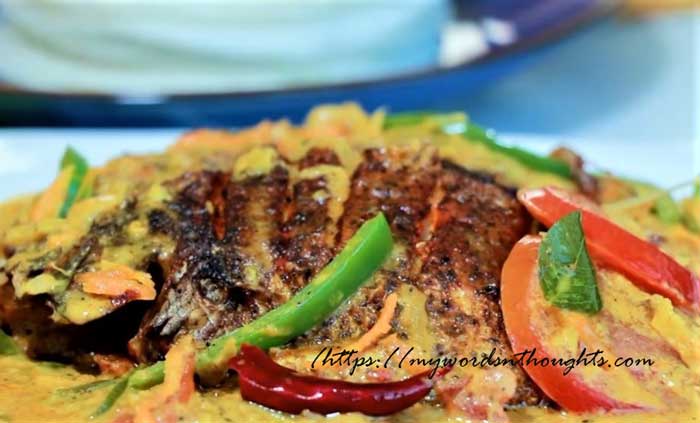 Ingredients for Pearlspot Mapas (Karimeen Mapas):
1. Coconut – ½
2. Oil – As per needed
3. Green chillies – 5
Shallots – 200 gm
Ginger – 1 piece
Garlic – 4 cloves
4. Pearlspot (Karimeen) – 1, big
5. Mustard – ¼ small spoon
Fenugreek – A pinch
Curry leaves – 3 stems
6. Coriander paste – 50 gm
7. Pot tamarind – 1 piece
Salt – For taste
How to prepare Pearlspot Mapas (Karimeen Mapas)?
1. Extract first, second and third milk from scrapped coconut.
2. Slice ingredients no: 3 lengthwise and sauté in oil.
3. Heat oil in a tawa and place a coconut leaf midrib of 4 cm length.
4. Place the fish on its top and fry both sides.
5. In the remaining oil, temper ingredients no: 5.
6. Add coriander paste and sauté it.
7. Add third extract of coconut milk and sauted shallot mixture.
8. Allow it to boil well, and add fish and second extract of coconut milk, salt and pot tamarind.
9. When gravy turns thick and fish is cooked, add first extract of coconut milk.
10. Before it starts to boil, put off the flame. Avoid putting spoons/spatula in the curry.
11. Close it for a while before use.
12. You can also add tomatoes cut in round pieces, in the last stage.
Courtesy: Vanitha Magazine July 23 – August 5, 2022
Also read a few more fish recipes. Click on the images in the gallery to read.
(Visited 12 times, 1 visits today)