Myna Nandhini -Tamil actress of Saravanan Meenatchi fame
Myna Nandhini is a Tamil actress who appears in movies and TV shows. She is best known for her appearance as Myna Revathi in Saravanan Meenatchi (season 2) and Alabarai Myna in Chinna Thambi, Tamil soaps. Her role as Mynavathi in Aranmanai 3 (2021) was also appreciated. She is associated with television since 2012, and has appeared in half a dozen TV shows. She has also acted in more than a dozen of Tamil films.
Myna Nandhini – A contestant of Bigg Boss 6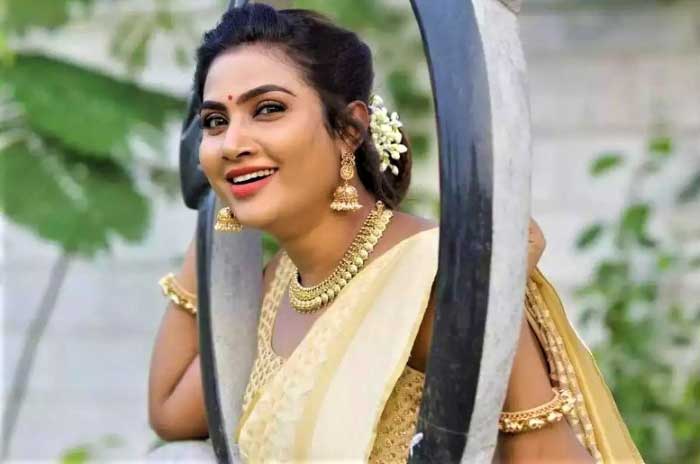 Myna Nandhini hails from Madurai, Tamil Nadu, and she was born in 1991. In 2009, she made her first screen appearance through an uncredited role in the movie, Vennila Kabadi Kuzhu. The comedy reality show Kalakka Povathu Yaaru marked her small screen appearance in the role of a contestant. Later she has been a part of several reality shows including Bigg Boss 6, and the winner of shows like Kitchen Super Star (season 3) in 2015. She has also remained as the celebrity judge of many reality shows like Comedy Khiladis, Kalakka Povadhu Yaaru Season 5 etc, and hosted shows like Mr and Mrs Chinnathirai 1. In fact she was the 1st Runner-up of the third season of the show, Mr and Mrs Chinnathirai.
She gained popularity through the TV show, Saravanan Meenatchi (season 2) and is a household name among TV viewers. She mostly plays supporting roles on big screen. She was seen in Tamil movies like Aranmanai 3, Vellaikaara Durai, Viruman, Vikram, Namma Veettu Pillai, Petromax, Sardar etc. Amudha Oru Aacharyakuri, Pandian Stores, Aranmanai Kili and Chinna Thambi are some of her popular TV shows.
The personal life of Myna Nandhini
In 2017, she married her long-time boyfriend Karthikeyan, a gym trainer. However after 6 months, her husband committed suicide. In 2019, she remarried television actor and comedian Yogeswaram, and the couple was blessed with a child next year.
Myna Nandhini – Some interesting and less-known facts
1. Srilankan singer and songwriter Dinesh Kanagaratnam is her cousin.
2. She is quite popular in Instagram, and owns 7 million+ followers.
(Visited 24 times, 1 visits today)