Palam Kalyana Sundaram – A Librarian known as 'Man Of The Millennium'
Palam Kalyana Sundaram is a humanitarian and social worker from Melakarivelamkulam in Tamil Nadu's Tirunelveli district. He has been an international sensation for philanthropic work who has been recognized worldwide, though he is not a familiar face across India. He is known for donating all his entire earnings and savings for the cause of poor and needy. His total donation of his life sums up to 30 crore Indian rupees, which is indeed a huge amount. He always wanted to serve others and tried to improve the life of others.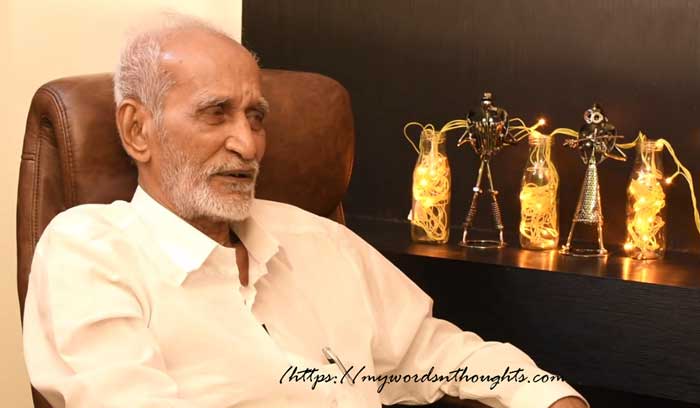 He donated his whole life and earnings to charity and remains unmarried as he wants to serve poor and needy. He has been appreciated by Former President of USA Bill Clinton, Nelson Mandela, former South African Prime Minister, APJ Abdul Kalam and former Prime Minister of India Jawaharlal Nehru and he has been honoured with many international awards of charity. Superstar Rajinikanth has adopted him as his father, and it's so embarrassing that people of his motherland don't know him. In 2023, government of India appreciated his efforts by honouring him with Padma Shri, the fourth highest civilian award.
Palam Kalyana Sundaram's mother installed in him the habit of giving others
Palam Kalyana Sundaram hails from Melakarivelamkulam of Tirunelveli district. He lost his father at the age of one and his mother single handily brought him up. Along with it, she taught him the lessons of being a good person and serving others. His village had no electricity that time and the nearby school was nearly 10 kms away. Palam used to walk 10 kms daily to reach school.
An incident changed his life forever
During his graduation ceremony, Sundaram visited a slum in Triplicane and got deeply disturbed seeing the poor living conditions of the children. He established Triplicane Slum Children Welfare Organization, aimed at better education, cleanliness, and hygiene of the children of the triplicane slum. Later receiving help from different people, it grew to a pan-India NGO and was renamed as Indian Children's Welfare Organization, and later to World Children's Welfare Organization, after they started assisting children in common wealth nations.
Gold medal winning librarian
He was a gold medallist in Library Science. He completed Master's degree in literature and history. After studies, he started working as a librarian at Kumarkurupara Arts College at Srivaikuntam, where he worked for 35 years. He donated all his earnings so that kids could go to school and people can improve their life. After giving away all his salary to poor, he took some odd jobs to meet his daily expenses. When he retired in 1998, he donated his pension and provident fund to children and poor. He became the first person in the world to offer his entire earnings for charity.
Following Pandit Jawaharlal Nehru's call for people to support the country during the war with China, he donated 8.5 gold sovereigns to the National Security Fund. He called Kalyanasundaram as "Light of India." Sundaram was 23 years old then. During the May Day celebrations in 1963, then Chief Minister Kamarajar highlighted his contribution to the National Security Fund.
After giving everything away, he worked as a waiter in a hotel
After retirement, he worked as a waiter in a hotel in exchange for two meals a day and a meagre salary, and he gave away his pension for poor people. He worked for the upliftment of Arundhathiars, and many other oppressed and SC communities. He mainly focussed on four villages in Padmanabamangalam in Srivaikundam. He gave away his share of the family property worth several lakhs of rupees to people in his village, apart from donating 30 crore+ money he received his lifetime. He has been recognized among the top 10 librarians in the world. He was also awarded the best librarian in India, by the Union Government.
Palam Kalyana Sundaram – Some interesting and less-known facts
1. Palam has a thin voice. For this reason he has been teased by others since childhood.
2. He runs an organization called 'Palam'.
3. Many international organizations recognized his work, and awarded him with titles like 'Man Of The Millennium', 'One of the best person of the century'.
4. UNO honoured him as 'One of the outstanding people of the 20th Century'. The International Biographical Centre, Cambridge, honoured him as 'one of the noblest of the world'.
5. He is a recipient of BAPASI award for best librarian in 2012, Lifetime Service Award from Rotary International in 2011 and many other honours.
6. He has been conferred with many other titles in India and aboard, such as 'Best Social Worker Award' from Tamil Nadu Government, Punjab State government award for 'Best Library Scholar', 'Best Educator' from MS University Tamil Nadu and 'Being Human Being' from Rotary International.
7. The Government of India awarded him the 'Best Librarian in India' in 1990. JNU, Delhi recognized him as 'One of the top ten librarians of the world'.
8. A book has been written about the life of Sundaram, titled 'Man Of The Millennium'.
(Visited 9 times, 1 visits today)