P. P. Kunhikrishnan – Malayalam character artist of 'Nna Thaan Case Kodu' fame
P. P. Kunhikrishnan is a character artist of Malayalam cinema, who shot to fame with his debut film, 'Nna Thaan Case Kodu', where he portrayed the humorous character of Magistrate. His full-length character role, filled with humour was well received and he got a magical entry to Mollywood with his distinct mannerisms and unforgettable smile. His chemistry with Advocate Shukkur, who played the advocate and Kunchacko Boban, who played the lead role received warm response from critics and audience alike. The movie received rave reviews and was a box office hit. P. P. Kunhikrishnan is a retired school teacher, currently into local politics.
P. P. Kunhikrishnan has brief stint in theatre
P. P. Kunhikrishnan, hails from Thadiyan Kovval near Udinoor, Kasaragod district. He is married to Saraswathy – a teacher, and the couple has two sons – Sarang and Azaad. He is a retired Hindi teacher at AUPS Udinoor, currently fully involved in social work. He is also an elected member from ward no.9, Padanna Grama Panchayath, representing LDF.
Since 18, he is associated with local plays, and has acted in stage plays and street plays through Manisha theaters, Thadiyan Kovval. Every year he appears as a stage actor for the annual theatre play of the club, apart from the school where he worked as teacher and plays of his locality. That's his only acting experience. Though he had a late entry to films, his experience in theatre added a distinct humour touch to the magistrate's role he played on screen. In real life, though he has been associated with politics and social work, he has never entered a court till then.
Unni Raja, best known through Marimayam series, became instrumental in Kunhikrishnan's film entry. Raja persuaded him to send application, and he sent two of his photos – one with a cow from his farmhouse and second one, a smiling photo used as flex board for election complain, where he was elected to Panchayat as ward member.
Iconic scene in the film, throwing almonds to pigeon in the courtroom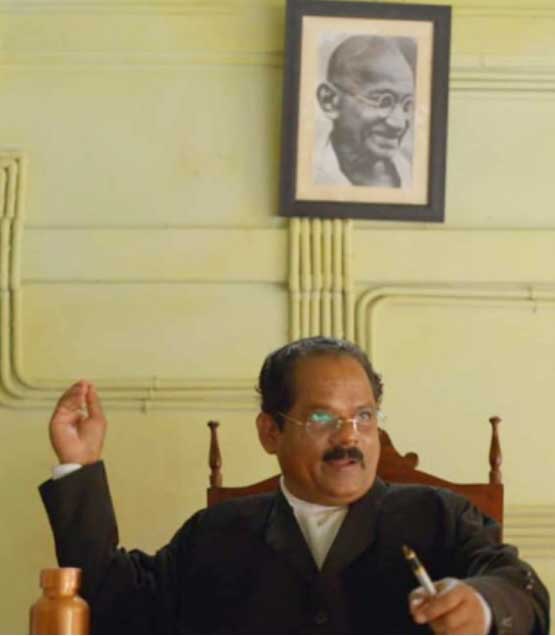 Kunhikrishnan's character in 'Nna Thaan Case Kodu' is best known for throwing almonds to cooing pigeons in the courtroom, to get rid of them. He also stole hearts with his million-dollar smile. In fact he was the real scene stealer of the show, and soon after film's release, many of his shots went viral.
P. P. Kunhikrishnan – Some interesting and less-known facts
1. He owns a farm house which has around 14 cows.
2. He is a member of CPM local committee and Farmer's group area committee.
3. He joined film industry after 2 years of retirement from government service.
4. When he told his family that he got his first break to films, none of them believed. Later when the movie got released, the whole village watched it in theatre.
5. After movie released, actor Unni Mukundan and writer Benyamin called him over phone and appreciated him. For him, those moments are memorable.
6. Though Nna Thaan Case Kodu's casting team asked him to go to court to understand more about court proceedings, he didn't go. Instead he came to shooting direct.
(Visited 45 times, 1 visits today)