Oatmeal Raisin Cookies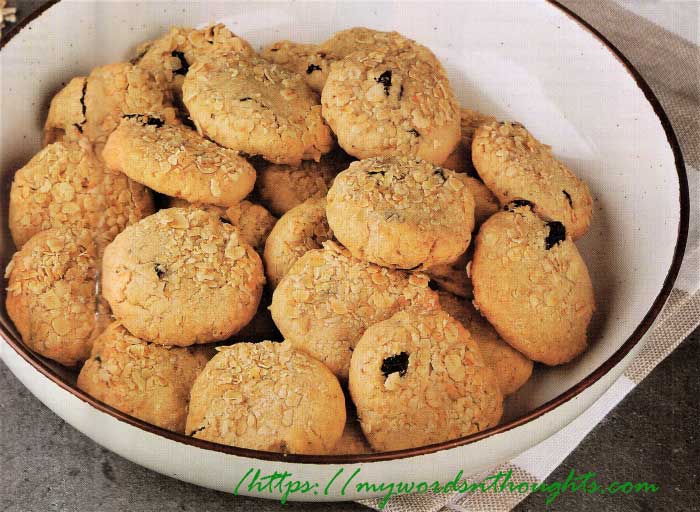 Ingredients for Oatmeal Raisin Cookies:
1. Salt-less butter – ½ cup
Brown sugar – 1 cup
2. Vanilla essence – 1 small spoon
Milk – 1 big spoon
3. Maida – 1 cup
Cinnamon powder – ½ small spoon
Salt – ½ small spoon
Baking soda – ½ small spoon
4. Oats – 1.5 cups
Seedless raisins – ½ cup
How to prepare Oatmeal Raisin Cookies?
1. Pre-heat oven in 180 degree Celsius.
2. Put butter paper in baking tray and grease it.
3. Beat butter with sugar till it turns soft.
4. Add milk and vanilla essence to it, and mix well.
5. Add ingredients no: 3 and prepare the dough.
6. Finally add oats and raisins, and mix well.
7. Make small balls and spread into cookies shape by placing inside palm.
8. Place your cookies in baking tray at 2-3 inch distance.
9. Place inside pre-heated oven and bake for 12-15 minutes.
10. When the edges of cookies turn golden brown, take them from oven.
11. Though it may appear not cooked properly, once it cools cookies will set. So never over cook the cookies.
12. Store in air tight containers.
Courtesy: Vanitha Magazine, June 24 – Jul 7, 2023
Tip: If you use an ice cream scoop to take the dough in your palm, you will get equal quantity.
You can also use normal sugar for the preparation of Oatmeal Raisin Cookies. When you use brown sugar, cookies turn often and get a nice brown texture too.
Also read a few more cookies and biscuits recipes. Visit my page.