A journey to Veechar Cultural and Heritage Museum for Utensils Ahmedabad
Ahmedabad was declared world heritage city by UNESCO in 2017, and it's first city from India to achieve this feat. A city which set example of coexistence of Hindu, Islamic and Jain traditions, Mahatma Gandhi's Sabarmati Ashram make it special. If you plan a visit to Sabarmati Ashram it will be a miss for you, if you don't visit Veechar Cultural and Heritage Museum for Utensils, which is a few kilometres away.
It's perhaps the only museum across the world, where you get an opportunity to see thousands of centuries-old used utensils, most of them which can be used on daily basis. The museum houses a collection of around 6000 rare utensils mostly made from metals, alloys, clay and wood. Many of them are dated to a millennium. Vishalla Art Gallery is nearby.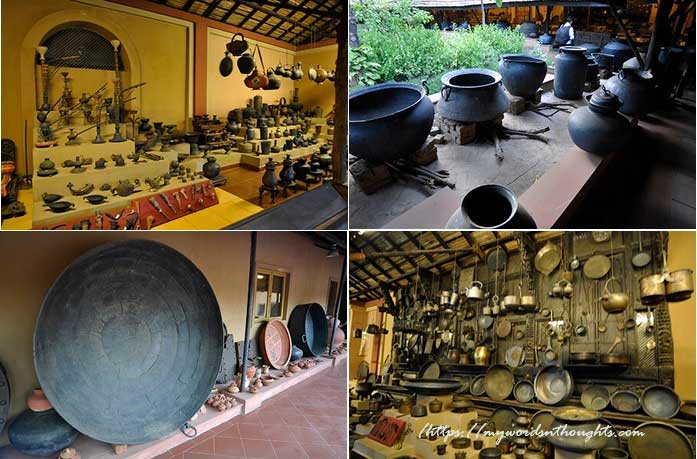 What is Veechar Cultural and Heritage Museum?
Veechar Cultural museum was started on 27 April 1981. It's a heritage spot where thousands of utensils of different types – pots, vessels, containers, toys, kitchen utensils, work equipment, ornament boxes, fire kins of kitchen etc, which are centuries and millennium old are kept, and exhibited as a museum. Its antique items are priceless. This museum was started by restaurateur Surendra Patel, to serve traditional Gujarati food in a village atmosphere. Along with it, he also decided to preserve a lost tradition, so that future generations will get an opportunity to see it. It's a rich repository of daily use utensils from different eras.
When Surendra Patel, a designer from Ahmedabad saw some classic metal items being sold in scrap, he decided to purchase them and start an exhibition. Most of them were sold because of the financial difficulties of families, and also as they turned old. He was also deeply moved seeing such traditional vessels broken. When Patel realized most of them are antique and will slowly disappear from market, he decided to preserve them for future generations. Through the preserved utensils and household things, it was a better idea to tell them how our ancestors did farming, cooked food and lived their normal lives. It was also his idea to serve traditional food in the same space.
Pots filled everywhere
Pots, bowls, and other utensils of different size and shapes and belonging to different era – that's the peculiarity of Veechar Cultural museum. There is no glass partition from the viewers and you can watch everything so close. There are different types of water reservoirs like pots to bring water, to store water, to place in hearths, pots with ears to hold and the list is long. They are made using different metals and alloys, and the collection also include earthen pots. From brass and bronze to copper, steel, silver and gold, the collection is amazing! All of them are used pots, used by people belonging to old centuries. Some pots are dated to 1000 years or more. Yes, it's a unique collection.
In North India, in some states like Gujarat, drinking water has always been a problem and sadly it exists even now. You can find a set of 7 pots used by women of that time. They used to place 5 – 7 pots one above another to bring water from long distances. There is also one bronze stool, which is placed on head to balance these 7 pots. It's also placed in this museum.
Thambakundi is another special utensil placed in Veechar museum. It's a bucket made in copper, which forms a part of Gujarati culture. It's round in shape and the centre portion is budged outside. This vessel has low height.
Utensils belonging to agriculture sector
India owns a rich agriculture tradition, right from the times of Indus Valley Civilization. You can find numerous utensils here, used to collect grains. They are made of different materials like wood, stone, copper etc. The stone used to grind grains, sport equipment like Gada (mace) etc form a part of the variety collection.
Utensils used in dairy industry are also kept here. Utensils used to feed cows, milk cows etc are found abundant in the collection. Utensils used to milk cows have some peculiarities – They don't have much height, but have good circumference, both the inner edge and outer surface, then making them customized for the purpose. It shows how man have designed things according to their needs, inputting their brains and creativity. Utensils, plates and boxes used by people centuries back to collect grains are available here in different sizes and models. They give insight to the craftsmen and their talents of those eras.
Equipment for making butter and ghee
Cattle was a part of every Indian household old days. Ghee and butter needed at home were also prepared using manual methods. Such equipment has also been collected and exhibited here. Many of them are centuries old. The long stick for the preparation of butter has the height of a human being, and the pot is also big.
There are some utensils with a tail, quite resembling kindi, used to collect and pour water. As scarcity of water was common in those regions, to reduce usage of water, such utensils are used. There is one special vessel called toli used for giving milk to kids. It has a tail which resembles the neck of a swan. Some vessels from Samarkhand of Uzbekistan have also been added to the collection.
Vessels for cooking and serving
One side of the building resembles Kerala traditional Ettukettu and Pathinaaru Kettu, where there is an open space in the inner side of the house, and roofing is done by tiles. Here, there is a huge collection of bowls, dishes, plates, spoons, pots and urlis and many more, exclusively used for kitchen. Apart from preparation, utensils needed for measuring food and serving are also exhibited here. Other equipment like machinery used in kitchen are also arranged here.
Unniyappam maker, wooden grater used to grate coconut with a plate attached, pots with taps attached etc are other kitchen collections. Apart from wood and bronze, copper and iron pieces are also available here. From 1-inch sized spoons to urlis of 6 feet diameter, there are many utensils here.
Some of the items form a part of Gujarati tradition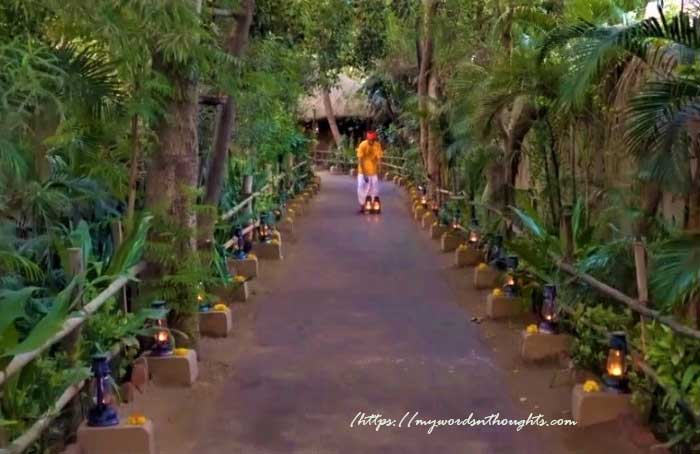 There is a collection of things used for Hindi traditional worship. A Shiva temple is also situated inside. His face is also antique. From different types of lamps to wooden book holders for religious books, the collection amazes the visitors. Ganga Kalas used to collect water from Ganges is also in the collection.
What's life without recreation. There are a lot of things in the collection, which form a part of kids' sports as well as adult recreation. There is a huge collection of toys. Kalam – Dawat (Pen and ink bottle) also forms a part of antique collection.
Dahej Ki Dabba (Dowry box) is given to every bride by her parents when she goes to another home. Ornaments and other valuable items can be kept inside this box. There is a collection of such ornament boxes. Thousands of pots and locks of various sizes and shapes can also be seen here. Once you have visited the places, you can have traditional Gujarati food too. During evenings, traditional lanterns are lit here, and food is served too.
Veechar museum – Time of visit
The spot is 9 kms away from Ahmedabad railway station. Veechar museum is opened to visitors from Tuesday to Sunday. Monday is holiday. It's opened from 3 pm to 10.30 pm, and traditional Gujarati food is also served here. Ticket charge – 50 rupees for adults and 20 rupees for kids.