Nivin Pauley contributed a few nostalgic movies to Malayalis in the recent times
Bangalore Days – though best known as the story of three cousins, it's also a take on some of the sweet memories we shared in the 1990s or before as kids. There are many dialogues rendered by Nivin Pauley which brings back those breezy moments of childhood days, ancestral home in village, family pond etc. Yes, Nivin Pauley has contributed a few nostalgic moments to Malayalis in the recent times through his blockbuster movies like 1983, Bangalore Days, Premam, and Om Shanti Om, though the latter is known as Nazriya Nazim movie.

All these movies have turned to be blockbuster hits, and established Nivin as the top actor among youngsters in the recent times.
Mollywood has realized the need to go back to glorious yesterdays in the recent times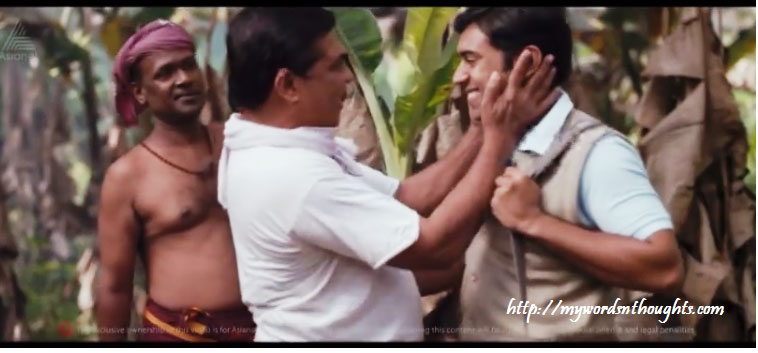 Though it's the era of new-gen movies in Malayalis with a handful of budding talents in all fields, it's a trend in the recent times to take a glance of glorious yesterdays. May be those missing paddy fields, innocence of childhood friends and joy of joint families haunting many filmmakers of today! It's a positive move from filmmakers' side to link kids of todays with those glorious yesterdays and generations associated with it.
Nivin Pauley – Three nostalgic movies in a row in 2013 which established him as a star
1983, Bangalore Days and Om Shanti Om – all the three memorable and highly appreciated films had Nivin in lead role in the star cast. While 1983 exclusively belongs to him, Bangalore Days and Om Shanti Om turned the career best of Nazriya. Nivin remained in the spotlight in the first half of Bangalore Days and it's better known as a multi-star cast movie. The most remarkable career of Nivin till then, he also earned state award for best actor for his outstanding performance in 1983 and Bangalore Days.
1983 –
A tribute to Tendulkar and cricket fans who lost themselves in cricket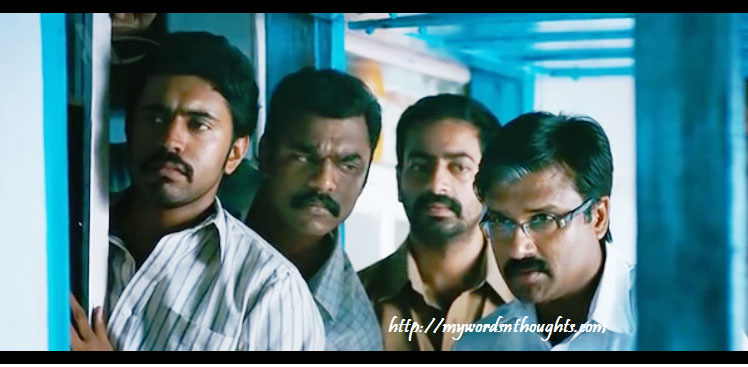 2013 opened with 1983, a coming-of-age sports drama film, a tribute to great Sachin Tendulkar who retired from all forms of cricket a couple of months before. For the kids who played cricket in the 1980s and 1990s, several scenes of the movie bring back many breezy 'cricket' moments of past and definitely linger minds for a long time. School days, school crush, monsoon etc are a few more light moments shared on big screen, and when those moments were linked with real cricket scenes of yesterdays, it was a delight to watch onscreen, and appealed realistic too. The movie throws light on many faded faces of 1990s, who ruined their education and future in the name of cricket – definitely an insight of an era of 1990s where boys spent hours under bright sun with bat and ball in hands.
1983 has several light moments of school days, Sachin's glorious 90s and many more treasures enough to tag it under 'Nostalgic'. The movie also began the luminous journey of Nivin as a talented actor. Nivin depicted on screen in perfection – the journey of a Plus-two boy to a man in the early 40s, who ruined his promising career and first love in the name of cricket.
Om Shanti Osana –
A female centric movie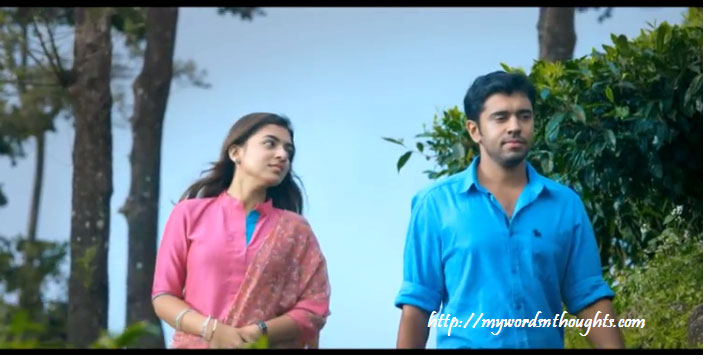 Soon after 1983 was released, Om Shanti Osana ruled the box office. The movie starred Nivin Pauley and Nazriya Nazim in lead roles. It's a woman-centric movie which gives strong nostalgic feelings of early childhood, teens and youth till late 20s. Events shown since a child is born in 1983, and each and every event is associated with some hit film songs during that time are enough to bring some nostalgic feelings.
I too spend my childhood days in the 1980s and 1990s, which could be the reason why movie is so special to me. Also the whole movie was done is a narrative way, enough to drag us back to our childhood days, teens and early 20s, and make us live that life once more. Though it's a Nazriya movie, there are some light and chilled romantic moments played by Nivin Pauley too, who played a calm and cool boy throughout, and the role is simply the best. Some village scenes associated with frames are really charming and breathe taking.
Bangalore Days
– The story of three cousins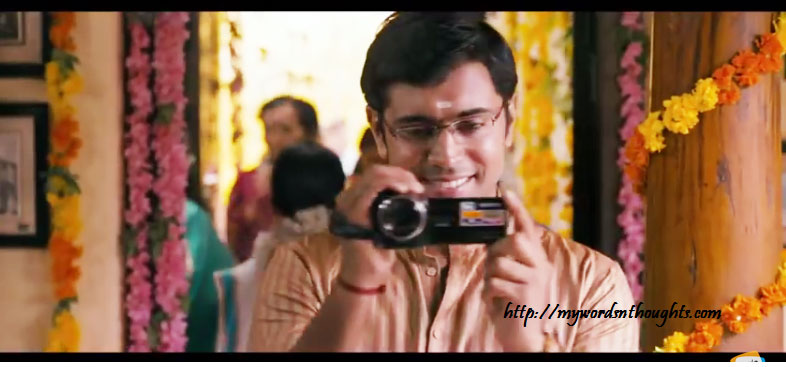 Though the movie depicts the deep bonding of three cousins since early childhood played by Dulquer Salman, Nivin Pauley and Nazriya Nazim, it's also a journey to nostalgic yesterdays where kids used to spend their childhood days in ancestral traditional homes. Family pond associated with the ancestral home and green paddy fields are also shown in the film. The movie also tells the changing mindset of Keralities in the recent times who most suitably ape West.
Marriage in traditional homes was also shown in the film. Keralities definitely miss some of their missing moments of childhood days through the dialogues delivered by Nivin throughout the film. It seems Nivin is the brand ambassador of 'Kerala Nostalgia' through the roles he played in the year 2014.
Premam
– A travel back to different stages of life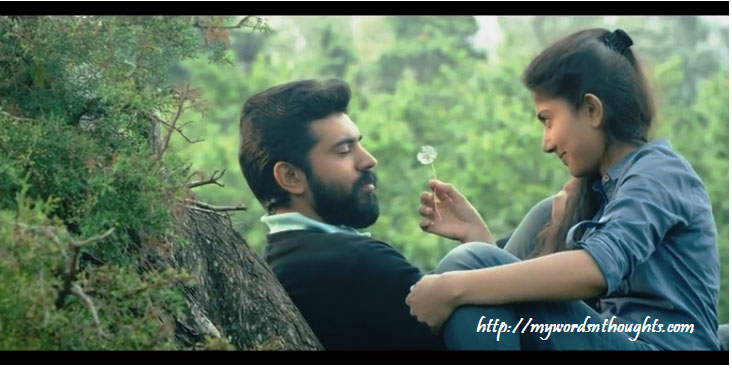 Nivin played the central character George in this coming-of-age romantic film, which turned to be one of the biggest hits of 2015, and established him a star. Premam is just an extension of his string of 'nostalgic hits' of 2014. Exclusively a youngster boy's film, the movie had some chilled moments. Whoever watched this film definitely missed their school days, school and college crushes, Onam celebrations, enjoying friendships etc. The glorious college days and college romance were pictured realistic with some funny crackers added, and definitely many of Malayalis have passed through these experiences during youthful yesterdays.
A smooth drive of a boy's romantic journey from his Plus-2 days to mid-30s, Premam detailed the life of George in three stages – his teens, early 20s, and mid-30s, and three girls who shared those days at different phases of his life. It's one of the rare movies which I felt 'movie should never end here' watching its final scene…….Really felt desperate and something missing. May be I too missed those nostalgic college days.
Conclusion
Nivin Pauley has grown into a flexible actor in the recent times, and his 'nostalgic' roles simply connects with audience in a perfect knot, and in future too we can expect a few more Nivin movies belonging to this category. His recent release, Njandukalude Nattil Oridavela too joins the same category of movies. I watched one movie in 2016 starring Unni Mukundan – Oru Murai Vanthu Parthaya. Though it can't be categorized under nostalgic, I have never watched a movie in the recent times which captured even small shots of village beauty so naturally. Many such village scenes have already faded from rural Kerala. So I thought of mentioning this movie name here.
Read a few more articles on Malayalam cinema, on different general discussions. Here is the page link. Click on the images in the gallery to read