Minced Meat Dosa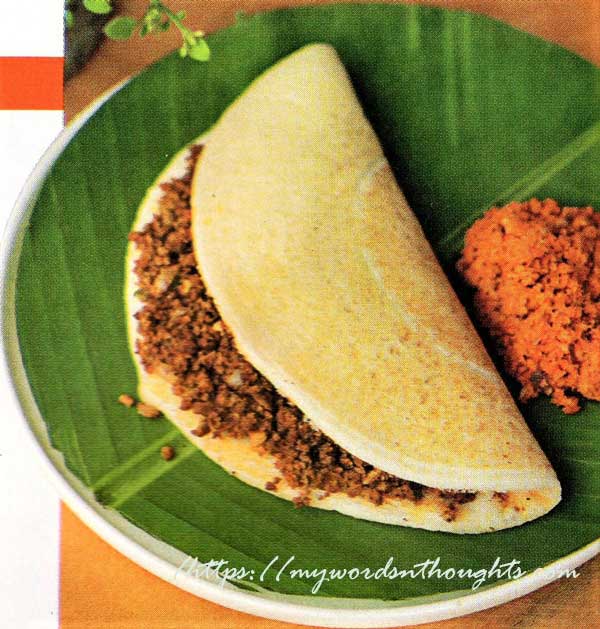 Ingredients for Minced Meat Dosa:
1. Chilli powder – 2 small spoons
Coriander powder – 1 small spoon
Meat masala powder – 1/2 small spoon
Pepper powder – 1/2 small spoon
Turmeric powder – 1/2 small spoon
2. Oil/Coconut oil – 3 big spoons
3. Onion – 1, chopped fine
Ginger chopped fine – 1 small spoon
Green chillies – 2, chopped
Garlic – 4 cloves, crushed
4. Minced meat – ¼ kg
Salt and water – as needed
5. Dosa batter – ½ litre
How to prepare Minced Meat Dosa?
1. Add a little water to spice powders and make a paste.
2. Heat oil and sauté ingredients no: 3.
3. Add the masala paste and sauté till raw smell goes out.
4. Add ingredients no: 4, close the lid and cook meat in low flame.
5. Cook till it's fully dried. But make sure, it's too much dry.
6. Heat a dosa tawa and pour a ladle of batter.
7. Spread it and cook one side.
8. When it's done, flip and cook the other side of dosa as well.
9. Place a little minced meat at the centre portion of dosa and fold it.
10. Flip both sides once more and serve hot.
Courtesy: Vanitha Magazine, June 11-24, 2022
Read a few more dosa, Idli and Ottathapam Breakfast recipes . Here is the page link.
(Visited 14 times, 1 visits today)