Meera Reborn – An Untold Love Story Told For You (Part 2/3)
Part 1 Link: Meera Reborn – An Untold Love Story Told For You (Part 1/3)
PART 10 – A Rewind story
At the same time a parallel thread was also in the processing stage. It started just before Hari came back to Meera's life once before, just one week before or so.
"Meera, your mind is like an open book and you hide nothing from me. But that's not the case of mine. I have a deep secret in my mind". Abhilasha was very nervous when she revealed so. Meera lifted her head to Abhi. "Good friends share all secrets. You consider me as your best friend and reveal everything to me. But I? I am not so Meera. I can't share everything with you"
"What's that deep secret that you can't tell me?" Meera kept thinking. After a moment she smiled and replied, "You are in love with someone and you are not able to tell me. Right?"
"No, it's not that matter. It's something else"
"Then what can it be? Have you killed someone?" Meera asked in a humorous tone.
"You go Meera, I am serious. It's the biggest sorrow of my life. I am sure I can't reveal this secret to anyone. No miracle is to happen in my life and I can't fulfill my dreams. So I can't tell you any day! Do you know Meera, even while I become a joker before you to see a smile in your lips, my heart is crying and cracking inside. Now I have only less time in my hand. I can't even imagine what will happen to me after that"
Meera was thinking. "It's nothing else, but what I told. Tell me, who is he? I won't tell anyone", Meera said in a teasing mood.
"Please don't compel me Meera, it's my request."
"It was better you didn't reveal anything to me. I have told you several times, I expect nothing from you. You can hide any secrets from me, I have no problem. But now I am curious to know what it is."
Meera became silent. But thousands of thoughts started running through the mind. 'What's that big secret? I think she is in love, though I am not sure. If I compel her, she will definitely tell me, I know it well. But how can I? Am I not hiding the same thing from her? Ya, it's already a closed chapter and there is no use if she learns about it. Yet I am also hiding it from her…… She was associated with each and every chapter of that closed episode. Yet she is not aware of it. If I am not able to reveal it to her, how can I do in her matter? How can I tell her, when Hari told us he is in love with someone, I thought he is telling about me. She will laugh at me, sure.'
"What are you thinking Meera?"
"How deep are your worries? When it started? Was it annoying from the starting time itself?"
"About 2 years ago. In those days, I was happy. But now, the happiness has started betraying me and I am lost somewhere. Now I can't. Now the happiness has ended in sadness. Please don't ask me anything Meera. If everything happens as I wish I will definitely tell you. But I don't think it will happen."
"Please tell me the matter Abhi. What's it?"
"I am not courageous enough to tell you. I am not sure how you will respond. You may feel wrong about me."
Meera didn't ask anything after that, as she knew well she is also hiding some facts from Abhi with the same feeling of 'Not courageous to express". Then love knocked at her door for the second time and throughout this month of September, though Abhi, Hari and Meera have spent so much time together, she didn't even thought of telling anything to Abhi. The reason was that Meera was not willing to commit the relationship. For the same reason her mind had a guilt feel, if she has committed a mistake by not revealing anything to Abhi or not.
'Abhi believes me a lot, but me? Am I doing the right thing in our friendship? Abhi has at least told she hides something from me. But me? How selfish am I?'
Everything returned so unexpectedly that she didn't even dream a situation of telling everything to Abhi someday. But whenever those thoughts annoy her she comforts herself saying, "There is no use even if I reveal everything about Hari. I am not at all committed or could do anything against my parents' wish. My parents believe me a lot."
But all of a sudden, a few more twists happened in Meera's life. As soon as she was hit by the fragrance of love, she started writing. Also, she began to read others' writings as well. One day she happened to know that the silent boy of the class, Venu also writes poems. Without hesitation she inquired Venu if she heard it right and asked him to bring a few to read.
"I will give you. But not today", Venu smiled and replied a few days back. Meera kept thinking why he said so. She has repeated the same question whenever they chatted later and she received the same smile. But one day in the first week of October, she received a poem from Venu. It was a day of college strike and all students of the class were leaving when Venu approached her and gave her a surprise poem.
But when he told, "Don't show this poem to anyone", it made her feel doubted. Her heart was beating so fast and she opened the poem only after reaching the home.
'Yes, it is. The poem is specially written for me', Meera could easily identify that it's a love letter though her name is not specified anywhere. 'But I should say no', Meera said herself. How will Venu respond to her reply? Won't it break his heart? Yes, now Meera knows it well how an unsuccessful love can break one's heart and destroy him forever.
She began to search Venu from her old memories. 'Didn't I doubt him at least once? Yes I have. But I haven't paid attention to him. Yes I have noticed him since the beginning of her first days at college'. Meera has many times felt that Venu shows respect towards her and he behaves to her not the same way others do. Though Meera has tried to talk to him free as she does to others, he always keeps distance. Is it the reason? Last year too, how many times have she seen him in deep thoughts and others teasing him, asking about his love. But Meera never thought it serious, though she had some simple doubts of course. Now she felt, 'It's better I didn't understand him earlier'.
'I should clearly tell Venu the matter. Otherwise it can create problems between me and Hari. But I can't directly tell to him. I need Abhi's help this time. But how, he told me not to tell anyone. One idea'
She wrote the same poem to another paper without putting Venu's name and the next day she gave it to Abhi. She has already asked Abhi to come a bit earlier as she didn't want to tell anything in front of Venu. They both met at the college park, not at class.
Abhi was surprised, "Who gave it to you? Tell me Meera"
"I can't"
"Meera, it's not nice. Please tell me who is he"
"You have told me, you have one secret in your mind. Just imagine it's my secret." She stood up and started walking. Abhi followed her.
"Is it Ullas? Tell me please."
Meera was surprised, "No".
"Then is it Vivek?"
"No"
"I won't leave you without getting an answer", Abhi hold her hand and started giving the names of almost all names of the class except Venu and a few more.
"Is it Venu?", Abhi was not sure if she has pointed out the right person. Meera kept silent. Abhi's face went pale, "I can't believe. I just can't believe. Venu?" Her voice was loud.
"Yes, he is"
"I can't even imagine. Venu is the most reputed boy of our class and he writes a letter for you. Anyhow, what he did is not right"
Meera felt annoying when Abhi started blaming him. Does she think love is a bad thing? Meera's mind got disturbed. "Never say so, Abhi. I think he is serious. I have felt doubt since the first year of our college. But I didn't care him."
"Meera, how could he? Doesn't he know you are two years older to him?"
Meera stood in the shock. If she thinks so in the case of Venu, how will she respond if she knows my matter? Meera's mind got buried in deep thoughts and she couldn't find a reply. Her mind went silent and later on, only Abhi talked.
"Look Meera. When we deny the matter, we should give a reason as well. What can we give a reason? As we know he is a very good and intelligent boy and can't find any wrong with his character. He is one of the neat boys of our class." Abhi kept thinking, while Meera was in another world of dismays.
"Ok, I got a solution. Look Meera, we can tell him, as you are elder to him, this relationship can't happen. Howzzthat?"
Meera became speechless and she couldn't respond.
"Ok, it's finalized now. Give me the original letter. I will give it back to him."
"You should clearly tell him that I have nothing. Agreed?" Meera asked while handling the letter to Abhi.
But it took one more week for Abhi to get Venu alone and an opportunity to talk to him. Within this short period, Meera decided to know Abhi's mind near. Meera felt comfort when she found that Abhi has no problem with love relations. The real problem is age difference. She was able to change Abhi's opinion and was able to make Abhi believe that age difference not at all matters in a relationship.
"People love each other when they get connected to each other through souls, not with physical appearance that's to perish someday. Age is an integral part of physical appearance and love is ageless. So, if one gives importance to age, then the love is not sincere. True love happens between souls".
"Yes I agree with you", Meera's mind cooled when she got this response from Abhi.
"Meera…."
"Yes"
"I think I will have to reveal that secret to you. Somehow Asha came to know that matter and now how can I hide it from you?"
Meera couldn't respond, because she knew it well, if Abhi reveals the secret she should also do the same thing. But how can she? Till now, she has no confirmation, only a feeling in mind….No proof or anything else!
No idea what's Abhi going to tell her. But she can reveal the secret only if her mind decides to proceed. Otherwise she can't travel back, Meera knows it well. However Meera felt comfort that Abhi not at all feels bad for love and relationships.
PART 11 – Dreams Under the Full Starred Night
Nowadays Meera spent a lot of time beneath the skies and stars. The whole time, she might be dreaming about something, recollecting her day at college in Hari's presence and making decisions, while sitting in the open terrace alone. She often writes poems during this time and listens music as well.
"After all he is like a younger brother to you. Every one of our class knows it well. Then why are you feeling tension?"
Meera was not in a pleasing mood that day. Her mind was deeply hurt hearing Abhi's same words that day morning. For a few days, Meera's mind is in deep tension as if Manu understands something. Sometimes his words though unintentional, scared Meera a lot. After all he knows it well nowadays Meera spends too much time with Hari and Ullas, and giving him less attention than before. Manu always treats her as his elder sister and they own a special bond being together. Does he know anything? That's why the same day morning she shared the disturbing thoughts to Abhi. But when she received such a reply from Abhi, her face changed as if dark clouds have covered the pleasant sky in a fraction of seconds. She couldn't easily hide it from Abhi, as she used to do always. Abhi could easily point out the faded face of Meera.
"Sorry, like your dear friend. How many times you have told me both are dear friends of yours." Though Abhi corrected her words, it didn't please Meera and whole day at class she was mood off.
Though her mind has a unique language to communicate with Hari, she often think, "What's that secret of Abhi? Is it Hari? Will it turn upside down?"
But she often feels surprised that Hari has a unique talent to read her mind. He brings out even the small things hidden in her mind. Though Meera boasts herself that no one can easily understand her mind and its secrets, Hari thinks just opposite.
'I think it's easy for me to know Meera's mind than anyone else of our class', Hari says often.
The same night Meera came to some conclusions.
Why should I wait till the end day of class? Why can't I reveal the truth? When he says, I won't say yes easily. Let him wait for a while. The moment I feel I hurt him, I shall reveal it to Hari, he is no longer a stranger to me. But on one condition, 'Nothing against parents' wish'. I am sure, Hari's parents will agree easily. After all he is their only son. My father too, though may not accept it first, will definitely agree. I am sure.
Meera's mind was already filled with some pleasant dreams.
'Or why can't I reveal it to Abhi that time? It's the safest method to tell her everything. She will definitely ask me if I am feeling the same. Then I shall open my mind before her and she will tell Hari.'
Meera's eyes felt shy thinking of it.
'Or isn't it better we both shock Abhi giving that surprise? How pale she will look hearing the pleasant news'. Meera was laughing herself, while dreaming so.
PART 12 – Against Expectations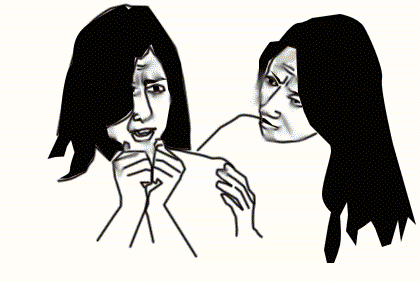 The next day…….
"Meera, Venu says there is no truth in that poem. It's a mere poem", Abhi returned to Meera after giving that poem to Venu.
"What!"
Both were chatting outside while Meera sat inside the class. She was getting nervous already. She wanted to solve this problem completely as early as possible.
"Meera, did you misinterpret it wrong? It was nothing, just a poem", when Venu came to them after a few moments, told the words and left the class, Meera was sitting like a puzzle. What conversation has happened between those two?
"Abhi, didn't you tell him what I have told?"
"No, I didn't get an opportunity. He denied everything."
"What?"
"I asked him if there is any truth in this letter. But when he said no, what else can I ask him?"
"But I told you naa. You didn't believe my words?"
"How can I believe it? Till now we don't have any confirmations. Then how can I ask him?"
"No confirmations? My words?" Meera sat unbelievable, "Don't you have belief in my words? He was sure I will say no. So he prepared a reply in the past one week. Now I lost an opportunity to clear my stand."
'Will he misinterpret anything? Will he think I denied it only fearing consequences? How can I tell Abhi it's because of Hari that I need to clear this problem giving rest to future problems?'
"I still feel you are not a modern girl. That's why such things disturb you a lot. Don't worry Meera. Now it's only 8 months here. After that everyone is going to part. No problem after that", Abhi sighed as if in deep thoughts. Meera glanced at Abhi for one moment, to decode why she said so.
After a few moments, "Let me make you feel happy. Tomorrow is the inauguration of our college magazine. There is a function arranged in the afternoon. I will tell you that matter tomorrow itself. Happy?"
Meera was not at all sure if she felt happy or not.
Beneath the stars the same night
'I have sacrificed so many things for others and my family. Now I am not at all willing to sacrifice Hari. Till now I loved without much expectations and anything in return. It was Ok for me, even if we part without saying a word. But now I think I can't. What will Abhi tell me tomorrow? Will she surprise me? Is Abhi talking about Hari? Oh God, please don't test me this way. I want Hari for the rest of my life. Please don't do it to me. Or is it any other matter?'
PART 13 – The Real Twist Part 1
Those words echoed several times in her brain. Her mind was already filled with some distressed questions and infinite puzzles to resolve. Her mind tried to recollect whatever that has happened a few moments ago.
"Abhi, I can't wait more. In the morning you told me, after two hours. Then you said, at noon. Now it's afternoon……I can't wait any long".
"Now what to say more?" Abhi's shy face revealed everything. Meera got stuck for a moment or two. Then she asked calmly, "Who is he?"
"You tell me"
"That means I know him and he is one among our friends".
Abhi didn't reply. She was sitting with eyes on floor.
"Is it Varun?" Meera asked. Abhi lifted her face in surprise, "How could you?"
"Yes it is", Meera confirmed it, "I had some doubts for the past few days. After all I am with you always", she smiled.
Abhi thought that Meera will burst out when she hears it. For the same reason she got surprised seeing silent Meera. Abhi was calmly waiting for Meera's response. But she had no idea of what was going on in Meera's mind right now.
"Asha gave me a confirmation from his side now only. That's why I asked you to wait. Are you feeling angry with me?" Abhi asked.
"For what? Why? I have already told you, now I am not finding wrong in loving someone. That old Meera has gone." Meera was calm.
"Really? That's the reason why I felt afraid. Also, I need to forget everything."
"Is it your decision only?"
"Both of us. Varun has not told me till now. But we both knew it well. Even if he tells me, what can I do? I can't resist my brothers or parents. They are very conservative. When our college life ends, everything ends………"
Meera was patiently hearing everything without any response. But it was sure, her mind was fully disturbed.
Same night beneath the skies…
The moments she spent with Hari that day…..Venu and how he behaved today… Or happiness….Nothing was in her mind that night except a few disturbed thoughts. It's her sincerity to friendship that gave her annoying thoughts.
Varun and Abhi have not expressed their love for each other. They have decided to forget everything. Yet as a true friend, Abhi told me everything. Days before itself she gave me a hint that she is hiding something from me. But for such a true and sincere friend who believes me a lot, what have I given in return? Nothing! What a fake friend am I? It has been only hardly 5 weeks since Hari has returned to my life. Only one week since I took a decision. Yet I have committed a big mistake by not giving her any hint. Her mind was already burning in guilty.
Now she began to feel how to get out of this guilty feeling. She was sure by 100%, now she can't hide it anymore and she should tell her everything. 'I have already decided to commit the relationship. Then why can't I tell it? Only problem is that till now, no confirmation from Hari's side. Today or tomorrow he will definitely give me. Let me wait for that moment', Meera decided.
Yet she didn't get peace. 'But how will Abhi respond when she comes to know about this matter after a few days? Won't she feel sad? Won't she feel I cheated her? Can I face her words that day? Not sure', she walked restless in the open terrace.
Minutes rolled by and hours. It is already 10.30 pm and Meera hasn't reached any conclusions. Meera's mind was searching for some solutions.
'Today or tomorrow, Hari will express his feelings. No doubt. Then should I wait for Hari's reply? Why can't I tell her after a few days? A few days? Or should I tell, I too have something to hold from her right now? It's mere cheating. How can I do it to her?'
Time passed by.
'Why can't I tell her tomorrow?' Meera's mind rested in peace in a few moments. 'Yes, it's the right decision. She may give some unnecessary explanations and answers. Even if she tells something unpleasant, is my mind not strong enough to face everything now? After all, old sensitive Meera has changed a lot. Everything will be OK when Hari reveals his mind. Now I and Abhi are sailing in the same boat. So there is no problem revealing to her at the right moment. Perhaps if this moment passes by, I may not able to gather enough courage to tell her later. It's not fair in our friendship, not at all!'
It's not the way she wanted to reveal everything to Abhi. Yet for her friendship, everything was OK. She took the side of positive and believed in the uncertainties and of course Hari and took the biggest decision of her life in just one night, really strange!
PART 14 – Real twist Part 2
Pooja holidays have started. So, no classes at college for the next 3 or 4 days. All girls had already decided to join a science fair held at the heart of the city. Meera phoned Abhi in the early morning and asked her to come a bit earlier at bus stand. They decided that they can catch their friends at the city.
As soon as they got seated in the bus, Abhi started talking. She was expressing herself the sorrows she has been hiding in her mind since a long time. She revealed that she was attracted to Varun since she joined college and how she used to hide her feelings when Varun intentionally avoided her. She was now feeling comfortable to express everything with Meera. But Meera was in another world. She was gathering enough courage to reveal the biggest secret of her life.
Distracting Abhi's talks in the middle, Meera asked, "Do you know why I have asked you to come so early?"
"Why?"
"I want to tell you something urgently. If I don't reveal it right now, I am committing a big mistake in our friendship. I know it well."
"What are you telling Meera?" Abhi felt that it's her usual talk and there is nothing special about it. But Meera's face looked serious.
"I may tell you any matter. You must gather enough courage to hear everything".
"Are you giving me puzzles? Just tell me what you want to tell."
"I have committed a big mistake in our friendship. Now I want to correct it", Meera stopped for a moment and resumed, "Yesterday you told me Varun is someone special for you. Nowadays I too feel the same thing with a person."
Abhi was shocked what Meera burst out in that moment. Her mouth was open, though she couldn't utter a word.
"At the right moment, just assume that it's an one-way traffic", Meera was not at all willing to express everything till Hari says a word, as she was sure she can't tolerate if Abhi says something wrong about Hari.
"So, it's not Venu. Someone else", Abhi responded. Meera kept quiet.
"Then who is he?"
"You tell his name", Meera felt shy. She wanted to hear Hari's name through Abhi's words.
"Is it Ullas?" Abhi's reply surprised Meera a lot, "No", she replied.
"Hari?"
Meera kept silent. Abhi too was quiet for a short period.
"From which moment?"
"The time since I revealed everything about Gauri to Hari", Meera lied. She was not enough courageous to reveal everything all of a sudden, as she was well aware that this news itself is a great shock to Abhi. 'Slowly, I shall disclose everything', Meera determined in mind.
"I don't know how. But slowly he got attached to me. Though it was very hard for me to accept the fact, now I can't deny."
"Are you sure?"
"Yes, of course".
Abhi's mind got ground in thousand thoughts and she started re-collecting events one after the other.
"That's why you were nervous when Manu keenly watched you. I even doubted why you are feeling so tensed over this silly matter. Do you know Meera, it was only because YOU that I didn't doubt. That's my belief in you."
"Have you lost it now?" Meera asked.
"What to say more?" Abhi kept thinking and she started digging old things from past. "I have never seen such a gloomy Meera ever before…the day which I told Hari is like a younger brother to you."
"You can scold me as much as you can. It's justifiable".
"The day which I told age difference is not a problem, I should have seen the happiness on your face", Abhi exploded. It seemed as if she was searching for suitable words to respond to this big news. Meera's aim was just to reply to the questions turned to her.
They both sat quiet for a while. Meera was eagerly waiting for Abhi's words. She earlier dreamt that such a news will make Abhi happy and as a dear friend, she will tease her a lot. But now Meera felt that the secret has deeply hurt Abhi, though Meera couldn't find why. 'Have I committed something wrong? Why is she so sad?', Meera asked her mind.
It was Abhi who broke the silence first. "As far as I know, Hari has no such feeling towards you", Abhi told in calm words.
Though Meera's mind has predicted such words from Abhi the previous night, she believed herself that she has enough courage to face each and every word told by Abhi. But what went wrong? Meera's heart broke beyond every boundary.
'Is my heart so weak? What went wrong? I thought I can withstand everything' Meera asked herself. But her mind didn't respond to her question.
"When Hari showered his care to you, you misinterpreted it as love. Isn't it the truth, Meera?"
"No, it's something else", Meera's mind started drowning.
Abhi continued, "Meera, it's not at all eafsy to forget first love. But what can we do? We have our own limitations. We can't stand in front of our parents. Everything will end within the next 7 or 8 months. We need to forget everything. When we get married and we play with our kids, we will forget everything. I am sure".
Those negative words shook Meera a lot. Meera's mind became dumb. It appeared as if she was dragged from the heaven of love and dreams to the hell of lost dreams and darkness within a fraction of seconds. As the fall was so quick and unpredicted, she couldn't accept or tolerate it with ease.
Abhi continued her negative speech. She was sharing everything with Meera, the problems, difficulties and solutions she has been carrying in her mind since a long time. And Meera was speechless in front of all those big question marks. She couldn't find suitable answers to at least one question Abhi asked her. Within a flash of moments, her mind got filled with annoying and negative thoughts.
Once while falling to the deep oceans, it was Hari who pulled her out of it. She started believing that she is secure in those hands forever. But the feeling that she would loss that hand today or tomorrow was more than what was bearable to her. Her dreams shattered like a big ship that wrecked in the storms and deep seas, without any visuals of a shore nearby.
Though Meera tried to give her own justifications, she couldn't fight with Abhi's negative words.
'It was wrong. I committed something really wrong. Her mind is filled with negative thoughts only. Why is she imposing her thoughts on me and my life? Have I given her the right? Did I utter even a single word or made a single opinion when she expressed the same thing to me?' Meera cursed that moment in which she took the decision to tell everything to Abhi. Life's worst decision!!!
'I was totally wrong. I lost everything'. Did her mind hear those words? Definitely not! Meera's life has already taken another unexpected 'U' turn in her life, all of a sudden.
Suddenly she looked around. She is still seated in the bus. But it seems the whole world has changed a lot. 'Why are passengers staring at me? Are they laughing? Why are they so silent? Why everything around me is silent? Am I looking surprised? Have they been listening the whole conversation?', Meera had a strange feeling that her life and mind suddenly opened wide like a book before everyone. But the colours of its letters have faded. Now everyone knows her secret – Meera's mind scared a lot. It was not easy to accept that her mind is exposed before everyone. Meera couldn't believe what has just happened to her. She starred at everyone. 'No, it's mere thoughts', Meera tried to come back to normal. It's darkened everywhere……Yes, it's nothing else. It's to rain soon. Like the dark sky, her mind too was gloomy.
She was not able to concentrate in the exhibition or conversation with friends. Her mind was filled with annoying thoughts, sadness or something else which was not easy for her to decode. The truth is that she was not able to recollect that her mind has already broken into thousand parts like a glass piece.
On their way back, Abhilasha expressed her sadness and emotions to Meera and by this time, Meera has changed a lot. She tried to comfort Abhi though she was not sure she won't be. Abhi too asked her to forget everything to begin a new life. The darkened clouds have rained now, deeply expressing their sorrows with thunder and lightning. But Meera's mind was still shaded by some unknown dark clouds, stuck somewhere without raining.
PART 15 – Meera's new decisions
'It's true I have dreamt a lot. But it's not true I was sure of it. What Abhi told hurts me a lot, I feel so. But what she told is also right. Is there any guarantee it can happen in life? What she said is right, now only 7 months to leave this campus. Perhaps, it's the God's decision and Abhi became its interpreter. Yes, let it remain in my heart only and as I have decided earlier, I shall leave the campus with some good memories…… I will try to be a good friend to Hari and talk to him as much as I can, till I leave the college. Perhaps I may not get such moments later'.
Meera's mind was fully determined and has taken a stronger decision when she reached college on Monday after Pooja holidays. But she felt embarrassed to talk to Hari in front of Abhi. 'Will she get me wrong?'
Earlier it was not at all a problem for her, as the secret was not known to anyone in the world. Now it seems someone has taken off the veil from her hidden face. 'Is she thinking I am in love with a person younger to me, that too….a person who considers me as his good friend', She was a bit hesitated to communicate with Abhi that day. But she was not sure how it happened. She got more time to talk with Hari that day, in a group belonging to a few friends.
'It's God's grace. It's enough for me', Meera thought beneath the stars. Yet she couldn't point out why her mind is not happy as before, thinking about Hari. Her mind was completely silent in Hari's presence too, though it lasted for many hours today. It seems something has completely stirred her mind and its dreams. It's true, hidden dreams are like peacock feathers. Those dreams may or not happen. Some of them may be just foolish. Yet we nurse them as our dearest pets. We may not reveal to them to anybody. If so, they loss their beauty forever. Yes, certain secrets hidden in one's mind has a simple beauty. The moment it's revealed to someone, its beauty is gone!!!!
But the next day…..It was the worst day of her life. Her life again took another 'U' turn which destroyed her completely. The truth is that her mind was not able to interpret for a long time that it has lost its way somewhere. She didn't cry!! In fact, she forgot to cry forever!
PART 16 – Life takes another U-Turn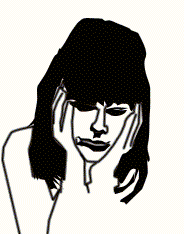 Next day……That Tuesday! It changed Meera's life forever. Like those cursed 'Mangal', it took everything from her life, even the last ray of hope which she kept aside. It was more shocking than what happened to her just two days ago. She couldn't even realize that something went wrong with her mind and feelings. Yes, her world and imaginations restored once again with new elements and flavours she was not familiar with. Yet she had to carry on with what was going on, without letting know any…..even Hari.
"You have several times mentioned about a girl. Is there any truth behind it Hari?"
When Abhi couldn't resist her curiosity, she asked this question to Hari, just forgetting everything and surroundings that, not only she and Hari are present, but also Meera, Ullas and Swathi. A thunder bolt stroke Meera's mind, but she sat hopeless. She couldn't figure out why she can't find the reason why her mind scares so much.
"Tell me Hari is there anyone in your mind? Or was it just a prank?" Abhi's voice was so serious. No one in the group could point out why Abhi asked such a question without any reason, except Meera.
"Don't you have any other task to do, Abhi?" Hari hesitated to reply in the group.
"Tell me Hari please", Abhi was a bit serious this time; not silly talks as before.
Ullas and Swathi looked each other and asked through actions, 'What's going on?' Both were very much surprised. Meera sat quiet, but got tense inside.
It was a free hour before noon and to have a chat, Hari and Ullas joined Meera and Abhi. Seeing them together, Swathi also joined the group. Meera was already in a world which she felt strange and was not finding happiness in Hari's presence, but she felt sad. Yet, she became a member of that chat group.
Abhi was not in a mood to leave Hari. She was well making use of her situation.
"Tell me Hari please"
"Now it's not a joke. Abhi is serious. I think she knows something", when Hari replied so and looked at Meera for a moment, Meera felt that she will fall down off the chair. Already she has a feeling that whole world has known her secret and everyone is looking with suspicious eyes at her. With this moment, she couldn't handle that situation and those tense moments anymore.
'Two days before when I told her the matter, Abhi advised me to forget everything. I accepted it too. I have given up my desire. Then why is she digging everything and asking Hari? If such feelings are for no reasons as she told, what's the need to proceed them further? Is it not a mistake? If my heart losses its grip once again, can I recover from it? If my decision is to bring it to an end, then why should I bring more complications by knowing Hari's heart? Is it not better to leave it that way? Is Abhi not aware of it? Why is she creating a scene in front of everyone? I just can't understand', Meera's mind started swinging in different types of thoughts. She started sweating. She also feared that everyone including Hari may notice her mood change. If so, everything will go from hand. For a girl like Meera, it's far from imaginations to let others know her feelings of mind, particularly because she has no confirmation from Hari's side. So she opened a book and pretended writing, though she couldn't write even a single line.
Abhi and Hari were chatting. Ullas and Swathi kept watching them and Meera was trying her level best not to let the cat out of her bag.
"OK, I am ready. But I will tell everything to Abhi", Hari replied in a teasing mood. But Meera's mind was burning inside.
'Has he understood anything? Does he think I have sent Abhi to him to know the truth? If so, what will he think about me? Now ball is in his court and it's his decision only', such a thought was more than what Meera could tolerate.
"How is it possible? We all are sitting together. Then how can Hari tell about his love to one person only? It's not right." It was none other than Swathi. Hari had to convince her a lot before she reluctantly said, "It's Ok".
"Then what about Ullas? Ullas…Do you have any problem if I tell about my feelings to Abhi?"
"I have no problem at all".
"Then what about Meera? Do you want to know anything Meera?" Hari asked Meera.
"No, no".
"Ok then Abhi. It's lunch time now. We shall talk after meals. Ok?"
"Agreed"
When they left the place, Meera asked Abhi "Was it needed to ask him?"
"Then tell me Meera. Don't you want to know what's really in Hari's mind??"
Meera asked herself. Till now, she didn't feel so. But now, an intense desire woke up from her mind to know Hari's mind. She was not sure if she was right or not. Yet she nodded. If she could have let it go that way saying 'No', things would have taken another turn. But what to do? Love is blind, heart is dumb and mind is blank, when heart goes madly in love with someone.
"Yes", Meera replied without thinking about its consequences.
After lunch, Hari approached them and said, "Abhi…. I am ready"
When they both sat talking at an end corner of the classroom, Meera's heart was beating so fast. What she feared has really happened in a moment of time…..She completely lost her heart and she felt that she can't survive without Hari. She was almost sure, Hari won't tell it easily. Yet she was not sure, how her heart will respond after his reply. When she turned around she felt as if darkness has swept the whole world around her and those smiling flowers and blossoms have gone……
Meera gripped the table. 'Now, I can't sit anymore. I need to lay somewhere. Otherwise I will fall', Meera was well aware of it. Her body became weak. She wanted to run away from there. But it seems her feet are fixed on floor.
'Now let it happen, whatever it may be', Meera put her head on the table and closed her eyes.
When Abhi returned, Meera was lying.
"I don't know what happened to Hari today. I often tease him a lot with that old story he used to tell us those days. But today, he didn't let out even a single word. I really don't know why"
Meera's mind broke into millions of pieces. A thought stuck her mind suddenly. 'Hari knows everything. He knows everything. Abhi was so serious today that he might have thought I have sent Abhi to him. So, it was his decision to accept or not. He rejected me…..he rejected me…….Now how can I look at his face? I lost everything…my dreams, my mind control….both'. She got completely broken down. Yet she didn't let know Abhi her feelings. Actually her troubled heart couldn't find a way to deal with such an unpredicted situation that took place so quick.
She just smiled….In that fake smile, she hid everything……Later that smile became a part of her life forever. Tears became just a mirage for many years!!!
'Does Abhi think I have done something wrong? Can't a girl love someone if the other person is not feeling so? Or does Abhi still think age difference is a big problem? Or is she thinking, I have made wrong use of the friendship hand given by Hari and misinterpreted the relation in a wrong way. Otherwise why did she ask Hari in haste? Am I wrong?' Meera got buried in infinite wandering thoughts. Truth is that she lost her confidence even to discuss her problems with Abhi, and her words got muted. She buried everything in her mind alone. Her mind has already reached a frozen state where her tears got swept away with something Meera couldn't find. Actually Meera couldn't find, what has actually happened to her mind and she forgot crying in the thoughts to hide her secrets from everyone.
After classes, Hari reached Meera to say 'Good bye' as usual. But this time, instead of saying Good Bye, he asked Meera something.
"Meera, do you really want to know?" Hari's voice was a bit serious.
'What does it mean? Why did Hari say so? Is Hari saying, I played a prank with you, but I took it serious? Do his words and eyes reflect the same?? If so, I lost everything'
Meera couldn't find a reply to Hari's words. For the first time, she felt something strange and a bit difficult to look at Hari's face. For the first time after months, she couldn't gather enough courage to look at Hari's face. She feared a lot that her eyes will tell everything. So, she didn't look straight at his face. Her mind wanted to run away from there.
"No, No I don't want to know", she acted as if she doesn't want to talk to him anymore. She just knocked his hand away in a teasing mood to make her acting more realistic and got out of the class. When she moved far away from him taking a long breath, Hari was still standing there thinking. But Meera could feel it easily a wall has started building up in between them.
'Was everything my imagination?' Meera's mind couldn't find an answer to it. The moment which she lost her mind control forever, she also had to face a situation which her mind forcefully has to believe, 'Nothing was serious from Hari's side'. Such a rejection is not easy for anyone to accept in a quick succession of surprising events, particularly at the moment when mind totally lost its control.
'Abhi loves someone. Yet why she failed to understand me????' – Was she asking her mind so? Or was it another illusion?
Part 1 Link: Meera Reborn – An Untold Love Story Told For You (Part 1/3)
Part 3 Link: Meera Reborn – An Untold Love Story Told For You (Part 3/3)
(Visited 107 times, 1 visits today)