Madhubala and Meena Kumari and their striking similarities in their real life
No doubt, Madhubala is the most beautiful face of Bollywood screen, and Meena Kumari charmed her audience through her outstanding performance as an actress in drama films. Both these actresses ruled millions of hearts in the golden era of 1950s and 1960s, and they excelled in their talents and brilliance in their own ways. Quite surprising both these Bollywood divas who left the world during the peak of their film career in their late 30's have many similarities in their real life also. The fact quoted just now is also a striking co-incidence that this actors share with no one else in the Bollywood early era.
Both Madhubala and Meena Kumari started their Bollywood journey as child artists, and later established as successful lead heroines of Bollywood, and both have excelled in all types of roles – romantic, melodrama and even comic ones. And in most of such appearances, they have overshadowed the lead hero of the film. While Meena Kumari was most noted for her non-matching acting skills, Madhubala remained an under-rated actress whose beauty received more appreciation than acting. It's the main difference between both these actresses. But their personal lives have always remained in media spotlight, either their off-screen romances or life-taking diseases, which eventually took them away at a comparatively young age of 36 and 39. In personal lives too, they had a common connection through director Kamal Amrohi. Madhubala was in a relationship with the director after Mahal's release, and Meena Kumari later married him.
Both actresses born in the same year
It may take surprises of many. But it's true, both the actresses were born in the same year, 1933. Both were born into Muslim families too. Madhubala was born on the Valentine's day of 1933 and Meena Kumari was born on 1st August same year. Strange, but true!
Started their careers as child artists
Both the actors started their acting career in the late 1930s, and both were supported by their fathers to enter the world of cinema. Mahajabeen Bano was 5 years old and Mumtaz Jehan was 9 when they started their acting career, and both these Muslim women later came to be known as Meena Kumari and Madhubala respectively. They earned name, fame and money in the film world, and spent their last years in heavy ailments since their younger 20s. What an irony!
Striking co-incidence in their romantic lives
Both the actors too own tragic love stories in the film world itself. While Madhubala's romance with the leading star of Bollywood – Dilip Kumar created big headlines, Meena Kumari's marriage with much old film director Kamal Amrohi also caught attention in the public. Similarly the broken relationship of Madhubala-Dilip Kumar and Meena Kumari – Kamal Amrohi was given equal importance in media. While Madhubala found solace with the singing actor and entertainer Kishore Kumar, Meena Kumari found peace in drinks. She was also linked up with her co-stars. Heavily addicted to drinks, she remained the tragic queen of Bollywood. Broken relationships and exploitations finally took her life.
Madhubala's marriage with Kishore Kumar didn't give her happiness, as he stayed away from her most of the time. Thus the married life of both these actors didn't meet with their expectations. Speculations have been made about Kishore Kumar-Madhubala marriage, though it's believed that as Kishore fondly loved Madhubala and didn't want to see her dying, he tried to keep himself away from her.
Both these actors found love, lost love and spent their last years in loneliness. Though there were efforts from Kamal Amrohi's side during the last phase of shooting of Pakeezah to reconcile, death of Meena Kumari put a full stop to all. They kept a good relationship at that time, though not remained as spouses. Kamal Amrohi didn't want kids though Meena Kumari loved kids a lot. She was very much attached to her step-son.
Quite co-incidence – both were married but died childless and it was not a first marriage to both their husbands. In fact both actresses were romantically connected to the director Amrohi (who gave both of them big breaks in Bollywood), though at different points of time – Meena Kumari was his wife and Madhubala – his ex-lover. Interestingly Amrohi was a married man when he got romantically involved with Madhubala, and wanted to accept her as second wife which Madhubala didn't agree. He married Meena Kumari very soon without divorcing his first wife. This relationship was not sweet either.
Mughal-E-Azam Vs Pakeezah
Then what about the biggest films of both these actors – Mughal-E-Azam and Pakeezah, which received cult classic status! The actresses played courtesan and dancer roles in both the movies, and struggled with their health issues during the shooting of the films! Both these films are counted among the best films of both these actors, and both these expensive films were well received by audience and critics alike.
But the most striking co-incidence is the delayed release of both these films, regarded as the magnum opus of Kamal Amrohi and K. Asif –
Milestone movies of Bollywood too!

The development of Mughal-e-Azam began in 1944 and was finally released in 1960 breaking all box office records. Pakeezah took nearly 14 years to shoot due to the personal indifferences between Meena Kumari and her director husband, and she died shortly after the release of the film in 1972. Madhubala was also going through a strained relationship with Dilip Kumar, during the shooting of Mughal-e-Azam

, where they shared screen space.
Too much intervention from family and father
Both the actresses were solo breadwinners of their families, who started working at a younger age. It's quite well-known the friction between Madhubala's father and Dilip Kumar led to the relation break of this lovely couple of 1950s. Madhubala gave in to her father's decisions and lost Dilip. Meena Kumari was also the breadwinner of her family, who exploited her later. They also didn't approve her marriage with the director, breaking all relationships.
Struggled with diseases during the last phase of life, yet were active in work
Madhubala was suffering from

ventricular septal defect, and she completed many of her works including the classic Mughal-E-Azam while her health was deteriorating. Many of her films were completed by body doubles, and she took to direction when she was not able to work as an actress. But her dream remained unfulfilled.
Heavily addicted to drinking habits made Meena Kumari seriously ill in the late 1960s and she was attacked by liver cirrhosis. During her last film – Pakeezah, it was only her deep wish to complete the film which kept her alive, and she died soon after the release of the film.
In spite of being celebrities who enjoyed a huge fan following crowd,
both led a lonely life towards the end of their lives.
Both died in their second phase of 30s. Madhubala was only 36, and Meena Kumari was 39 when death took then away, and Bollywood lost both these divas in a narrow gap of just 3 years!
And the least, but not the least
Their screen names start with the letter 'M' – a strange co-incidence. Read more about The life of tragic queen Meena Kumari
A word on the celebrated south Indian actress Savitri before we wind up
Popular Tamil & Telugu actress of yesterdays, Savitri has some similarities with both these reigning queens of yesterdays. She has also done lead and supporting roles in Bollywood movies such as Ganga Ki Lehrein, Ghar Basake Dekkho, Bahut Din Hue etc. She was the most sought actress in south Indian cinema then – in the 1950s and 1960s, known for her philanthropic gestures as well. But similar to Meena Kumari she had a failed marriage, and she became addicted to alcohol in her 30s or so. She also got diabetics at a young age because of over drinking. She also lost everything which she got from cine bizz. Later she died at a comparatively young age of 45 in the early 1980s, after leading a lonely life for a long time.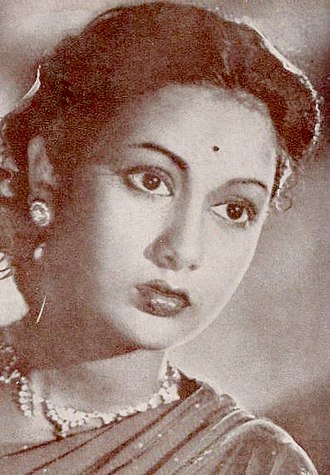 Let me add she was one among the four wives/consorts of south Indian romantic star Gemini Ganesan, and they starred in many hit movies together. Remember 'Ee Raat Ke Musafir' song of Miss Mary released in 1955? It's he. Interestingly Meena Kumari played the female lead in this successful Bollywood film. One more very interesting fact to add – She was the stepmother to Bollywood diva Rekha (Gemini Ganesan's daughter), and most recently actress Keerthy Suresh bagged National award for best actress in 2019 for portraying Savitri on screen through Telugu/Tamil bilingual, Mahanadi. Thus the National award winning role was based on the life of Rekha's stepmother, but a celebrated star of yesterdays.
Read about the similarities of professional career of two big female stars of Bollywood at present – Vidya Balan and Deepika Padukone.
Read articles related to her

personal and professional life

here. Click the links below.
(Visited 7,313 times, 1 visits today)