Lobster Mac and Cheese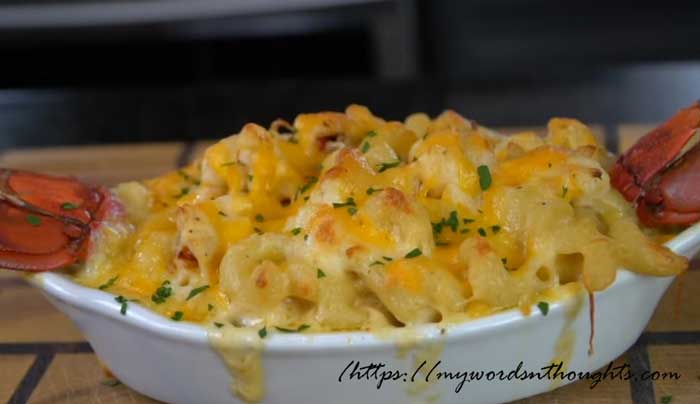 Ingredients for Lobster Mac and Cheese:
1. Prawns – 500 gm, cleaned
2. Olive oil – 1 big spoon
Onions -1, chopped fine
Pepper powder, nutmeg powder – 1 pinch each
3. Milk – 1 litre
4. Butter – 50 gm
White wine – 150 milli
Maida – 50 gm
Macaroni – 400 gm, boiled
Cheddar cheese – 160 gm, grated
How to prepare Lobster Mac and Cheese?
1. Clean prawns, chop into tiny pieces and place in refrigerator in a bowl.
2. Heat oil in a pan and sauté onions adding a pinch of salt.
3. After 5 minutes, add prawns, pepper powder, nutmeg powder and mix well.
4. Reduce the flame and add milk. Mix well.
5. After half an hour, strain this milk and keep aside.
6. Melt butter and add wine.
7. When it's reduced to half in quantity, add maida.
8. Add the milk which you kept aside, and mix well.
9. Pour this sauce to a serving bowl.
10. Add macaroni and prawns.
11. Sprinkle cheese on top, and bake in pre-heated oven for 20 minutes.
12. Serve once your dish is cooled.
Courtesy: Vanitha Magazine March 5-18, 2022
Also read a few prawn side dish recipes. Click on the images in the gallery to read.
(Visited 10 times, 1 visits today)