Let us rewind back and see those glorious days of VCRs and video cassettes
Do you remember your childhood days of 1980s and 1990s, when you used to watch movies and shows in VCRs? VCRs – Abbreviated form of Video Cassette Recorder. For most of us, that period holds some nostalgic memories too, a time which is never to come back! Once an integral part of Malayali's life, now not even its remains are left. Let us rewind once again to see those glorious days of video cassettes and a few scenes, for a short while.
Long back in the 1980s and 1990s, when VCRs were in elite club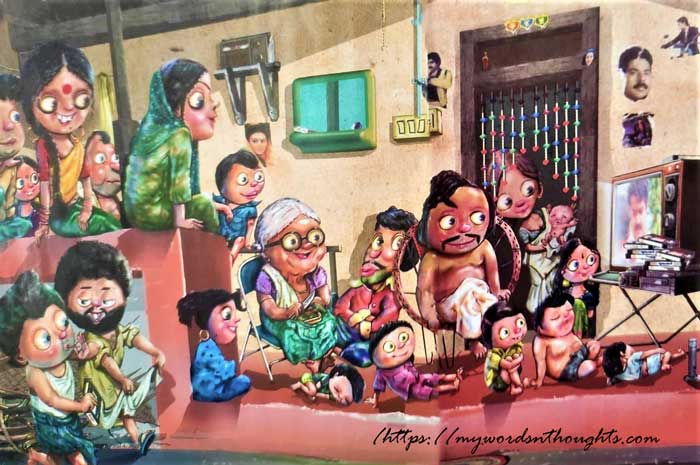 There was a time when VCRs used to decorate video libraries. They were classified into different categories based on languages and genres, when it comes to big libraries. Just like a joint family of yesterdays with children of different behaviour and character, they also stayed in many libraries as such. They stood as caparisoned elephants in different rows. In fact VCRs have influenced many film directors and screenwriters to script their own films, later made to screen and became huge hits too.
They reached Kerala in the 1980s mainly through people who worked in gulf countries. It was a time when television started becoming popular in Kerala, and very soon VCR players and cassettes also conquered Malayali hearts. Television started dominating Malayalis' night entertainment in the 1980s, and VCRs enhanced it more. They were not just films or cassettes, but something like 'Alice in Wonderland' or a curious world beyond imagination, which opened crazy doors to teens and youth.
Libraries without books
From Japan, video cassettes reached Kerala for the first time through gulf. After colour television, it was VCR player which mesmerized Malayalis most in the 1980s. When they crossed seas and reached Kerala, very soon became an integral part of life of Malayalis. We became acquinted to many movies, known and unknown. It was a time when radio and Doordarshan were the sole sources of entertainment, and cable television reached here only in the early 1990s. Till then they fully ruled the era.
Slowly, like mushrooms, many video libraries sprouted in towns and cities, and slowly in villages. Youth and kids were attracted to them most. Those days, many young people who visited video libraries didn't even own VCRs at home. Yet they were curious to know about new releases and cassettes.
The time when mimics live shows had a glorious era in the early 1990s, many artists didn't allow videographers to shoot them, as they feared their 'items' will go public and other competitors may copy it. 'Mimics Parade' of popular troupe Kalabhavan released later only. Those days audio cassettes also had a glorious run, both songs and such live shows. Screenwriter Kalloor Dennis tells that, the movies – Andha Yudh and Khoobsurat inspired him to write the films, City Police & Vannu Kandu Keezhadakki.
A time when mobile phones were not even in crazy imagination, youth spent their time in front of such video libraries. Many youngsters try to develop friendship with those, who owned membership card in some video libraries. That was the craze of VCRs during late 1980s and 1990s. Apart from normal videos, youngsters were attracted to 'spicy' movies and videos as well. They were also interested in knowing the arrival of new cassettes, not just regional films, but also foreign languages. If films are to be watched by family audience, they know early, where to use 'fast forward' button.
Getting membership is the Herculean task
Small VCR libraries with 100-200 cassettes to big libraries with more than 2000 cassettes ruled this scene long back. Getting membership was not an easy task those days; either the shopkeeper should know that person or someone else with membership should introduce him. They may need to pay membership fee or deposit, it may cost 100-300 rupees those days. It may vary based on relationship too. There was a time when some 'superstar' boys had membership in 4-5 elite VCR libraries. If teens were not satisfied with the library of their local place, they may take a cycle and go to nearby town, where they are amazed seeing English cassettes, and a feel to upgrade to 'adult's only' category.
Video Land, Video World, Video Tech, Video Kid, Video Cart, Channel 4, Ultra Tech, Chithram, Chaithram, Drishya, Vismaya etc were the common names given to video libraries those days. Some colour posters of big stars and films on walls and glass doors glorified the cassette era of the times. It was easy to identify such libraries from distance. Most of played music in loud voice. Not only the music of Yesudas and Chithra, songs of Boney M., Udit Narayan and Anuradha Paudwal too conquered Malayali hearts in the late 1980s. T-series audio cassettes of Gulshan Kumar created waves here since second half of 1980s. Apart from VCRs, audio cassettes were also popular those days, and some libraries recorded both for customers too.
Renting VCRs to earn cash
In many libraries, apart from VCRs, they rent TV & VCR players too. Rate may differ based on the relationship with client. For VCR only, libraries used to demand 100 to 350 rupees rent per day. In most cases, friends as a group may collect cash to give payment, and may earn the money back by giving shows to other people. In hostels, isolated houses and all, to earn some quick money, they may show 18+ videos too. In Joshy's movie, Sankham, there is one scene depicting the same situation.
From movies to award nights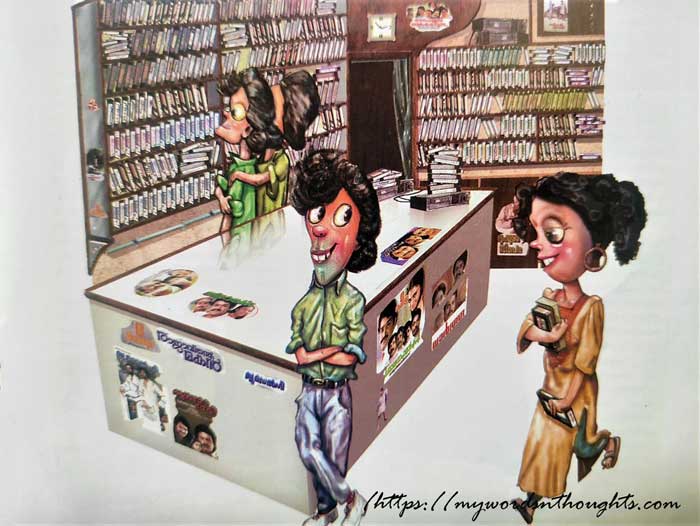 In 1992 movie, Ayalathe Adheham, there is one video library – Chandy's video, where Jagathi Sreekumar plays the owner of the shop, and Indrans as his assistant. There are many memorable and hilarious scenes in the movie, such as narrating new films to girls who come as customers. The mannerisms of both actors while giving movie names – Sandhya Mayangum Neram, Randu Penkuttikal, Aarorumariyathe, Nokketha Doorath Kannum Nattu, Oru Nokku Kaanan, Onningu Vannenkil, Chakkara Umma, Ente Mohangal Poovaninju, Kallan Pavithran…..
Apart from films of both regional and foreign languages, VCRs of cartoon shows like Tom & Jerry, Mr. Bean, Award nights in Gulf countries, Fashion shows, Mimics shows, WWF, English series etc were also popular those days. Music videos of film songs – both classic and new, and dance numbers were also high in demand. Informative series, Business, Wild life etc were a few more.
Those days, when people working in gulf countries reach home, their nights were like days. There will be lot of people gathering around, and new cassettes will be introduced to home audience as well as close friends' circle. Such occasions used to be a get-together of neighbours and relatives, and many people of present generation have such nostalgic moments of their childhood. Today in the days of fast communication through social media & whatsapp, such warm bonds have been broken and everything moved to a new virtual space, where anyone can communicate from any place to anyone in a very short time. Yes, time has changed a lot.
First video cassettes of Malayalam films, live shows of celebrities etc were first released in gulf, and they cross oceans to reach Kerala shore. Harmony, Saina, Rohit and Welgate were some of the most popular cassette companies.
Gulf people started the video revolution in Kerala in the 1980s
Which cassette library was formed in Kerala first? Hi-Fi in Pullepadi of metro city, Kochi. Slowly cassette libraries, big and small, started sprouting everywhere in Kerala. The customers of Hi-Fi included megastar Mammootty and high-profile navy officers too, most of them representing the elite sector of the city. It was an air-conditioned shop, and they had to pay high duty to get cassettes delivered from gulf. They never asked deposit, but charged 10 rupees each for renting a cassette, which was a good amount those days. In fact, people used to come from Kozhikode also to get cassettes – says the owner. Apart from Malayalam films, movies of Elizabeth Taylor and Clint Eastwood, old classics of both Hindi and Tamil etc also had demand. The library owned more than 500 cassettes and 1000+ customers.
Video libraries got upgraded to VCD libraries and OTT platform
Like homedelivery of fast food, there were moving video libraries too. They used to carry cassettes in heavy bags home to home and handled the delivery. Yes, something beyond that time. With the end of 1990s and with the rise of new millennium, customers upgraded from VCRs & Video cassettes to computers, VCDs and CDs. Yet, a slow conversion to digital world. CDs had more advantages too. More data storage, not easy damaged, light weight and easy handling all made them popular. They turned cheap also.
Now VCRs and cassettes have completed their long innings, and now found place in some go-down, kids' toy boxes and even in agricultural fields to decorate scarecrow. Some of them keep them as decorative pieces, and a few others keep them as nostalgic memories. Time didn't stop there. It kept running, and now movies are released online in OTT platform. Everything can be downloaded to mobiles or computers, and also watch online, and the concept of audio and video cassettes is fully out of focus now. Now VHS cassettes are counted among antiques.
Last year, the movie 'Home' became immensely popular among the audiences. Indrans' character was an old shopkeeper of video cassettes, who lost everything with new upgradation of time. He still keeps the collection of his old cassettes. His son, teasing him says – "I owned a shop sometime back. As I didn't change with time, I had to close it. Now I am maintaining a vegetable garden in terrace and sitting at home".
Yes, it's a reality, not just a movie. It happened in the lives of many cassette owners of late 1990s, who didn't change with time. When 'smart' people moved forward, some got stuck there. Some people easily upgraded to CD shops and mobile shops. But some others just like Oliver Twist, the character played by Indrans in Home, failed to move forward.
Now also, if you search old homes or your old collections, you may find one or two cassettes – the reminiscences of those yesterdays, when everything was not 'smart'. Though the film of those cassettes might be attacked by fungus, it's not the memories of kids those days!
Note: This post prepared based on an article appeared in Vanitha magazine. Images also taken from it.
(Visited 63 times, 1 visits today)