Poonthanam Namboodiri and Malayalis' own Jnanappana for which he is remembered most
Only a few poets from Malayalam have succeeded in influencing people through 'Bhakti' or devotion and Poonthanam is one among the prominent names. Needless to say, his philosophical work, Jnanappana dedicated to Guruvayurappan (Lord Krishna) is his masterpiece work. He existed in an era when devotional works were given due importance, not just Malayalam or Sanskrit, when Bhakti movement reached its zenith in south India.
An exponent of the Krishna cult of the Bhakthi movement in Kerala, there are many legends and popular stories of Poonthanam, related to his devotion to Lord Krishna and contributions to Bhakti period and Malayalam literature. His name is still under a debate, and a group argues that his real name is Brahmadattan. His ancestral home, Poonthanam Illam is located in Nenmeni of Valluvanad Taluk of south Malabar. In one of his poems, he has mentioned about his guru as 'Sree Neelakandanen Gurunathan' (Sree Neelakandan is my guru).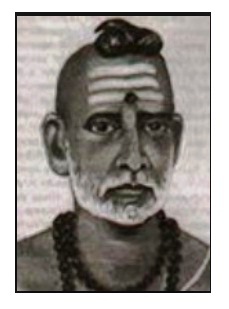 Poonthanam met Melpathur Narayana Bhattathiri at Guruvayur temple
Poonthanam was a contemporary of Melpathur Narayana Bhattathiri, another leading name in Bhakti movement of Kerala, who was a scholar, poet and litterer. Soon after completing Narayaneeyam, Melpathur Narayana Bhattathiri was cured of his ailments, and his work was dedicated to Lord Vishnu. He became an ardent devotee of Guruvayurappan after that.
Once while Melpathur Narayana Bhattathiri was circumvallating the famous Guruvayur temple, a poor Namboodiri followed him. The person was none other than Poonthanam, who requested Bhattathiri to correct the mistakes of the work written by him. When Bhattathiri asked whether the work was written in Malayalam or Sanskrit, Poonthanam replied that it's Bhasha Kavyam, which literally means, regional poem. Melpathur was reluctant to accept it stating that he work on only Sanskrit poems, and it's a Bhasha Kavyam he can approach someone else. Poonthanam was deeply hurt with Bhattathiri's reply and he returned to his illam.
Same night, his ailments related to rheumatism returned back and he suffered in severe pain. In the late night, he went to sleep and saw Lord Krishna in his dreams. Krishna told him that more than Bhattathiri's Vibhakthi (grammar), he love Poonthanam's Bhakthi (devotion). Bhattathiri was a great scholar known for his excellence in grammar. Krishna also instructed him to correct the mistakes of Poonthanam's work. Very soon, Bhattathiri visited Poonthanam at his ancestral home, where he corrected the grammatical errors of Jnanappana – as per legends.
Jnanappana is the masterpiece work of Poonthanam
He presented Jnanappana in simple words before common man, and that's why it became popular among the masses. He expressed the spiritual essence of Hinduism and the nation through simple and beautiful words, and made it popular among all sectors of the society. Through his writings, he threw light on various spiritual matters of the society then, and is still relevant after centuries. He expressed his views on the meaningless desires of human kind and their future events and consequences. His thoughts on extravagance, boast and luxury are still relevant in Indian society.
"Koodiyalla Pirakkunna Nerathum..
Koodiyalla Marikkunna Nerathum…
Madhyeyingane Kaanunna Nerathu…
Malsarikkunnathenthinu Naam Vrudha?"
These 4 lines of Jnanappana are indeed popular, and give the whole essence of his whole work.
"Naranaayingane Janichu Bhoomiyil
Narakavaaridhi Naduvil Njaan
Narakatheennenne Karaketteedanam
Thiruvaikkam Vaazhum Siva Shambo….."
These 4 lines authored by Poonthanam, dedicated to Lord Siva is indeed popular.
As a Bhakta Kavi of Malayalam literature, Poonthanam is the most popular poet among Malayalis, no doubt. Apart from classic work – Jnanappana, he authored 22 Bhakti works such as Bhasha Karnamritam, Kumaraharanam Pana or Santanagopalam Pana, Parthasarathy Sthavam, Govinda Keerthanangal etc…
Read a few more articles on some of the stalwarts of Malayalam literature belonging to different eras. Here is the page link. Click on the images in the gallery to read
(Visited 2,075 times, 1 visits today)