A brief note on Swami Vivekananda's Kerala visits and the social reformers he met
In 2017, we celebrated 125th anniversary of Swami Vivekananda's visit to Kerala. His world famous religious speech at Chicago completes 125 years in 2018. It's just a few months before his historic speech which influenced the West, he conducted a tour across India to see Indians and their social life near. When he travelled extensively from Bengal to Kanya Kumari, he visited Kerala as well. His journey ended at Kanya Kumari, which was once was an integral part of Kerala, the place where the saint is believed to attain spiritual enlightenment, and took the most important decision of his life, to take part in Parliament of the World's Religions to be held in Chicago the following year.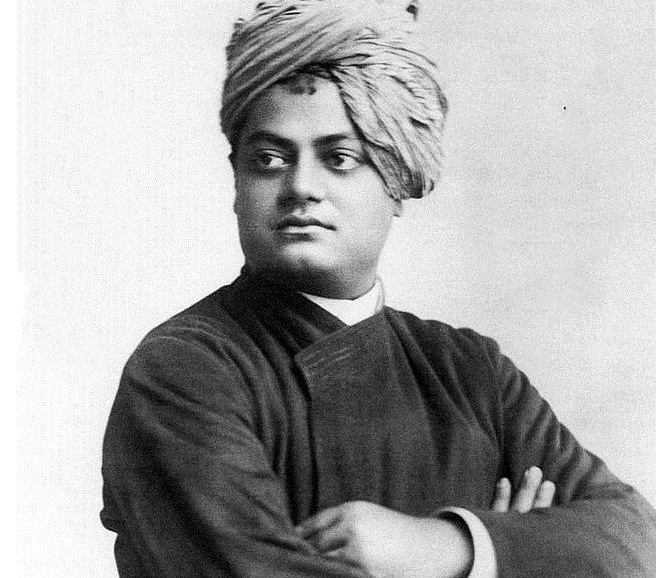 When he visited Kerala, this small populated portion of Malayalam speaking region was ruled by superstitions, and social discrimination based on caste and creed, and worst conditions like untouchability also existed here. Seeing the caste system and its 'true colours' then, Swami remarked that Kerala is an asylum. It was a time when many social reformers were striving hard to remove the inequalities of Kerala society based on less significant matters like caste, financial status, and also for women empowerment, and working for social causes like widow remarriage, education for women etc.
When Vivekananda visited here in the late 19th century, he met some of the great social reformers and renaissance leaders of Kerala. He also visited a few leaders outside neighbouring states and through this column, let me throw some light on these matters.
Dr. Palpu and Swami Vivekananda
There existed an era in Travancore kingdom then, when government jobs were denied to lower caste people, though they owned good educational qualification. Dr. Palpu submitted a petition to Travancore king named 'Ezhava Memorial Harji', where he demanded the right of lower sectors of qualified people to work in government sectors based on population proportion. The petition included the signatures of 13,176 Ezhavas, who were denied of such rights then.
As lower caste people were restricted from taking admissions at schools and colleges, Palpu took his medicine degree from Chennai, then known as Madras. Though he completed the course and returned to his hometown, he was restricted to start practice in Travancore, and he shifted to Bangalore. Palpu belonged to Ezhava community, which was then considered to be lower caste. He served as Municipal Medical Officer in Bangalore, and during his service days there, he got permission to welcome Swami Vivekananda just by coincidence. Swami Vivekananda was on a country-wide tour then.
Dr. Palpu made use of that situation and he informed Swami about the bad effects of caste system that existed in Kerala then, and the sufferings received by lower end people, despite being well qualified, and many more matters related to it, including his personal issues. Swami Vivekananda suggested him to start an organization for his community, choose a saint from the same community as its leader, and fight against social equalities that existed in society then. With co-operation from great poet Kumaranasan, he founded the Sree Narayana Dharma Paripalana (SNDP) and Narayana Guru was assigned the power of its President.
Starting from Shornur
On his country tour, Swami Vivekananda started his visit to Kerala from Shornur. Just before the visit, he was welcomed and greeted by Mysore King. From Shornur, he took water transport crossing Bharatapuzha river and reached Thrissur in a bullock cart. On his way to Ernakulam in a boat, he alighted at Kodungallur. He stayed at Kodungallur for three days and involved in a debate on religious/caste discrimination with Bhattan Thampuran (also known as Godavarma Thampuran). Though he desired to visit Kodungallur temple and waited here for three days to pay a visit to the temple, he was restricted to enter the temple following oppositions from a few people. As he was a non-Keralite he was not allowed to enter the temple as there was no way to ascertain his caste. It was his first hand experience, and the incident well matched with what Dr. Palpu informed him earlier. Swami recognized and realized the real intensity of caste discrimination and similar evils of Kerala society, following this unfortunate incident.
Later when he delivered a speech at Triplican Literary Society of Madras, he indirectly mentioned about this unfortunate incident indirectly. He remarked that Malabarians (Kerala people) are insane and their homes are asylums. He addressed Travancore, Kochi and Malabar kingdoms together with a single term. He was talking on the subject of 'Future of India' then.
His meeting with Chattambi Swamikal at Ernakulam
On 1892 December 3, he reached Ernakulam and stayed there for a few days. During this short period he met and communicated with some of the influential leaders of Kerala society then. He lived in the residence of W. Ramaiya, who served as the secretary of Kochi Divan then. He happened to hear about a divine saint who resided nearby, and started off to meet him in personal. That religious saint was none other than Chattambi Swamikal, one of the renaissance leaders of modern Kerala. Chattambi was then living at one Sankar Menon's home. Vivekananda who was till then in search of the real essence and meaning of Chinmudra got a satisfactory explanation from the saint. Read more about social reformers of Kerala. Click this link.
Vivekananda at Thiruvananthapuram
He reached Thiruvananthapuram on 1892 December 13. He resided along with Professor Sundara Ramayya, who served as the tutor of Aswathy Thirunal Marthanda Varma Ilayaraja. During this period, he communicated with many famous personalities of the society, including a few from royal family and he was accompanied by Ramayya for his meetings. Ramayya also introduced Swami Vivekananda to Sree Moolam Thirunal, who ruled Travancore then. During his visit to royal palace, Aswathy Thirunal Marthanda Varma Ilayaraja took a photograph of Vivekanda, which later became famous. He started off to Kanyakumari from Thiruvananthapuram on December 22, 1892.
At Triveni Sangamam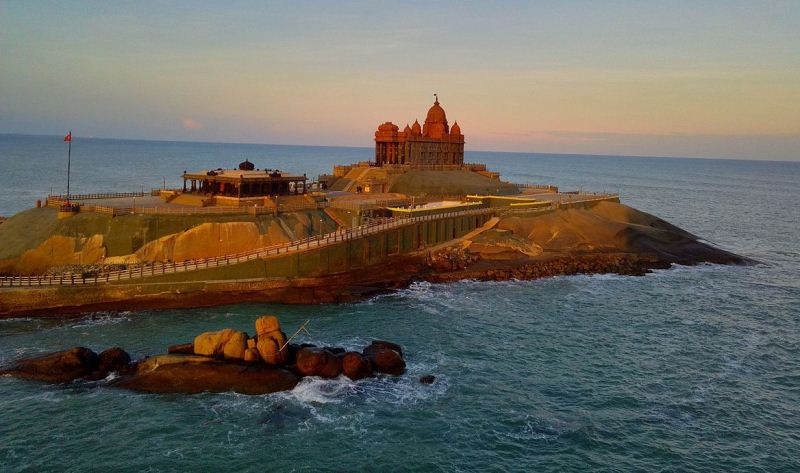 He reached Triveni Sangham of Kanyakumari, and he meditated in a huge rock for three days and nights. The rock projected towards sea and is said to have attained enlightenment on the rock. The rock was later converted to a memorial and known by the name, Vivekananda Rock Memorial. After his extensive tour across the country, he saw near the sufferings of the poor sectors of Indian society, and his main concern was not meditation or god. His mind was filled with some tense thoughts of the nation and 30 crore people, which lost its soul and a solution to social reformation which was needed utmost.
Read a few more articles related to Kerala history, renaissance and the social/political changes over the years. Here is the page link. Click on the images in the gallery to read
(Visited 5,600 times, 1 visits today)