Kudassanad Kanakam – Malayalam character artist of 'Jaya Jaya Jaya Jaya Hey' fame
Kudassanad Kanakam is a newcomer character artist of Malayalam cinema, who shot to fame with her 2022 comedy film, 'Jaya Jaya Jaya Jaya Hey', where she portrayed Basil Joseph's mother. She was 65 years old when she made late entry to Mollywood. She is a professional theatre artist and a dancer, and a dance teacher too.
Kudassanad Kanakam got her first opportunity to act at the age of 3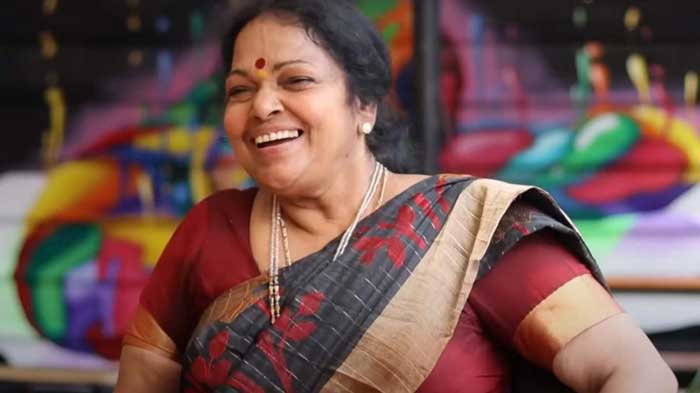 Her first appearance for any performance was at the age of three, when she stood as Krishna in the middle of dancers during a Thiruvathira performance. The dancers were performing Puthana Moksham. Though she was only three, she stole audience's hearts and gained the name Kudassanad Kanakam that day itself.
She was born into a poor family in Kudassanad, a village near Pandalam in the district borders of Alappuzha and Pathanamthitta. She is the 8th child to her parents. She is the youngest of siblings. Initially she learnt music. But she realized music is not her cup of tea. But during her bad times of financial troubles and distress, it was art which gave her a new life. So she tried with everything – from dancing to singing and from mimicry to acting, and succeeded too.
Since school days, in association with friends, she used to choreograph dance steps and performed before audience. They performed in many competitions and won first prize too. It has been a proud moment to her troupe to listen the final result announcement, 'Kanakamma & Party, First Prize'. Due to bad financial condition of the family, she was not able to study dance professionally. But a born actor & artist, she used to observe others performing & learnt a lot, choreographed her own art pieces and won prizes as well.
Her father was a music lover who knows ganjira and mridangam, and he used to perform in friend groups. It inspired young Kanakam a lot. Her mother also encouraged her artistic talents.
'Ramayanathile Sita' was her first play
She was studying in 8th grade when she got opportunity to appear for her first professional play, 'Ramayanathile Sita' performed by Sangham Theatres, Kottiyam. Though her father was initially reluctant to send her to drama, a few people of their neighbourhood convinced him. Her father used to accompany her in plays. Along with professional plays, she started performing in amateur plays.
For her role Rajani in the play, Gandeevam, she earned cash award for best actress. It was her first recognition in theatre. Along with drama, she gave dance lessons to local students for more than 20 years. She appeared in a movie, Spider House. But the role went unnoticed. Later she tried many times to get roles in movies, but got rejected every time. With her mother/mother-in-law role in 'Jaya Jaya Jaya Jaya Hey', Kudassanad Kanakam cemented her position in Mollywood.
She got her big break through Jaya Jaya Jaya Jaya Hey
She got this opportunity through photographer Arunsole, who asked Kalavedi Biju about theatre artists who can do this role. Biju showed him a few pics of theatre artists and Arunsole picked Kudassanad Kanakam from them. Later he asked Kanakam to give a youtube video to show to film's director. She used to upload acting videos online and chose one of them for the director Vipin Das. The director liked it and casted her for the role of his debut flick, Jaya Jaya Jaya Jaya Hey.
She is single. Her parents passed away long back. During her travels, her roommates used to prepare food for her. She dreams to do a few more meaty roles, and wants to build a dream home in her hometown.
(Visited 138 times, 1 visits today)