Krishna – Telugu Superstar of 1960s-1990s
Siva Rama Krishna Ghattamaneni or Krishna Ghattamaneni or simply known as Krishna (1943 – 2022) was a veteran and iconic actor associated with Telugu cinema. He has also served as a parliamentarian. Krishna starred in more than 350 films in his 50-years career, and owns many blockbusters to his credit, thus gaining super stardom and superstar status. Krishna is widely regarded as one of the most talented and popular actors of Telugu cinema. He has also produced and directed many Telugu films, and many of his family members are related to film world, mostly as actors. Padma Bhushan in 2009, NTR National Award 2003, Nandi Award for Best Actor for Alluri Sita Rama Raju in 1974 and Filmfare Lifetime Achievement Award – South in 1997 are the major honours received by him. As a film producer he introduced many new technologies to Telugu cinema.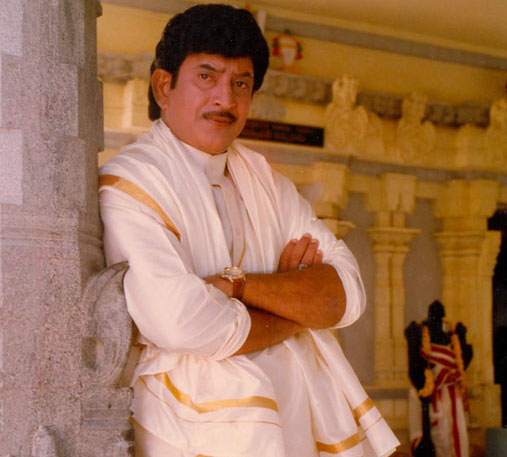 Krishna hailed from Burripalem of present-day Guntur district and was born in 1944. He joined film industry in 1962, and did minor roles till 1965. Adurthi Subba Rao's Thene Manasulu gave him first break in a lead role, and the film's success prompted the director to cast him once again as main lead in Kanne Manasulu as a reformed dacoit opposite Sandhya Rani. He was casted in the lead role of the detective film, Gudachaari 116 in 1966 which became a trendsetter. Many films were produced as sequels and Krishna starred in lead roles. He also tried different genres like family dramas, romance and action and earned success. Saakshi, Gudachaari 116 and Pandanti Kapuram are his acclaimed works during the early phase as lead actor. Many of his films created new benchmarks for a particular genre such as Mosagallaki Mosagadu and Alluri Seetharamaraju.
With early 1970s he rose to stardom and became one of the most sought actors of Telugu cinema. He started Padmalaya Films and turned a film producer in the mid-1970s. He made some of the expensive Telugu films of the decade. He had a downfall in the mid-1970s for his repeated roles, but had a bounce back with his production venture Paadi Pantalu in 1976. He formed Vijaya banner with his second wife, and produced many successful movies later. As an actor some of his major hits of second half of 1970s include – Kolleti Kapuram, Paadi Pantalu, Raja Rajeswari Vilas Coffee Club, Rajyamloo Raktha Paasam, Bhalee Dongalu etc.
As an actor some of his major hits during his last phase as a lead actor include – Khaidhi Rudrayya, Muddayi, Dongodocchaadu and Thandri Kodukula Challenge in the 1980s. Simhaasanam in 1986 marked his directorial debut. His landmark debut film was the first 70MM CinemaScope and six-track Stereo-Phonic sound Telugu movie. He scripted, edited and played lead role in this cult classic which ran more than 100 days. Later he directed 16 films and 5 of them starred his son Mahesh Babu. Raktha Tharpanam was his last directorial venture. His films earned only limited success since 1990s. His career deteriorated in the 1990s, when he turned more active in politics.
Krishna – Some interesting and less-known facts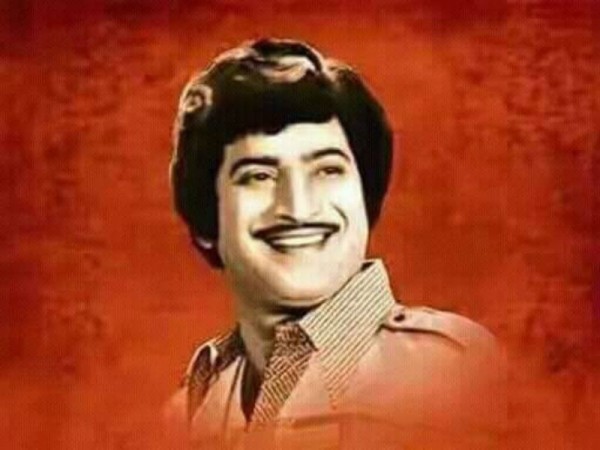 1. He has once suffered from 14 consecutive flops in the 1970s, after he turned a star.
2. He married twice and has 5 children from first marriage.
3. In his wedlock with his first wife Indira Devi whom he married in 1961, he had 5 children including Telugu actors – Mahesh Babu, Manjula and Ramesh Babu. Indira provided him emotional support during his struggling days in cine world.
4. Noted Telugu actress and director Vijaya Nirmala is his second wife. Both were married and their marriages were not void when they tied knot in 1969, one year after Krishna's daughter Padmavathi was born. Nirmala divorced her first husband Krishna Murthy later. Krishna-Nirmala couple have no children.
5. After marrying Vijaya Nirmala, he didn't divorce his first wife and had three more children, including superstar Mahesh Babu in 1975.
6. Krishna is stepfather to noted Telugu actor Naresh Vijaya Krishna, and grand-stepfather to upcoming Telugu actor Naveen Vijay Krishna. Krishna brought up his stepson.
7. Popular Bollywood actress Namrata Shirodkar is his daughter-in-law. Thus he is related to Shirodkar family of Bollywood actresses – Meenakshi Shirodkar and Shilpa Shirodkar.
8. He is the father in law of Telugu actor Sudheer Babu, who married Priyadarsini.
9. His daughter Padmavathi Galla is married into a business family of industrialists and politicians. His son-in-law Jay Galla (son of Ramachandra Naidu Galla – well-known industrialist and Aruna Kumari Galla – an ex minister of Andhra Pradesh, and grandson of Paturi Rajagopala Naidu) is a well-known politician and parliamentarian.
10. He played dual roles in 25 movies and triple roles in 7 movies.
11. He has been paired with his second wife Vijaya Nirmala in 48 movies and Jayaprada in 47, which is indeed a record.
12. He had a successful stint with politics, and has been elected to Lok Sabha in 1989 representing Indian National Congress. He formerly retired from politics and cinema in 2012.
13. His sons worked in his films as child actors as well as lead actors, and have shared screen space with him multiple times.
14. He was the producer of first Eastman Colour Telugu film, Eenadu (1982), the first cinemascope Telugu film, Alluri Seetharama Raju (1974), the first 70mm Telugu film – Simhasanam (1986) and the first DTS Telugu film Veera Levara (1995).
15. He introduced cowboy genre to the Telugu screen through the film, Mosagallaki Mosagadu in 1971.
16. After playing lead role in hit spy film, Gudachari 116 (1966) he starred in its sequels – James Bond 777 (1971), Agent Gopi (1978), Rahasya Gudachari (1981) and Gudachari 117 (1989).Gudachari 116 was the first mainstream Telugu detective film. He also played the first cowboy on Telugu screen in the early 1970s for the movie "Mosagallkau Mosagadu."
17. Krishna made his feature film debut with "Tenemanasulu", exactly the same year his first son Ramesh babu was born, and the film was a hit.
18. After playing a detective in "Agent Gopi" he earned the nickname, "Andhra James Bond" . He was the first Telugu actor to succeed in playing detective roles.
19. It's believed that couples who visit Meesala Krishnudu Temple would get married, and a song sequence of Krishna and Vijaya Nirmala for their first movie together was filmed in this temple. When comedian Rajababu commented "Meerika Bharyabarthalu Ayipoyinatte" after filming the song, 'Thali Kattu Vela…', Nirmala became so angry. Later it was Krishna who proposed Nirmala, and she readily accepted it. In 2019 they completed 50 years of married life.
20. He directed Bollywood film, Ishq Hai Tumse in 2004.
(Visited 1,945 times, 1 visits today)