Kozhi Ada (Chicken Ada)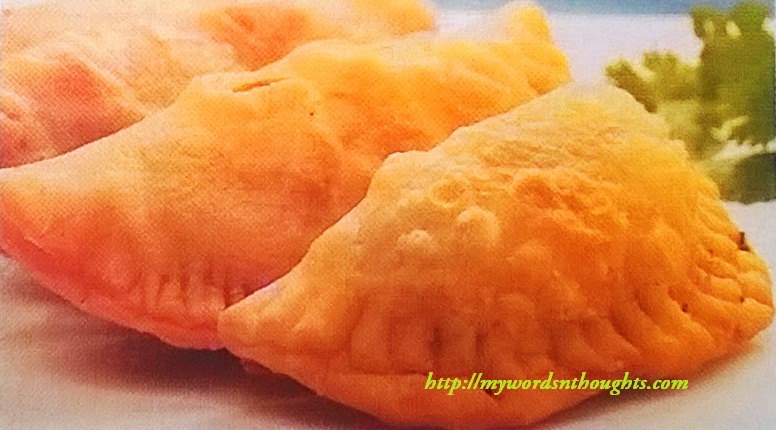 Ingredients for Kozhi Ada (Chicken Ada):
1. Maida – ½ kg
2. Salt – ½ small spoon
Baking soda – 1 small spoon
3. Boneless chicken – ½ kg
4. Chilli powder – 2 small spoons
Turmeric powder – 1 small spoon
Garam masala powder – ½ small spoon
Garlic crushed – 1.5 small spoons
Curry leaves – 1 stalk
5. Oil – As required
How to prepare Kozhi Ada (Chicken Ada)?
1. Make dough using maida, baking powder and salt. It should be similar to dough for chappathi.
2. Marinate chicken using ingredients no: 4.
3. Heat oil in a pan, and fry chicken. Once cooled, mince it using a mixer.
4. Now spread the dough similar to a chappathi and place a little chicken mixture in it.
5. Now cover the chicken using maida cover, and stick its ends. You can press the ends using a spoon to do so.
6. Now fry in hot oil till it turns light brown.
Courtesy: Vanitha Magazine, July 1-14, 2017
Recipe submitted by Mehrooniza, Venjarammoodu.
Read a few more chicken snack recipes here. Here is the page link. Click on the images in the gallery to read.